Fernando Botero says he's never painted a fat person in his life. According to El Maestro, as he is often referred to, the volume and exaggerated sizes in his art work are but a mere glorification of sensuality and life.
The overplayed proportions of his art work--which includes over 3,000 paintings and 300 sculptures-- have earned Botero world-wide recognition, making him one of the most acclaimed contemporary artists still alive.
While most artists of his caliber have achieved fame after their death, Botero is alive, well and able to enjoy his artistic recognition.
Today, as he celebrates his 80th birthday, the Colombian artist doesn't have any plans for retirement. On the contrary, age has brought about a sense of urgency to create more art.
"I work more now perhaps because I know that there is so little time left," said Botero in an interview with AFP. Botero dedicates 10 hours every day to his art.
"I often think about death and it saddens me to leave this world and not be able to paint more. I love it so much," Botero told the AFP.
Fernando Botero was born in Medellín, Colombia in 1932. At the age of 12, he enrolled in matador school where he trained for two years to become a bull fighter. La corrida was a favorite subject in his earlier work. Botero sold his first work of art for $2 dollars to a local merchant who dealt bullfighting tickets.
At age 15, he got a job as an illustrator in "El Colombiano", Medellin's leading newspaper while he continued with his education at a Jesuit-run school. His nude illustrations and Marxist writings were at odds with his education and Botero was expelled from school according to the Spanish-language Colombian magazine SEMANA.
But he persisted and moved to Bogota where he won an art competition that earned him enough money to travel and to study art in Europe. He later moved to New York where he perfected his voluptuous style which inspired the artistic trend known today as "Boterismo." Botero went from being a nobody to having the biggest art merchants interested in his art.
But not all of Botero's life is such a romantic story.
It took four years for Botero and his son to speak to each other agin. Today they're in good terms.
The other tragedy in Botero's life happened in 1974 during a family vacation in Spain. While on a road trip between Sevilla and Cordoba, the family car got hit by a truck killing Botero's four year-old son Pedrito.
The depression brought about by this tragedy kept Botero secluded in his Paris studio painting for several months. Botero says the best painting he has ever done is a portrait of Pedrito on top of a horse.
Botero has used art as a catalyst in other occasions.
Back in 2006, Botero was so struck when he learned about the brutalities happening in the Abu Ghraib prison in Iraq that he created an entire series based on the stories of torture of Iraqi inmates.
"These works are a result of the indignation that the violations in Iraq produced in me and the rest of the world," Botero said in an interview with the NYTimes.
"I began to do some very fluid drawings, and then I began to paint and the results are 50 works inspired by this great crime."
The result is paintings, drawings and watercolors that show prisoners being tortured, shackled, dangling from ropes, beaten, vomiting and bleeding.
More than just a sculptor and painter, Botero is an avid lover and a philanthropist of the arts.
In 2000 the "Botero Museum" opened in the city of Bogota after Botero donated 208 works of his private collection-- 123 of his own and 85 by international artists. The art was donated in exchange for having a museum that is free for it's visitors.
According to Colombia Reports, Botero said at the museum's opening, "it gives me infinite pleasure to know that these works belong today to Colombia, to know that students who enter this house will come into contact with the most important artistic currents of our time, contemplating original works by great masters; to know that lovers of painting and sculpture can come to visit this heaven of peace and walk quietly through these halls, leaving them flooded with modern aesthetics."
Check Out Some Of Botero's Work Of Art And Photos Of The Artist: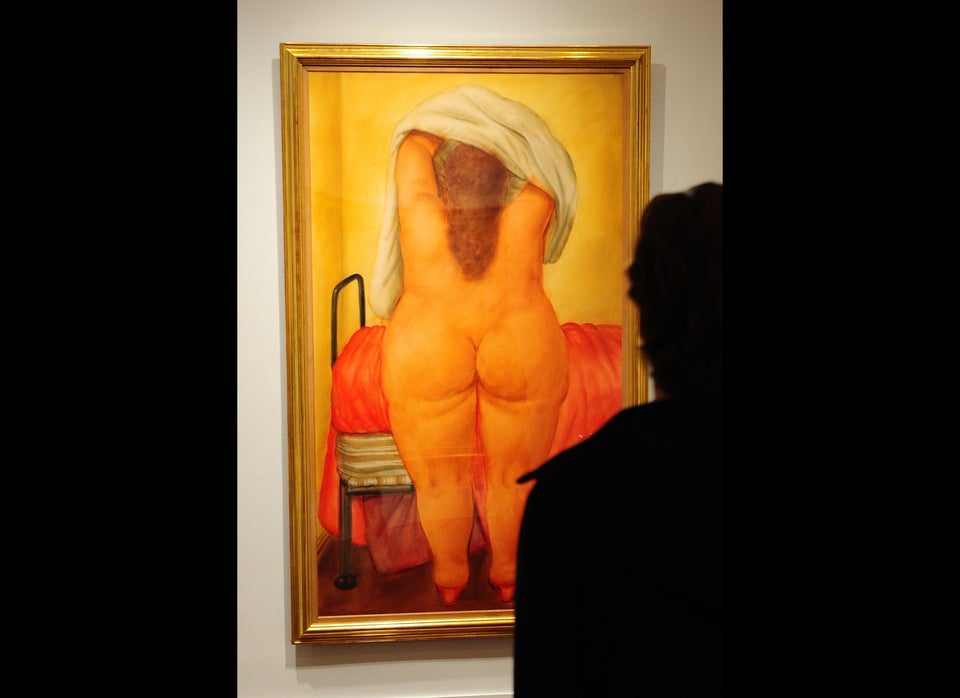 Popular in the Community