 Do you have to choose between love and career? It's not so hard to talk yourself out of climbing the career ladder to focus on your relationship or to postpone even looking for love until you reach certain career milestones. People convince themselves that they can't have it all, at least not all at once.
But what we learned in Salzburg is that when you find the perfect match for you -- in both love and work -- you'll find a way to make it fit.
We spent a few days in Salzburg on our book tour for Married with Luggage: What We Learned About Love by Traveling the World. One of the first things we noticed about this city at the northern boundary of the Alps was the continued popularity of Archbishop Wolf Dietrich, the man credited with turning the city of Salzburg from a medieval town to a Baroque gem over 400 years ago.
His love story was a complicated one. Dietrich was part of the powerful Medici family, and he was groomed from birth to be an archbishop. At a wedding party, he spotted the beautiful Salome Alt, the daughter of a Protestant textile merchant.
Despite the forbidden nature of their love, they were determined to be together. Dietrich petitioned the Pope for permission to marry, as it was not unheard of in those times, but Salome's Protestant background prevented that from happening.
He could give up his role as Archbishop so they could be together, but that would throw away all his plans to modernize Salzburg. He was facing a choice between his life's work and his life's love.
Unlike many people facing two unpleasant choices, Dietrich refused to accept the situation and carved out a third way.
He built a beautiful palace for Salome Alt which is now called Mirabell (made famous in recent times as a setting in the movie The Sound of Music). They "lived together" back when it was scandalous to do so. But he knew his position was powerful enough and his talents desired enough that he wouldn't be kicked out of his job.
They had 15 children together over 20 years and by all accounts had a loving partnership. Because Salome and their children had no real rights or standing without an official marriage, Dietrich conferred a noble title on her as a form of economic protection.
Their relationship couldn't exist in the conventional ways of the time, so they created the necessary workarounds to make it work for them.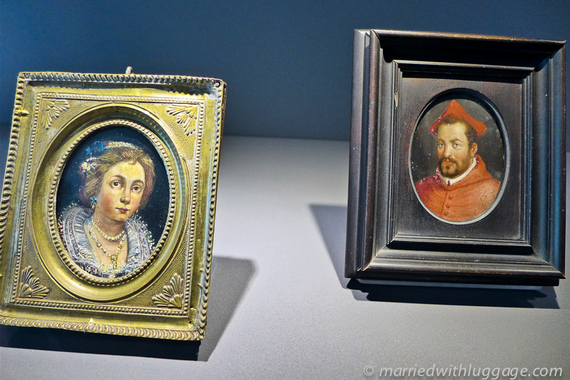 Sadly, Dietrich was deposed in 1612 by his cousin Markus Sitticus, who had had him locked up in the Hohensalzburg Castle. From this fort-like structure overlooking the city, he was able to see his beloved Salzburg and the former home of his mistress, Salome Alt. He died five years later, never seeing Salome or their children again. He wrote on the wall of his rooms at the fort:
Love is suffering in the end.
Salome whisked her children to safety, and with the money and status conferred upon her by Dietrich, she was able to secure them a safe life in the north. She died in 1631, never marrying.
Luckily most people today don't have to worry about a jealous cousin locking them up in prison to steal their homes and jobs. But people do sometimes think they can only choose love or work, and Wolf Dietrich and Salome Alt are an example of how to carve out the life you really want, no matter what society, family or even your boss tells you.
The Modern-Day Romance of Salzburg
Salzburg is more than just the love story between Salome Alt and Archbishop Wolf Dietrich, of course. We spent most of our three-day visit sussing out the romance of this lovely city on the Salzach River.
Cafe Tomaselli is possibly the oldest in all of Europe, serving coffee and decadent desserts and pastries since 1705. This elegant cafe is the perfect way to start the day or enjoy a mid-afternoon break.
The Salzburg Museum was where we met curator Peter Husty, who told us the tale of Archbishop Wolf Dietrich and Salome Alt. Besides being a fascinating story, the museum is a marvel, winning the prestigious European Museum of the Year Award in 2009. Since Wolf Dietrich used to live here, you should check it out.
Dine at the oldest restaurant in Europe (past patrons include the likes of Charlemagne) while listening to live performances of Salzburg's most famous son, Mozart. This was the highlight of our time in Salzburg, so don't miss this dinner concert. One couple at our table were celebrating their engagement, so you can imagine the high romance vibe in this venue.
Salome Alt's former home, Mirabell Palace, has such magnificent gardens they were used for scenes in The Sound of Music. We saw newly married and engaged couples getting their official portraits done here.
The Salzach River walking trails and benches make the perfect setting for an afternoon stroll and picnic without ever leaving town.
The Untersbergbahn cable car will take you to the 1776-meter high station near the top of Untersberg for a stunning view of Salzburg and the Alps. If that doesn't get your heart pumping, I don't know what will! The last car is at 4:30 p.m., and the ride takes about nine minutes. (Get a Salzburg Card for free public transportation -- including this cable car and admission to the excellent museums... plus you won't have to wait in line.)
Gasthouse Auerhahn was pointed out to us by a local, and we were wildly impressed with the food and local wine selection at this restaurant near the train station. It was easily our best meal in Salzburg, and the service was warm and impeccable. We discovered it on our last day, and if we had known before we probably would have had a couple of meals here.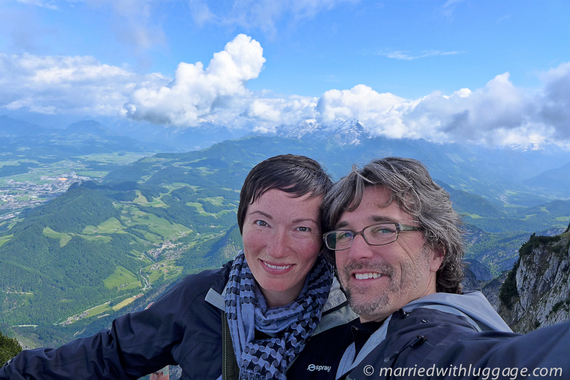 Love Lessons from Salzburg
We left Salzburg with the reminder that "no" isn't a final answer when it comes to love, thanks to Archbishop Wolf Dietrich and Salome Alt. Creative couples will always find a way to be together, and passionate people will always find a way to continue their life's work.
Life doesn't have to be an either/or when it comes to legacy or love, though it's probably wise to keep an eye on your jealous family members, especially if they have access to an army and a fort.