Those who say graffiti doesn't accomplish much haven't seen the work of Skid Robot, an anonymous street artist in Los Angeles who uses his medium to draw attention to the homeless -- a population he laments is so often overlooked.
Skid Robot humanizes the homeless by incorporating them into his art, creating scenes in which the subjects aren't just a faceless person, down on their luck. Instead, he highlights their struggle by juxtaposing them with spray painted versions of their needs, wants and dreams.
One man, recently released from the hospital and in a wheelchair, is depicted sitting in a throne atop a castle wall -- not shoeless and in a wheelchair.
In a caption accompanying the photo, Skid Robot explains the man's backstory, painting a portrait of a man named "Ben."
"I offered him a meal but he declined, instead he asked for paper, pencils [and] pens so that he can write and draw. He said he really liked the art and [used] to draw himself ..."
Robot adds he gave Ben a sketchbook, a few pens and money for a meal.
Another man, identified as "Tony," rests on the sidewalk, his unrolled sleeping pad transformed -- via Skid Robot's paint -- into a regal bed, complete with a headboard and matching side tables. "They desperately needed water more than anything," Robot writes, "so we delivered 10 gallons."
In an email to The Huffington Post, Skid Robot was adamant he's not trying to make light of his subject's situation or use them as a prop, even though his work may be seen as humorous at times.
"I'm drawing attention to a human being who more often than not is looked at as nonexistent," he said of his jarring art. "I hardly think that is using them to my benefit."
"I offer whatever help that I can, I try to get to know some of these people and give them an open ear and heart," he continued. "My message is one of compassion, to look out for those who are less fortunate and to do for others."
See more of Skid Robot's work, below:
Related
Before You Go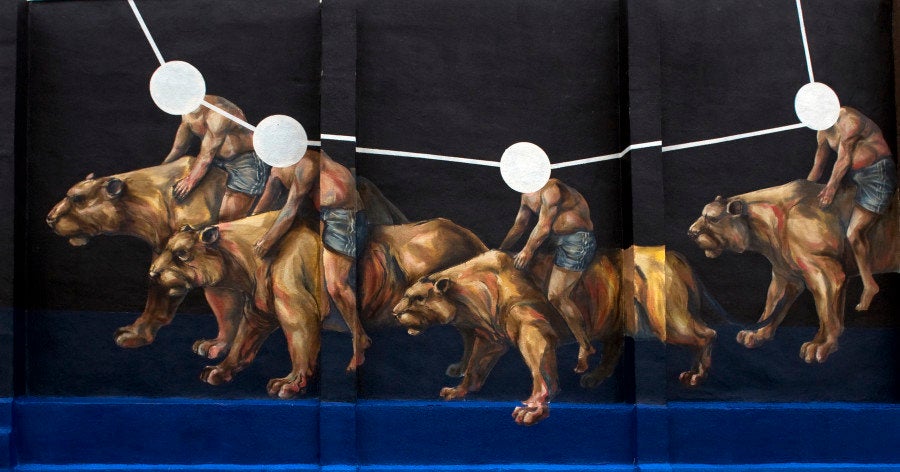 25 Street Artists' Works From Around The World