The safety of U.S. food depends starts with the farms where our food is grown. Last month,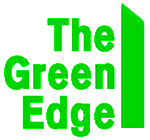 congressional hearings on America's largest salmonella outbreak in a decade pointed fingers at peppers grown in Mexico. The American food chain delivers a billion meals a day, but is no stronger than its weakest link. "And there are plenty of weak links," says the San Francisco Chronicle. At work now to improve farm safety and sanitation in three Latin American countries - the Dominican Republic, Honduras and Nicaragua - are staff members for a little-known project called Cultivar.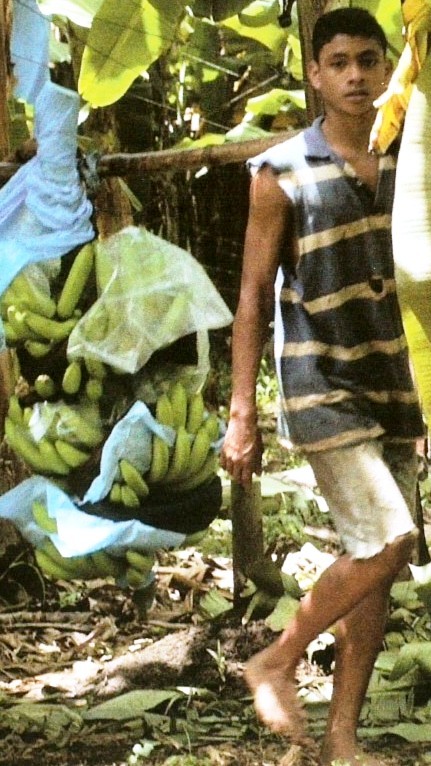 Banana farm worker in Nicaragua
The Cultivar project is providing technical assistance to eight banana farms in the Dominican Republic, three melon farms in Honduras and six banana farms in Nicaragua. Common to farms in all three countries is adverse effect on the health of workers and their families of pesticides and fertilizers. Pesticides are sprayed on crops from the air and contaminate the soil, the air and the water, creaing kidney and other problems in workers and their families.
The other pervasive problem is the general lack of sanitation. For example, the farms generally lack toilets with running water for workers, which increases the likelihood of e.coli and salmonella on hands, clothing and fruit.

The Cultivar project is based in Managua, Nicaragua. Most project staff are literally out in the field. The project offers the incentive of some modest grants to provide missing sanitary facilities and encourage management and workers on the 14 banana farms and three melon farms to undergo training to raise their standards - i.e., organic agriculture (reduced use of pesticides), good (SA8000-compliant) workplaces and compliance with fair-trade principles.
The project is funded with a four-year U.S. Department of Labor grant from training money committed by Congress to the signatory countries of the Central American Free Trade Agreement. Training money is also administered by USAID and the State Department. The project is also supported by the participation of companies, which provide in-kind and cash resources, and NGOs.
The Cultivar project's strategy is to start with improving workplace conditions with SA8000 compliance (which requires sanitary and safe facilities and a living wage), and then - with workers on board and appreciative of the program - to seek the more time-consuming compliance with organic and ethical-trading standards.
I talked about the Cultivar project with Dr. Rafael Barrera, who manages it for Social Accountability International. Rafael received his MD from the Facultad de Medicina, Universidad de El Salvador. He was one of 2,000 applicants for 50 places. He also earned a Master's in Public Health in Managua, Nicaragua, and an MSc in Sociology in Costa Rica. Rafael's most important message is that farms are dangerous places and that safety requires precautions and basic sanitation. The farm areas of all three countries have capacity problems - for example, it's hard for government inspectors to find cars to get to the sites and then it's hard for them to find gas to put in the cars. One aspect of the Cultivar project is to train inspectors to make the most of the resources that governments are able to provide.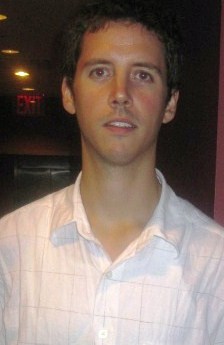 Rafael Barrera, MD and co-worker Matt Daly (photos by John Tepper Marlin)
Some farms have already made some attempts to comply with quality and safety standards like ISO 14000 or EuropGap. But widespread dangers remain from lack of testing of chemicals (the precautionary principle) and from lack of training of workers and their relatives about care that must be taken with use of pesticides and fertilizers like:
- Nemaggon, an anti-nematode chemical made by Shell. It has been used on pineapples and the brands - the manufacturer of the chemicals and at least one of the users - are paying fines for past damage to the health of workers and their families, with effects that may linger for years or even generations because of genetic effects.
- Chlorine and phosphorus, used on bananas.
- Chemicals sprayed from planes and carried by wind to the homes of families, or catching workers by surprise because the timetable is not published or is not adhered to.
- Chemicals on clothing and skin when protective wear is not used. No OSHA to supervise.
The project requires cooperation from
- Government agencies in each country, which are hard-pressed to inspect farms and enforce the laws. Typically any regulatory resources are devoted to testing fruit for pesticides before it is exported - workers are not tested for the impact on them or their families. Governments are usually grateful for help with solving local problems, but must first be willing to have the courage to admit that the problems exist.
- The farm-owners and managers - or cooperative managers - who are sometimes comfortable with the status quo.
- Workers and their families, who face many problems but may be reluctant to go through a training program and must be motivated to be trained and change their procedures. Workers' families must also be included because women and children as a group are more vulnerable than adult men to many pesticides. (Women tend to be more resistant to bacteria.)
- The brands. No farms owned by the brands that buy the fruit are participating, but some of the farms are regular suppliers to the brands. Chiquita and Dole support the Cultivar project in part because it may help them sell their products in Europe, where fruit prices are higher than in the United States. European supermarkets care than most U.S. supermarkets about issues like workplace standards, organic production and ethical trading because their customers do. In the United States, Consumers Union, for example, has in the past focused almost exclusively price and quality, while greener consumers shop at upscale natural food outlets like Whole Foods that until recently were smaller than the mainstream stores. Wal-Mart's recent moves to stock organic produce, sell more efficient light bulbs and reduce packaging reflect long-standing trends among the largest European supermarkets.
- The manufacturers of pesticides, who are not formally participating but have an interest in improving the safety associated with using their products.
Dominican Republic
On farms in the D.R., 90 percent of workers are Haitian and are generally considered to be in the D.R. illegally so they have essentially no rights, similar to the situation of migrant workers from Mexico in the United States (which suggests that the need for a program like Dr. Barrera's in the USA). Haitians in the D.R. often work under substandard conditions but D.R.'s farm sector has no unions. Bananas are sold to Dole and Del Monte, who seek to sell them to Europe where banana prices are higher than in the United States.
A special problem in the D.R. is the fact that the Haitian workers speak Creole French and are seldom fully literate, and 80 percent are men (their wives also need to be trained about pesticide and bacteria dangers and the handling of clothes).
The project's partner group is Instituto para la Cultura y la Autogestión Popular de la Region Suroeste Inc. (INCAP), founded in 1990, which evolved from CEDE, a well-known NGO in the D.R. It works with small- and medium-sized producers through cooperatives, in the following technical areas: Water and sanitation, income generation for women, yucca production, livestock production, agro-tourism (coffee). The goal of the group's work is to improve the quality of lives of families in the northwest region by increasing productivity. INCAP works with banana producers that were affected by the hurricanes in 2007. Gender equity and environment are two themes in their work. INCAP has identified a strong demand for training in labor rights from operators of banana farms, who increasingly seek Fair Trade certification, which requires a minimum level of labor conditions at farms. Among the major challenges for training in this sector are low levels of education and language barriers. INCAP has been working with Haitian banana workers every Saturday to develop curricula and train them on conducting meetings and producing reports. INCAP Director Alsides Brea is seeking training materials developed specifically for women and those with literacy challenges in the target group.
Honduras
Just two government staffers in Honduras monitor and enforce laws relating to agrochemicals, which suggests the limitations to enforcement. Melons were introduced as a crop in Honduras in the late 1980s. They are mostly grown on small family farms that are being combined, but are nowhere covered by unions. The melons are sold to Chiquita, Tesco and Del Monte. Chemical issues relating to melons mostly have to do with fertilizers. The project works with Centro de Desarrollo Humano (CDH), founded as an NGO in 1985, which promotes sustainable and integral development by promoting alternative socio-economic and political processes that combat poverty and marginalization in Honduras. The philosophy of CDH is based in the promotion of peace, unity, hope, common good, liberty and choice (PUEBLO in Spanish), and their work focuses on strengthening social organizations to promote participatory democracy. CDH operates programs for political development, local alternative socio-economic development, and development of informal sectors of both urban and rural areas. Their main office is in Tegucigalpa, and they have programs and offices in the western, northern and southern regions of the country. The Choluteca and Tegucigalpa offices are the centers for CDH's work as Project Cultivar Local Partner.
Nicaragua
The Nicaraguan banana farms in the program sell all their product to Chiquita. Unlike the other two countries, in Nicaragua three unions have organized farm workers. These unions have accepted the program and are working with it. The partner group is Profesionales para la Auditoria Social y Empresarial (PASE), which evolved in 2003 from Maria Elena Cuadra (MEC), a team of lawyers working with the women's movement to monitor labor practices in the maquila industry. Coordinating this work with the trade union sector led PASE to investigate the sugarcane and banana sectors. The organization has conducted code-of-conduct monitoring for multinational companies and tripartite forums on labor issues in local industries. PASE also does social and labor research and training, administers projects and mediates labor conflicts in the maquila and agricultural industries.
Overall, the Cultivar project is a very interesting example of technical assistance that addresses three kinds of issues of interest to consumers in Europe and the United States as well as being of concern to farm workers and their families and communities in the three countries - workplace fairness and sanitation, chemical use and fair trade. The project makes good use of the expertise of NGOs in the different areas, and the project is approaching the work strategically.
Contact: Dr. Rafael Barrera at rbarrera@sa-intl.org and Mr. Matt Daly at mdaly@sa-intl.org.
(Thanks to Patt Cottingham for preparing the Green Edge logo. Disclosure: John Tepper Marlin has been married for 37 years to Alice Tepper Marlin, who is President of Social Accountability International. He may be reached at john@csrnyc.com )
REAL LIFE. REAL NEWS. REAL VOICES.
Help us tell more of the stories that matter from voices that too often remain unheard.