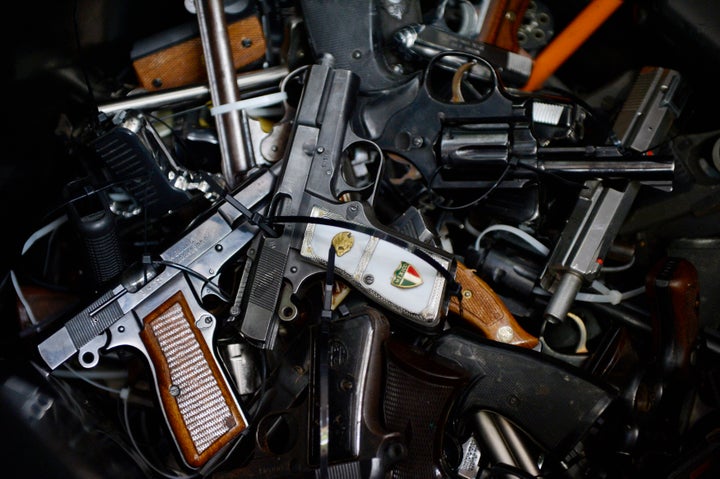 To hear it from pro-gun groups, the bond between Americans and their firearms is nothing short of sacrosanct. Slogans like "from my cold, dead hands," "come and take it," or the more recently resurrected "molon labe" ― ancient Greek for "come and take it" ― have become popular identifiers on one side of the culture war over firearms in America. Those mottos may be helpful in understanding a certain type of gun owner, but they also belie a more diverse portrait of firearm ownership in the U.S.
In truth, there are untold people around the country who cling to their guns only because they feel they have no other choice.
We've heard from dozens of those individuals over the past year ― gun owners who wanted to get rid of firearms, but couldn't find an acceptable way to do it. Earlier this month, we published a piece detailing a few of their experiences navigating the cultural and logistical barriers to gun disposal. That story prompted dozens more people to reach out.
They include longtime gun owners and firearm enthusiasts who said they'd had a change of heart. Many were people who'd inherited guns ― sometimes lots of them ― but never really wanted them or knew what to do with them. Some said they'd be willing to sell their firearms. But most said they'd prefer to see their guns destroyed, as it would be the only way to ensure they'd never be used for harm. Almost everyone we spoke to agreed that it should be much easier to dispose of unwanted firearms.
Without a uniform process to end the life cycle of guns in the U.S., the stockpile of civilian-held firearms has surged to 393 million weapons, according to an estimate published in June. Many of those guns are in the hands of responsible owners, who use them only as intended and store them securely to prevent theft or other unauthorized use. But many are not, said Ian Johnstone, founder of Gun by Gun, a nonprofit that organizes buybacks for firearms.
"There's an all-time high number of guns circulating in the U.S., which is always at an all-time high," Johnstone said. "It's creating a situation where there are a lot of guns that aren't necessarily wanted that pose a threat to all of us and there isn't a good way to get rid of them."
We don't have much comprehensive national data on firearms, so it's not clear exactly how much of a hazard those guns pose to public safety. We do know that gun thefts are relatively common. In the four-year period from 2012 to 2015, an estimated 1.2 million guns were stolen in the U.S., according to a Federal Bureau of Investigation report. Many of those firearms are taken from homes or vehicles, where they may be stored unsecured. Stolen guns often end up being used in shootings and other crimes.
"We feel that there needs to be a junkyard in America for firearms, and we are that junkyard."
Unwanted guns can also do damage when they remain in the home, because their owners may be less likely to keep a close eye on them, said David Chipman, senior policy adviser at the Giffords Law Center to Prevent Gun Violence and former special agent at the Bureau of Alcohol, Tobacco, Firearms and Explosives.
"For people who don't know about guns to have guns in their home is a recipe for accidents," Chipman said. "If you have a box of old photos that you don't know what to do with in your attic, they're not going to hurt anyone. But if you have a box of guns, that's not the same."
The current options for disposing of firearms are limited. The most obvious route may be for gun owners to simply do it themselves. It's possible to disable a firearm by melting or shredding it, or cutting the receiver of the weapon following Bureau of Alcohol, Tobacco, Firearms and Explosives guidelines. But that requires equipment, as well as some basic gun and machining knowledge.
One metal recycling executive who asked to remain anonymous for fear of backlash reached out to say that some auto shredder facilities are happy to destroy firearms and turn the resulting components into recyclable scrap.
People have also asked why gun owners couldn't just toss their unwanted firearms into a lake, or disassemble the guns and dispose of the parts in separate trash bins.
Those DIY methods might serve their intended purpose, but gun owners told us they'd prefer a more formal process that could accommodate the destruction of multiple guns at once and give them official confirmation that their firearms have been decommissioned.
Johnstone's Gun by Gun group is working to expand the firearm disposal process by organizing buybacks, events typically hosted by police departments, charities or other non-governmental groups, which offer modest compensation for surrendered weapons.
Gun by Gun partners with a law enforcement agency and raises money through crowdfunding to help provide incentives for buybacks. They collect survey data from participants at each site and use it to inform future events.
"Ultimately, we still need comprehensive reform in our federal gun policy, but in the meantime, we can help lead with community-led, community-funded gun buybacks and create this approach where people can demonstrate their value, rally together, become engaged and mobilized, and make a tangible impact on gun violence in their cities," Johnstone said.
Dr. Mike Hirsh, a pediatric surgeon and cofounder of the Goods for Guns coalition, has run a number of buybacks in Pittsburgh and Massachusetts. He said they've turned up "significant" semi-automatic rifles as well as handguns, which account for the vast majority of gun violence. Hirsh pushed back on criticism of buybacks, which opponents say do little to drive down crime.
"We've never claimed to be a crime-buster program, we are looking at ourselves as an injury reduction and education program," he said. "The low-hanging fruit of what we're trying to prevent are suicides, kid accidental shootings, the rise in breaking and entering that we've seen unfortunately as a consequence of the opioid crisis where this is a very liquid form of exchange: You steal a gun and you can get drugs very easily."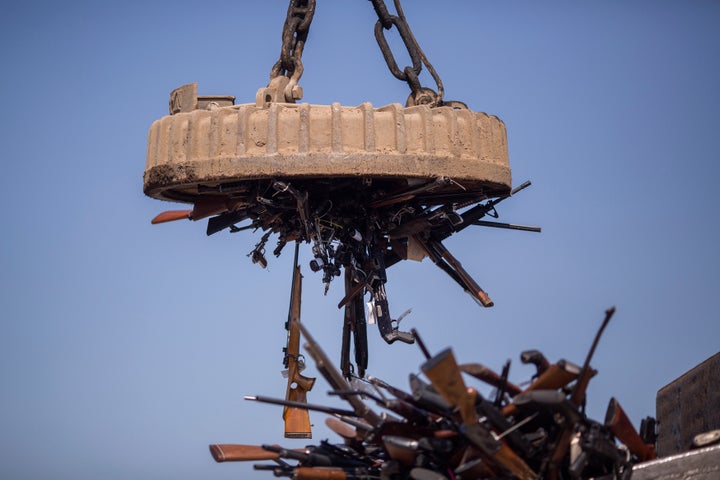 Even if police don't host buybacks, some departments do allow residents to turn in their firearms, though there's little consistency in how they accept weapons or what they do with them after they're surrendered.
Some departments accept guns no questions asked, while others check to make sure that they were legally owned and hadn't been involved in prior shootings. Some departments destroy surrendered firearms, but a number of states have passed laws prohibiting them from doing so. Agencies may end up re-selling these guns to the public or passing them off to officers for service or personal use. Department policies are rarely posted publicly, and many officers may not be familiar with their practices, so it can be difficult to figure out how to proceed.
The lack of resources for gun disposal led Chip Ayers and Bruce Seiler to launch the National Center for Unwanted Firearms in 2017. Both men come from lengthy careers in the U.S. Secret Service, and said they were concerned that many unwanted firearms were being sold in private transactions, which can be conducted without a background check under federal law and in most states. They want gun owners to have more choices for safely selling or disposing of firearms.
"We feel that there needs to be a junkyard in America for firearms, and we are that junkyard," Seiler said.
Since its founding, the National Center for Unwanted Firearms has fielded 160 inquiries, said Ayers. Most have been from gun owners asking for the center's help in brokering a sale to a federally licensed dealer, which must conduct a background check for every transaction. The center also contacts museums about historic firearms to see if they're worth preserving, and will destroy any gun that isn't. Beyond that, Seiler and Ayers say they advise clients on proper gun storage and handling, and walk them through the process of legally transferring firearms if they choose.
"There's a lot of different moving parts and organizations and rules, federal, state and local, so we're here to assist with the process in any shape and form," Seiler said.
Artists have also stepped up to help take unwanted guns permanently out of circulation. Earlier this year, we reported on Lead to Life, a project that repurposed firearms by melting them down and casting them into shovels that they used to plant trees and gardens in the Atlanta area. Other groups like RAWtools, Inc. have also gotten behind this modern day swords-to-plowshares movement, working to help communities reduce gun violence by encouraging people to disarm and have their firearms transformed into tools.
Together, all of these options provide only a loose patchwork system for gun disposal in the U.S. To Hirsh, the surgeon and buyback proponent, there needs to be a much larger, more coordinated effort to serve people who want to get rid of firearms. In 2017, he helped organize the first National Gun Buyback Day, which featured events around New England and in San Francisco. Hirsh says they're set to expand this year, with a date tentatively set for Dec. 15.
Ultimately, Hirsh said he'd like to see at least one buyback in every state, in a nationwide effort that he compared to the federally sponsored prescription drug take back day.
"We're not confiscating. It's not mandatory. It just gives people the opportunity and the agency to say, 'I don't want that gun anymore,'" Hirsh said.
Support HuffPost
The Stakes Have Never Been Higher
Popular in the Community