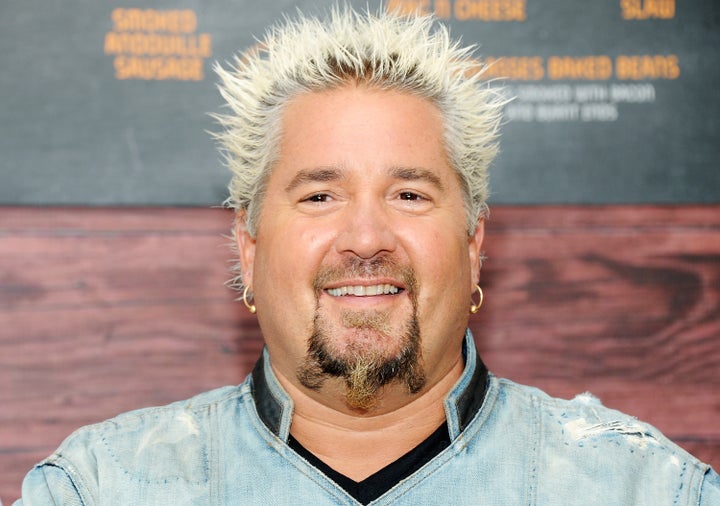 Yet hell hath no fury like Bourdain's disdain for Guy Fieri.
Bourdain has taken plenty of jabs at Fieri over the years. He has described the "Diners, Drive-Ins and Dives" star with a penchant for frosted tips and shirts embellished with flames to something that would result "if Ed Hardy fucked a juggalo." He's called Fieri's 500-seat behemoth restaurant (complete with a gift shop) a "terror-dome." He's even defended picking on the creator of "Donkey Sauce" and "Dragon's Breath Chili" by telling People, "the day you can't tell jokes about Guy Fieri, comedy as we know it is dead."
Now, after years of Bourdain's verbal venom, Fieri is finally firing back in a new interview with GQ:
I don't like him making fun of people, and I don't like him talking shit. And he's never talked shit to my face. I know he's definitely gotta have issues, 'cos the average person doesn't behave that way. It's not that I'm not open to the reality that the food world was like this from a few people's perspective. It's just, What are you doing? What is your instigation? You have nothing else to fucking worry about than if I have bleached hair or not? I mean, fuck.
When GQ contacted Bourdain for the story, he declined to comment.
But GQ pointed out that "if you close your eyes and listen to Fieri speak," he sounds exactly like the chefs and foodies who love to make fun of him. 
"He composts. He hates soda. He doesn't like hunting," GQ writes. "Every fifth word out of his mouth is 'sustainable.'"
So, next time you feel the urge to join Bourdain in making fun of Fieri's yellow Lamborghini, keep this last gem from GQ in mind:
Ask him about why he started an organic winery, and he'll launch into a disquisition about how Europeans are so much more enlightened about alcohol consumption. He'll talk about putting his hands in the soil and making a connection with THE LAND and keeping "lost arts" alive.
PHOTO GALLERY
Brutally Honest Truths About Cooking Dinner
REAL LIFE. REAL NEWS. REAL VOICES.
Help us tell more of the stories that matter from voices that too often remain unheard.