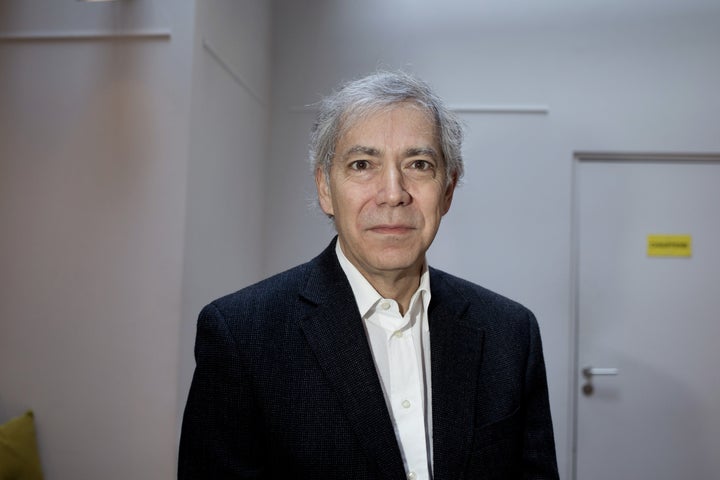 The recently departed managing editor of Harper's Magazine is pushing back against publisher John MacArthur's suggestion this week that the monthly's staff supports a controversial essay by former public radio host and accused sexual harasser John Hockenberry.
Hasan Altaf, who left Harper's last month to join The Paris Review, says the magazine's editorial staff was "sidelined and dismissed" during the development of the Hockenberry piece and journalist Katie Roiphe's controversial March cover story, which contended that "Twitter feminism is bad for women."
"No one in editorial was in support of the Hockenberry article," Altaf said. "No one I spoke to was on board or in support or happy about it in any way."
"Similarly," he added, "nobody on the editorial staff was in support of the Katie Roiphe article."
Last week, Harper's ran a nearly 7,000-word piece by Hockenberry about his attempt to "find a road back from personal and public shame" in the months since allegations emerged that he harassed colleagues during his time as host of WNYC's "The Takeaway." Those claims were later backed by an independent investigation on behalf of New York Public Radio, which found Hockenberry had engaged in "discriminatorily harassing conduct" and "bullying behavior" in violation of company policies.
Published just five months after the investigation concluded, Hockenberry's essay for Harper's faced swift criticism. Slate called it "ridiculous." New York magazine called it "baffling." The New York Times described it as "confused and maddening."
Altaf said he, and many other people in the Harper's office, felt much the same way.
"I felt like it was inappropriate, to use a mild word, to give him the platform of Harper's," Altaf said. "This to me seems like the time to give a platform to people on the other end of this, because it is more important to hear from them, and they generally don't have the same access to platforms like this."
Months earlier, Roiphe's piece pushing back against the Me Too movement had also generated significant criticism both externally and internally. Former Harper's editor James Marcus told The New York Times in April that he was fired from the magazine after taking a "principled stand" against the story. (Harper's said at the time that the dispute was "one small part of a larger and more complicated story" of why Marcus was fired.)
Marcus also told the Times in April that he had "expressed [his] opposition" to MacArthur's idea to "run a contrarian piece on #MeToo movement," but was ultimately "overruled." The Times reported that Harper's reached out to a few writers who declined before Giulia Melucci, the magazine's vice president of communications, contacted Roiphe, who took the assignment.
"The piece was widely disliked by the entire staff," Marcus said then.
Altaf agreed, adding that the resulting rift caused a distrust that still exists within the office.
"When the Roiphe piece ran, the staff was pretty clear and vocal about not being on board, and that had a lot of costs ― even just in terms of working relationships and bad blood and tension in the office between management and the staff," he said. "I personally feel that those relationships became very strained since January and that management has since that point made the decision that they could not trust or rely on the staff."
When reached for comment about Altaf's comments, Melucci said, "You have your story."
Asked what she meant, Melucci clarified.
"You're telling me that Hasan told you that the staff was against the story, so there you go," she said. "I can't confirm Hasan's feelings. I don't know what Hasan felt."
She added: "We don't run like North Korean publications, so people have different opinions here about stories, and we allow them to be free with their feelings. But we also believe in free speech, so we publish things that are controversial. That's the statement."
On Tuesday, MacArthur, who also serves as Harper's president, joined the CBC radio show "The Current" to discuss the Hockenberry story. During a contentious eight-minute interview, MacArthur criticized the female host's "tone," downplayed the allegations against Hockenberry, suggested the country is entering a "buzzsaw of illiberalism" and took issue with what he sees as a "disproportionate response" to some recent sexual harassment allegations.
MacArthur also suggested that he had the support of his nonprofit newsroom, where he wields significant internal power. "I have a woman editor," he said. "The women in the office are very supportive of this piece — most of the women."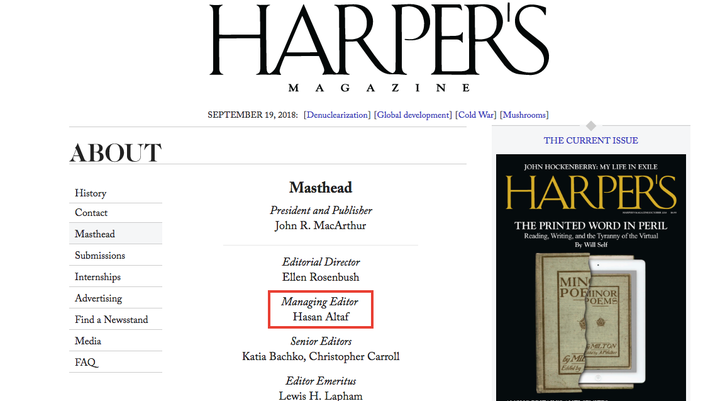 According to Altaf, the Hockenberry piece was edited by Ellen Rosenbush, who is listed as editorial director on the site's masthead, where Altaf still sits below her. She has been at the company for almost three decades, according to her LinkedIn page.
MacArthur's comments on "The Current" rankled Altaf. Regardless of how Rosenbush felt about the piece, he knew many people within the newsroom did not agree with it, he said.
"None of the women on the editorial staff, and none of the men on the editorial staff, either, were OK with the piece," he said.
Altaf, who was still at Harper's when Hockenberry's essay was assigned and in production, said it seemed like the piece was "assigned without anyone on the editorial staff being involved in the discussions or knowing about it before the contract was signed."
Once they became aware of the piece, Altaf said, staff members tried to voice their concerns with it ― to little avail.
"The way it felt to me, personally, was that our opinions were not taken seriously or considered important," he said. "The entire editorial staff shared a feeling, and it was dismissed."
"Because this was a piece that was bound to generate so much drama, and about which members of the staff felt and feel strongly, I feel like we should have been involved in the discussion," he went on. "It would have been good to give us a chance to fairly and openly discuss the piece and talk about it what the goals were and how, if it had to run, we might be able to shape it."
While Altaf was excited for the opportunity at The Paris Review, he said the Hockenberry and Roiphe pieces played a role in his decision to leave Harper's. He felt disappointed not only by the pieces, but in how they were edited and how management responded to the reaction.
"I objected, of course, to the pieces, but I can accept that it is the publisher and the [editor-in-chief's] decision which pieces run, and sometimes there will be pieces one objects to — that's fine and I could live with that," he said. "But it is very disheartening to feel that it doesn't matter at all that you object — that your supervisors have little or no interest in your opinion or in the feelings of the editorial staff."
Related
Popular in the Community