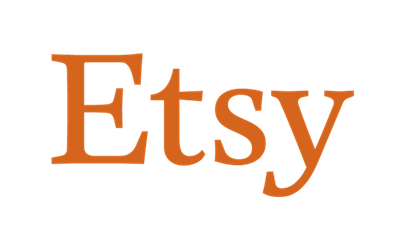 I'm a conscious consumer. I shop second-hand, I limit my consumption of "stuff," and I try to keep my purchases local. I believe in voting with my dollars, and I've gone so far as to dedicate my career to figuring out what that means.
On occasion, though, when I'm hankering for a new piece of jewelry or a unique gift I can't find in my local thrift shop, I'll look to Etsy. If I'm going to dish out the cash on a new item, I know that my purchase has more impact if it goes to the local makers who are working on their craft.
As someone who is directly involved in the maker movement, I'm somewhat embarrassed to say I didn't pay much attention when Etsy changed its policies last fall. For those of you who don't know what I'm talking about, CEO Chad Dickerson announced that Etsy sellers could use outside manufacturers to produce their designs. In other words, items sold on Etsy no longer had to be handmade.
It wasn't until a few months ago, when looking on Etsy for a new watch that I realized the implications of this change.
I had a specific brown, repurposed leather, wrap-watch in mind. I knew the one I wanted was handmade by a seller in Ohio, but I didn't know his name. Typing in a simple search for "wrap watch" into Etsy, I proceeded to spend nearly an hour sifting through 50+ pages of three-dollar "wrap watches" from China.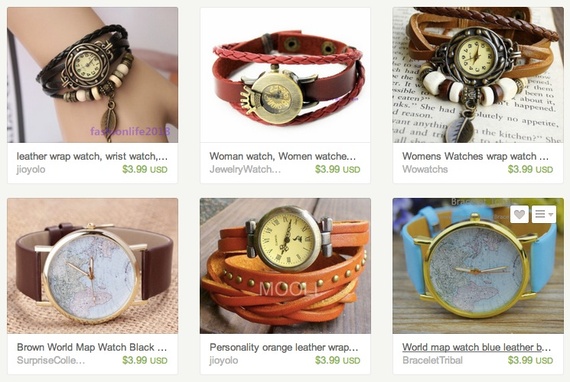 My eyes scanned over page after page of items I would have expected to find in the kiosks of Daytona Beach, not on a website for handmade goods. I sat at my computer with my jaw on the keyboard, wondering what had just happened. When I eventually found what I was looking for I purchased the handmade watch, for significantly more than three dollars, and moved on. I didn't think much more about the experience after that.
A few months later, I met an Etsy seller through Factory45, the accelerator program I run for designers and makers. Among other reasons, she applied to my program looking for business guidance on restoring her Etsy shop sales.
She recently told me, "Last year my Etsy sales tripled in the spring and then again in the fall, so I figured things were still looking good. But in May, my views dropped off to about one-third of what they were in the previous months and as compared to last year. I thought they just dipped because of the holiday weekend and the nice weather, but in June they did not pick back up."
She went on to explain that several message boards had popped up about similar drops in traffic for other Etsy sellers. When I went on the site to see for myself I found threads with titles like, "Are most of you feeling the low traffic, views and sales?" "Can Etsy stop letting Chinese factories sell here?" and "Your Stuff: Made in China?" with diplomatic responses from Etsy administrators encouraging the sellers "to take advantage of the downtime." (Interesting advice when downtime could mean the difference between paying and not paying your rent.)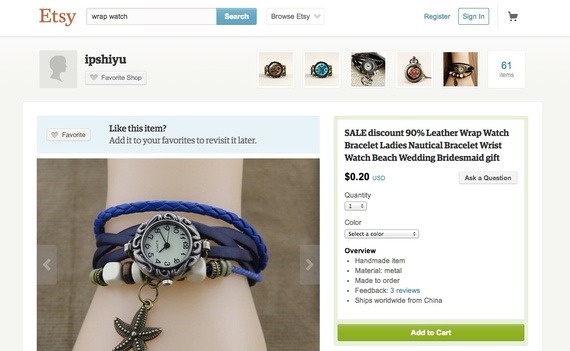 Aside from the issue that independent designers are now competing with full-scale production operations, there is the issue of sheer volume -- Etsy now has over 1 million shops. When a seller is competing in a sea of 999,999 other shops, the odds aren't good.
Now that Etsy shoppers have the option of buying from middlemen selling three dollar watches, finding that handmade wrap watch you're looking for will undoubtedly be more difficult. From the seller's perspective, no matter how many times they change their "tags," SEO or refresh their storefront, the traffic just isn't going to come like it used to.
So what actually happened?
In the fall of 2013, Etsy shifted their loyalty from the maker to the shareholder as it made plans to further scale its business model. How did this change things?
Because Etsy's policy changes happened at the maker's expense, many of the people who were once making a living off of their shops are now seeing a fraction of the sales. The difference between Etsy, and let's say, Wal-Mart just got a whole lot smaller. At the core, Etsy changed its mission. No longer is it a website for makers of one-of-a-kind, original goods. Instead, it has become yet another website for the mass-produced and cheaply made goods that satisfy our insatiable culture of mindless consumption.
So what's a seller to do?
If you're an independent designer or maker with an Etsy shop, there are a few ways to try and get your traffic back up.
Create a small network of fellow sellers. Etsy offers the "team" feature but going beyond that, find five other sellers who have a similar target market and non-competing products. Work together to promote each other's shops using your individual social media outlets and outside networks.
Narrow down your niche and create very specific tags. "Screen printed t-shirt" just isn't going to cut it anymore. The competition is too high. Use tags and keywords you know would appeal to your target market and get specific.
Guest post on the Etsy blog. The blog run by Etsy is "consumer facing," meaning the content is written for shoppers. It's an entire platform where your potential customers could be hanging out. Come up with a few article ideas that would appeal to Etsy shoppers and pitch the editorial team.
Move marketing efforts away from Etsy to Pinterest, Instagram and a personal blog. Etsy ads are not going to be as effective as they used to be, so save your money. Focus your marketing efforts on creating compelling content through your social media outlets. Host contests on Pinterest, run giveaways on Instagram and write about the "behind-the-scenes" of your business on your blog.
As someone who supports the manufacturing movement in the USA, I believe that Etsy sellers should be able to scale production when their sales numbers get too high to manage on their own. My issue with Etsy lies in the lack of a discerning gatekeeper.
It comes down to this: the world doesn't need another eBay. It needs the old Etsy.
Get more business strategy for your Etsy store or small business from Factory45 here.
Related