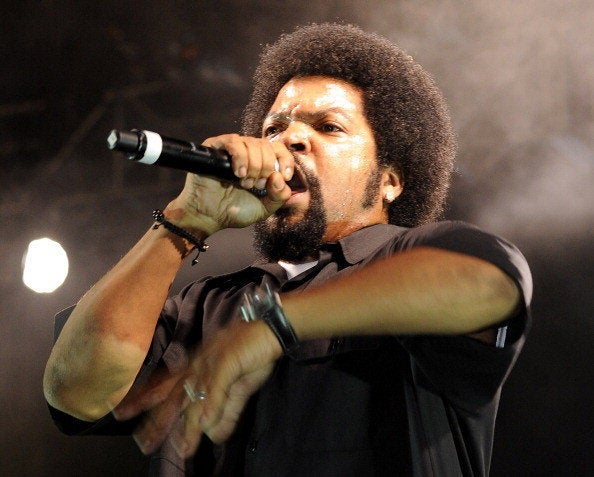 Known for incorporating social and political awareness into his music, it's no surprise that Ice Cube has released his latest single, "Everythang's Corrupt," around this year's presidential election.
The track, which features Rage Against The Machine guitarist, Tom Morello, serves as the lead single from Cube's Spring 2013 independent album of the same name.
During a recent interview with the Huffington Post, the 43-year-old rapper-turned-director opened up on the album, his role in the forthcoming NWA film and his thoughts on Chris Tucker's "doubts" of another "Friday."
How did you and Tom Morello link up for "Everythang's Corrupt"?
We kind of ran into each other and admired each other's work. It was kind of quick and passing. And then when we did the record it was a loop that my man Fredwreck put together. We just wanted the guitars to be a lot thicker and make it feel like a perfect mixture of hard hip hop and hard rock.
What's the concept behind the song's video?
We wanted it to have the same flavor as "Gangsta Rap Made Me Do It," which was a video that was pretty much full of real footage cut together. That video got a lot of mileage for us, so we figured the time was right for another version of that. That's why we dropped this song first, because it's the most political song on the album. And it's a political time. It's a throwback, in a lot of ways, in terms of subject matter.
Throughout your entire career you have managed to incorporate political consciousness into your lyrics. Can fans expect more of that on this album?
Yeah, but it's a different time. You got to do it in context. So it's not a heavily political record, but it does have statement songs and rhymes. I got a song called "Dominate The Weak," which is just showing you how a police state would look and feel. But hip hop is in a different space right now when it comes to that. You don't want to overdo it when it comes to the political stuff.
What are your thoughts on this year's presidential election?
I think it's a joke. I don't even see how Mitt Romney is in the race. It's a trip how they all were talking all of the elitist talk when Obama was running against McCain, but you don't hear none of that now … It's like they just want a white man to come to the rescue, the paramedics was already here. But that's what it really boils down to. Dude [Romney] is just lying through his teeth … If he wins, he's going to do what they [Republicans] always do. Get in there, make sure their homeboys is paid and everybody else can kind of get whatever they can get. It's just a shame, because if he wins it's going to be like, "here we go again, down the drain."
They wasn't on the set of the NWA movie. I don't know where they was, cause we're not even filming that yet. We're still in the casting process, and it's a Cube Vision Production. We're still working on casting and the script. I haven't seen the photo, but I can guarantee you that wasn't where it was from unless they were location scouting. So you know, it's a thing where I want everybody to be involved with the movie in some capacity -- all of the members, so everyone is welcome.
Do you have any ideal candidates for who you would want to portray Ice Cube?
My son, O'Shea. He looks like me, and he can rhyme. He knows Ice Cube better than any actor, and I think he can do it. So we're going to have him audition and hopefully he'll show that he has the skills.
Fans are also anticipating the next and final installment of the "Friday" franchise. And earlier this year Chris Tucker admitted that he has "doubts" about the magic still being there. What are your thoughts?

Well, my magic is still here so the movie is going to get done. The movie is going to be funny, and it's going to live up to all the long-anticipated wait. I would hope that he'll be a part of it. He's more than welcome to be a part of it … It's a trip, because you're looking and somebody says that "the magic is not even there" who's never even tried it.
We put the first one together and we can put another one together. So he should really trust that, and do what his fans want him to do. You should never out grow your fans. And if the fans want him to do this movie, that's what we're in this for, then that's what he should do.
Do you have a tentative release date for the film or are you still writing the script?
Nah, it's written. We're just really waiting for New Line Cinema to give us their notes, and then the ball gets rolling from there to the next phase. So we really haven't offered anyone the movie [roles] yet, until we can get the movie green lit, and get a budget. Then that's when we can go after everybody that's on the script and see if they're down. But for whoever's down, the movie is going to get made and the movie is going to be funny. One person isn't going to stop the show.
Check out Ice Cube's new video, "Everythang's Corrupt," below.
Popular in the Community