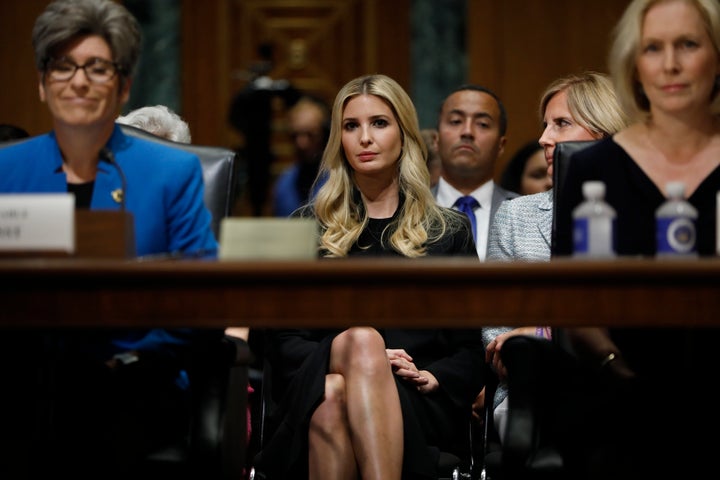 The Senate held a bipartisan hearing on paid family leave on Wednesday, the latest sign that paid time off for new parents is becoming one of those very rare issues that Democrats and Republicans actually agree on.
While senators on both sides of the aisle proclaimed that paid family leave is a critical policy, there was little cross-party consensus on how to do it.
At issue Wednesday were two competing proposals. Democrats pushed the Family Act, originally proposed by Sen. Kirsten Gillibrand (D-N.Y.) in 2013. The bill would fund all kinds of paid leave: for new parents, workers with serious medical conditions and people who must care for sick relatives. Funding would come through a small payroll tax.
Some Republican senators expressed concern that family leave would be a burdensome "mandate" on businesses. But the bigger issue at the hearing was a controversial proposal that would use Social Security money to pay for time off for new parents only. Sen. Joni Ernst (R-Iowa) talked up that idea on Wednesday, as did a resident scholar from the conservative American Enterprise Institute.
Ernst is expected to unveil a bill promoting this controversial proposal with Sens. Mike Lee (R-Utah) and Marco Rubio (R-Fla.), who's been tweeting about paid leave all week. 
Democrats and advocates at the hearing pushed back on using Social Security money to pay for family leave. "It's robbing from your retirement to be able to care for your loved ones now," said Sen. Sherrod Brown (D-Ohio), who co-chaired the hearing with Sen. Bill Cassidy (R-La.). 
Gillibrand said the policy would create a "false choice" between caring for a child and your own retirement security.
The Wednesday hearing was a clear victory for Ivanka Trump, who has repeatedly tried to brand herself as a champion for working women and has been pushing for paid leave since before the election. She took a front-row seat, though she did not speak. Cassidy thanked her for her efforts.
In an op-ed published on Fox News ahead of the hearing Wednesday, the first daughter urged Congress to take up the cause of paid leave. And while some reports have indicated that she would get behind the Rubio plan, Trump notably didn't endorse a particular policy, simply urging Congress to do something.
"No doubt, members of Congress will have diverse opinions about how to structure the policy and how to pay for it," she writes. "But rather than allowing differences to prevent progress, our lawmakers are coming together to find the best solution."
The United States is one of only a handful of countries that offers no kind of paid leave for new parents. Many industrialized countries offer not only parental leave but also paid time off to care for family or one's own health.
The Rubio plan, based on a proposal from a conservative women's group, has been widely panned by progressives since earlier this year, when the senator first started flirting with it. Critics say it will not only weaken the Social Security system but also penalize women, people of color and low-wage workers by lowering their already meager retirement savings. It would also hurt people with more children.   
The devil is in the details, and it matters what the proposal is.

Ellen Bravo, director of Family Values @ Work
Critics also point out that the Rubio plan wouldn't include the vast majority of people who need paid family leave ― those who need time off to deal with either their own serious health issue or that of a loved one.
The bill has not been released yet. The plan it's modeled on only focuses on parental leave, but it's possible Rubio's proposal could widen the field. However, the expansion beyond parents is not a trivial point.
Seventy-five percent of the workers who take advantage of the unpaid leave offered through the federal Family and Medical Leave Act use it to take care of loved ones or deal with their own health issues, according to data from the National Partnership for Women and Families, a progressive group that backs the Family Act.
The night before the hearing, hundreds of paid leave activists joined a call about the Family Act that was organized by 10 progressive groups, including Black Women's Roundtable, Center for American Progress and Main Street Alliance.
Several women told their own heartbreaking stories about what it's like not to have paid leave.
Staci Lowry, a mother in Detroit, described the ordeal she went through after her 4-year-old daughter had a stroke. The large company she worked for let her take unpaid time off to be with her child in the hospital, but she started falling behind on bills. When that time ran out, she was fired. Lowry lost her house to foreclosure, moved in with her mother and wound up on public assistance.
"I didn't mind going on assistance, but I do mind how that's associated with being uneducated and lazy," she said on the call. Paid leave would've had been a game-changer for her, she said.
Maria Silva, a teacher's assistant from Portland, Oregon, spoke of putting off treatment for breast cancer because she could not take the time off from work for a double mastectomy. Silva cried as she described scheduling surgery for Thanksgiving weekend when she finally had some days off. That wasn't the end of it. "I had to wait for spring break for final procedure," she said.
A teacher's assistant spoke of putting off treatment for breast cancer because she could not take the time off from work for a double mastectomy.
Family leave has proven a remarkably popular benefit, even in the Trump era, when so many other social safety net programs seem imperiled.
Six states and Washington, D.C., have now passed paid parental leave laws, up from just three states in 2015. California, New Jersey, New York and Rhode Island have programs that are up and running. Washington state has yet to implement paid leave, though it passed the state's legislature with bipartisan support last year. Massachusetts' Republican governor just signed paid leave into law this month.
All these states use some version of the model proposed in the Family Act.
A Pew Research Center survey in 2017 found that more than 82 percent of Americans overwhelmingly support giving paid time off to workers to deal with their own health conditions and to mothers following the birth or adoption of a child. A slightly lower percentage agreed that fathers should also have paid time off.
Seventy-five percent of Republicans Pew polled said they support paid maternity leave, compared to 90 percent of Democrats.
"The momentum on this issue, and the enormous popular support across the political spectrum has made it clear to politicians on both sides that it is something they need to take up and we're heartened to see that," said Ellen Bravo, director of Family Values @ Work, a nonprofit coalition of groups pushing for paid parental and sick leave in the U.S. and one of the groups on the call Tuesday night.
Bravo said the Rubio plan would be a step backward for the movement. "The devil is in the details, and it matters what the proposal is."
Calling all HuffPost superfans!
Sign up for membership to become a founding member and help shape HuffPost's next chapter