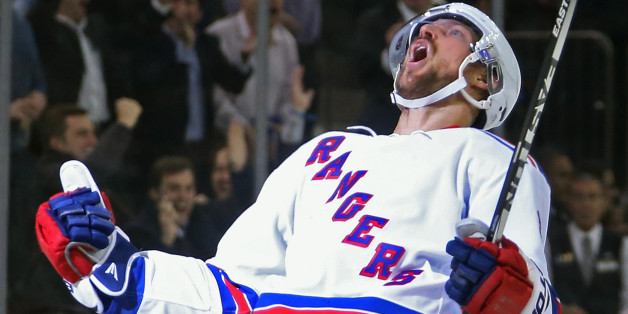 Hockey players are tough, and if you want proof of that, just check out what happened to New York Rangers defenseman Kevin Klein on Monday night.
In the first period, he lost part of his ear after taking a high stick from Zach Sill of the Pittsburgh Penguins.
'Tis but a flesh wound.
Klein had the chunk of his ear stitched back on and was back out on the ice in the second period and eventually scored the game-winning goal in overtime, leading his team to a 4-3 win.
"I don't know if anyone saw his ear there, but he lost a piece of it and they sewed it back," coach Alain Vigneault told the New York Post. "Say what you want about hockey players, but they're tough SOBs."
As a bonus, it looks like Klein's ear will be OK. On Tuesday morning, he tweeted the following image:
Thanks everyone! Saw the plastic surgeon this morning it is all good. #tysonbitme pic.twitter.com/xqJQuxz7r6

— Kevin Klein (@Realkevinklein8) December 9, 2014
As is the team's recent tradition,
Klein got to wear the Broadway hat,
which is given after each victory to the player with the game's most outstanding performance:
VIDEO: ICYMI last night #NYR @Realkevinklein8 had the goal of the EAR! Watch it again! http://t.co/NOqspDiC1K pic.twitter.com/8itk3a86t3

— New York Rangers (@NYRangers) December 9, 2014
(h/t NBC New York)
BEFORE YOU GO
PHOTO GALLERY
Greatest Hockey Songs