Life experiences invariably shape artists' visions and affect where they go next. For sculptor Marianne Weil, visiting Stonehenge as a child planted a seed of curiosity that would grow into a deep connection to archeology, and specifically to prehistoric constructs. She says, "Because we are talking 5,000 years ago, there was no written history. We know only that these building were constructed for ceremony -- perhaps marking the seasons."
Raised in a family of artists, Weil grew up carving balsa wood next to her mother as she painted her own works for exhibition. Her aunt worked as a sculptor, and Weil recalls admiring her soapstone carvings. At age 18 she took classes at the New School, but she felt frustrated, as they insisted that she model in clay, whereas she yearned to carve. Her solution was to source a large slab of alabaster and chisel away at it in her apartment. She also chose to transfer to Goddard College, where experiential learning was strongly encouraged and Weil solidified her plans to pursue a career in sculpture.
Although the artist knew she didn't want to do classical work, she chose to first learn traditional methods to strengthen her foundation as a sculptor. Initially, she apprenticed with Italian stone carvers in Vermont, and then she moved to Pietrasanta, Italy, to work and learn the foundry process and original methods of stone carving. An old olive mill served as both Weil's home and studio for the next eight years as she immersed herself in a community of artists. She lived simply on only $500 a year and soaked up the artisan lifestyle.
Weil returned to the United States in 1982 to create a sculpture program at the Elizabeth Seeger School while she pursued her MFA at the School of Visual Arts. She continued for the next nine years to make annual voyages back to Italy to tuck away and create. She later taught sculpture at the State University of New York at Stony Brook and was also a visiting professor at Haverford College. Over the years Weil has learned to balance her passion for inspiring up-and-coming talented artists with her own need to create. She says, "I enjoy the dialogue with students. They approach creativity with fresh eyes and spontaneity." Weil is currently assistant professor of sculpture at the City University of New York, College of Staten Island.
Weil has garnered inspiration from visiting archaeological sites near various artist-in-residencies, including stays in Spain, Denmark, Scotland, Canada, Iceland, France, and Ireland. During these trips Weil keeps it simple, saying, "I have a modest travel kit with only basic tools, paper, and wax to sketch and capture my ideas. I want to minimize the distractions and incorporate found and invented materials to introduce dimension and texture into my work."
Weil was both intrigued and inspired by the workmanship she saw at Stonehenge, which led to a notable series of abstract bronze sculptures that echo the ancient megalithic cultures of Western Europe. To create her large, one-of-a-kind bronzes, Weil pours one-quarter-inch-thick wax sheets and then builds her hollow forms. She adds textural impressions to both the inside and outside of each piece. Her pieces have openings, gouges, incisions, and punctures, which are inspired by the windows and walls of large megalithic temples.
Ever curious, Weil has recently created a new body of work that incorporates metal into blown glass, which she tints varying shades of amber. The effect is stunning: textured, twisted metal enveloped in smooth, curving glass. The process is technically challenging, because the materials melt at different temperatures, and she must pull and twist the molten glass into shape before it solidifies around the metal.
Countless sculptural pieces, in varying stages of production, line the walls of Weil's home and studio, which she shares with her partner, Diane, in Orient Point, on the North Fork of Long Island, N.Y. A converted vegetable barn, the spacious wooden structure has been an ongoing fixer-up project over the past 30 years. Light streams in from skylights throughout the house, illuminating her vast body of work.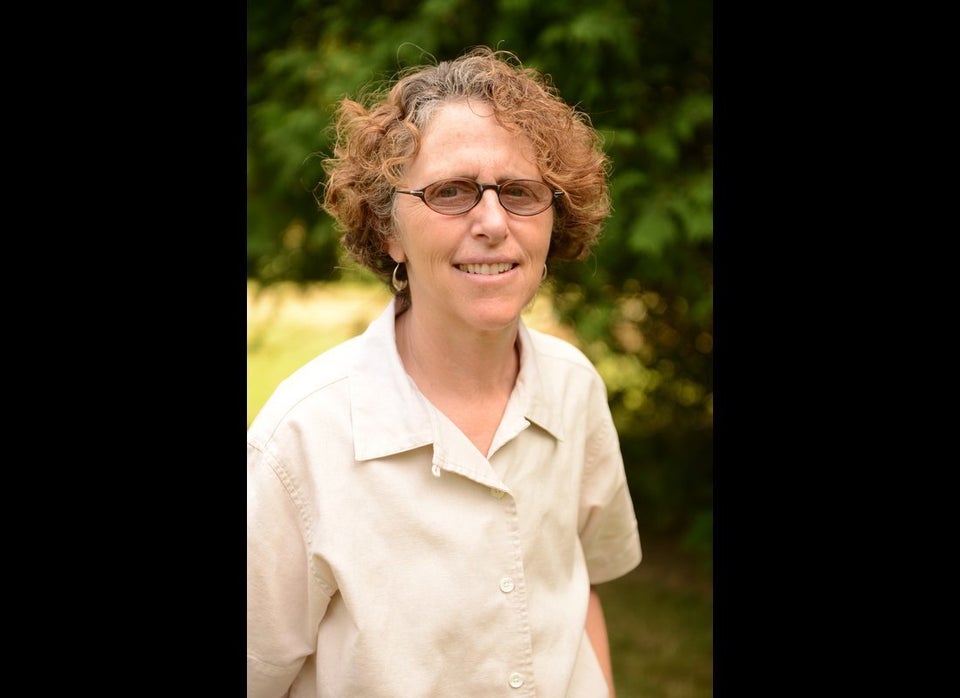 Artist Marianne Weil
Weil is represented by Kouros Gallery in New York City and Art Sites Gallery in Riverhead, N.Y., both of which have hosted numerous solo shows where her sculptures, wall reliefs, and monotypes were exhibited. The various media reflect Weil's process of working through ideas to express various shapes and textures.
Popular in the Community