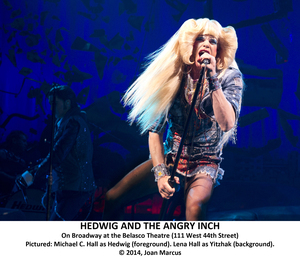 From repressed funeral director on Six Feet Under to serial killer on Dexter, Michael C. Hall has the ability to warm his way into our hearts by portraying some of the most troubled individuals you hope you'd never meet. Now in the Broadway musical Hedwig and the Angry Inch (written by the show's original star, John Cameron Mitchell), Hall tackles the role of an East German rock star who had a botched gender-reassignment surgery.
Hall may have always been destined to take center stage in the production.
"I saw it downtown when I was doing Cabaret [in 1999]," he recalled in his dressing room a few hours before a Friday show. "I came down for a late show a couple times. I was so excited when the movie came out. I met John [Cameron Mitchell] in a Kim's Video in the West Village and geeked out on him. I was blown away by the piece, his performance and the music."
Hall's performance comes on the heels of Neil Patrick Harris, who won the Tony for Best Actor in a Musical earlier this year for his role as Hedwig, and Andrew Rannells.
When you see Hall on stage, he's full of piss and vinegar, but as he sits in his dressing room, barefoot and in jeans, a T-shirt and painted nails, he's reflective and gentle. He chooses his words so carefully that you can't help but hang on to every one. To get to Hall, though, you have to first go through Sal, his 5-year-old long-haired Dachshund/spaniel mix he fondly says has some snake, pony, bat, and unicorn thrown in. While Sal couldn't have weighed more than 15 pounds, she was very protective of the star. Eventually she calmed down but never left Hall's side as he delicately petted her throughout the entire interview. The kind of compassion he showed is what keeps us under his spell with every role.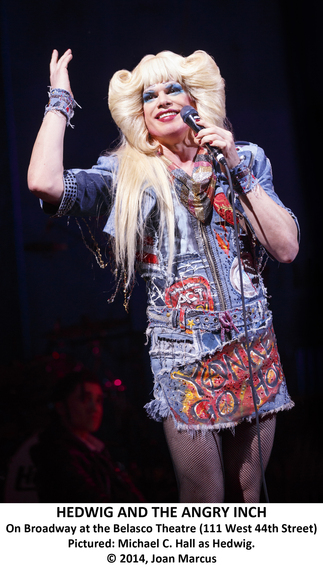 When you first saw Hedwig all those years ago, did you ever say, "I'd like to star in this one day"?
In the same way you listen to rock albums and say, "Man, I want to be in that band." Not in an eventual reality way -- more in a fantasy way.
This is your first musical since Cabaret in 1999. Did you feel any pressure returning to the musical stage?
Sure. I think if you don't have some sense of pressure, fear or uncertainty, then it's probably not worth doing. I received the invitation from John to do this, and I couldn't pass it up.
Did you keep your voice in shape during your long hiatus from musicals?
Not as consistently as I'd like to moving forward. I have enough experience singing and enough under my belt that I was able to get myself in shape.
We spoke of pressure musically, but how about the pressure of taking over the role after Neil Patrick Harris and Andrew Rannells?
Some of the edge was maybe taken off because Neil had the pressure of doing it for the first time since the original production and all the people who played it then. I had the experience of replacing Alan Cumming in Cabaret, so I've done the jumping-on-a-moving-train thing before. I also felt charged with the task or the invitation to play my Hedwig and not simulate someone else's.
How would you describe your Hedwig?
I'm inside of it, so it's hard for me to provide you with an objective description of who she is. I think she is hurting and dealing with more than the average share of regret and resentment and bitterness and, frankly, obsessiveness about her unfulfilled relationship with Tommy. She is in desperate need of a witness, and the audience is that. I think out of the course of the evening, she comes to recon with her own responsibility in this world. She is thankfully able to come to a place of self-acceptance and a sense of her own wholeness without armor or artifice. I think that's the thing that resonates with everyone who sees it.
Throughout the course of your career, you have played many gay characters. What draws you to those roles?
I don't know. I feel like I choose roles, and I also feel like roles choose me at times. I think I gravitate toward characters who are defined by some sense of conflict or secret keeping. I think in the case of David Fisher [on Six Feet Under], it was about the character's inherent conflict -- something that made him inherently dramatic. In case of Hedwig, it was the chance to front a rock band and sing awesome rock-and-roll music. There is something about people, for one reason or the other, who are marginalized by their circumstance that is compelling to me. That has manifested itself into me playing a few, or more than a few, characters who are gay.
You recently said, "It's very liberating to dress up like a woman." How do you feel when you are fully made up as Hedwig?
I feel amazing. I wake up in the morning and see myself in the mirror and go, "Oh, God, look at that tired, old face." Then I come here, lie down in the makeup chair, sit up and say, "There I am!" I'm definitely on board with that experience.
How long does the transformation take?
About 40 to 45 minutes to get the makeup on, then an additional five to 10 to get the wigs on.
Andrew Rannells gave you some makeup-removal tips. Did you receive any other advice from the previous Hedwigs?
No, just basically, "Good luck, and climb that mountain, baby!"
Speaking of climbing, you must know that when you're bumping and grinding yourself on another guy's lap in the audience, you're making a dream come true.
It's definitely a better feeling than someone looking at me like, "Get the fuck away from me!"
Not really. I definitely had people who were screaming "Please don't!" with their eyes. For the most part people are game. It's also nice for [Hedwig]. She's never been in this situation. She's never been in an audience this big or a theater this legitimate. To be embraced in any way is the sweetest, sweetest drug for her.
Since you always had a fantasy of being a rock-and-roll singer, what song would you rock out to at karaoke?
Oh, man! Depends how many drinks I've had. I've always enjoyed "Kiss" by Prince. You can sort of give it the Tom Jones treatment too.
Your father died when you were 11. Also, your parents' first child died in infancy before you were born. How would you describe yourself as a kid growing up in North Carolina?
I think I was a kid who was surrounded by a certain amount of sadness. I probably absorbed some of that but managed to maintain some enthusiasm and maybe loved performing more than anything because it was a place where I was able to be free.
Was your mother very supportive of your decision to go into the arts?
I wouldn't say "very supportive." I wouldn't say "discouraging," either. I would say my mom is just more neutral in a way that, in hindsight, I actually appreciate. She didn't make any claim on my interest. I think early on she had some concerns about the viability of such a choice.
Now that was a rough childhood!
Yes! Everyone has a favorite season. What was yours?
The final season. I'm kidding! The first season was amazing because it hadn't aired, and it felt like we were telling a secret. Then, of course, the fourth season ["The Trinity Killer"] was amazing.
Do you have any plans to return to episodic TV?
I never say "never," but I don't have any concrete plans at this point. Right now I'm just enjoying doing this, and I'd love to do some film work. It is nice at this point to do things that have an end in sight from the beginning.
What would people be surprised to know about you?
I have a dog and two cats. I have a real capacity for silliness. I like to eat sardines out of the can.
After everything you've done, what are you the most proud of?
Currently I'm really proud of telling this story. I'm really proud of the TV work I've done. Maybe I'm most proud that the vast majority of the work I've done is stuff that I am, in fact, proud of.
Michael C. Hall stars in Hedwig and the Angry Inch through Jan. 18. For more information visit hedwigbroadway.com.
Popular in the Community