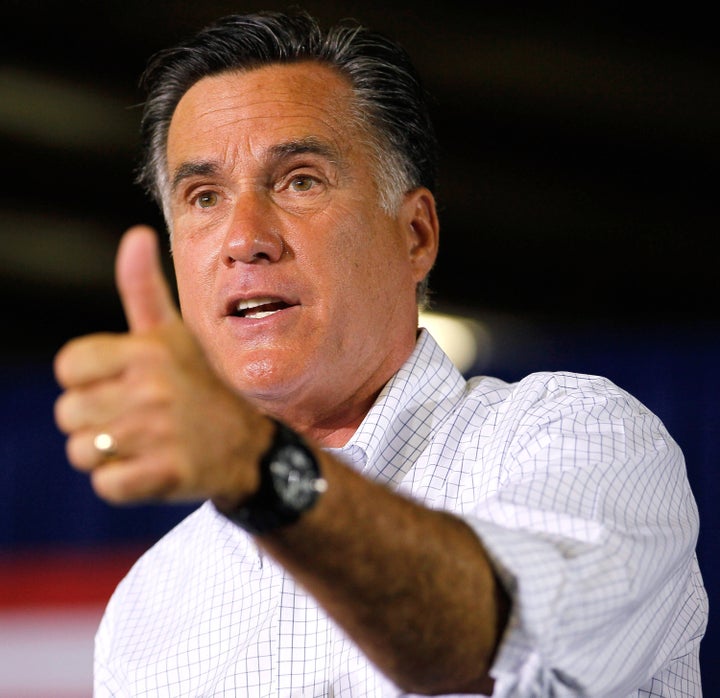 There comes a time for every presidential candidate at which his or her freedom of movement is severely restricted, once what is known as a "protective press pool" becomes part of their campaign.
For Mitt Romney, that day came Monday.
From now on, through Election Day on Nov. 6, a small group of reporters will travel with Romney wherever he goes. When he is not going anywhere, the reporters will gather in the morning wherever he is, and wait. If he decides not to travel anywhere that day, the campaign will call what is known as a "lid."
It is essentially the same arrangement the press has with the sitting president.
Up until now, Romney has had reporters with him essentially whenever the campaign wanted them, which was for political events and select fundraisers that were open to the press. When he was at home or on vacation, or even at his Boston campaign headquarters, there was no press contingent following him.
President Obama, as a candidate in 2008, allowed a protective pool to begin traveling with him more than a month earlier than this point in the campaign. Obama's first trip with the pool was to Walter Reed Army Medical Center in Washington, D.C., to visit with wounded soldiers.
Romney's first with a protective pool was to Bradley's hardware store in Wolfeboro, N.H., near his vacation home on Lake Winnipesaukee. From the Washington Post's Phil Rucker, who was print pool reporter on Monday:
Gov. Romney arrived at Bradley's Hardware in downtown Wolfeboro, N.H., at 8:45 a.m., after a short drive down Main Street.

Romney was wearing a casual salmon checkered button-down shirt, his sleeves rolled up his forearm. He wore jeans and black New Balance shoes. As he walked into the store, he was carrying what appeared to be a shopping list. He said hello to a local woman, "Hi, there, how are you doing?" When your pool asked her if she planned to vote for Romney, she said, "Of course."

Romney is inside the store shopping and your pool is holding on the street outside.
Romney left the hardware store -- where he bought "hardware stuff" -- and went to the grocery store and then a Rite Aid, according to a subsequent report from the Post's Phil Rucker:
Gov. Romney left Bradley's Hardware at 8:54 a.m. with a beige bucket of goods. Asked what he bought, Romney told your pooler, "Hardware stuff." Then, he said, "Going to the grocery store now," and climbed into his Suburban.

At 8:57 a.m., Romney arrived at Hunters Shop 'n Save, a nearby grocery store. Before entering the store, he stopped to get two ears of "native sweet corn" from an outside display. They were on sale for two for $1.00.

When your pool asked if he was cooking tonight, Romney said, "Absolutely." At that, Romney grabbed a shopping cart and went inside the store. Your pool remained outside in the parking lot.

At 9:09 a.m., Romney exited the store with a shopping cart full of groceries. He loaded up the trunk of the Suburban himself, without help of agents. He had 12-packs of Caffeine Free Diet Coke and Wild Cherry Diet Pepsi, as well as a 24-pack of Poland Spring bottled water. He also had two plastic bags of groceries. Your pooler spotted Greek yogurt.

When your pool asked whether he was cooking tonight, Romney said, "I'll make my own dinner. That's not exactly cooking."

Romney said, "I've got some folks coming over today." When one reporter asked if they were Rob Portman or Tim Pawlenty, Romney laughed, "Ha, ha, ha, ha," but did not answer.

At 9:11 a.m., Romney walked across the parking lot to Rite Aid pharmacy. Your pool stayed outside. At 9:16 a.m., Romney emerged from the store with a plastic bag of goods. He held his iPhone with his left hand up to his ear, but then had a conversation with one lady whose car was blocked in by his motorcade.

"I'm sorry for blocking you in there. I don't know about these guys," Romney told her, motioning at the Secret Service agents.

"It's because you're a very special person," she told Romney, giving him a thumbs up.

"Have a nice day," he said.

Romney arrived back at his residence at 9:22 a.m. and your pool is holding.
Around 10 a.m. Rucker reported:
Gov. Romney is scheduled to remain at his residence in Wolfeboro, N.H., for the rest of the day. He will be meeting at the home with senior advisers, per a campaign aide.
This story has been updated to reflect subsequent pool reports.
Calling all HuffPost superfans!
Sign up for membership to become a founding member and help shape HuffPost's next chapter
BEFORE YOU GO
PHOTO GALLERY
Awkward Mitt Romney