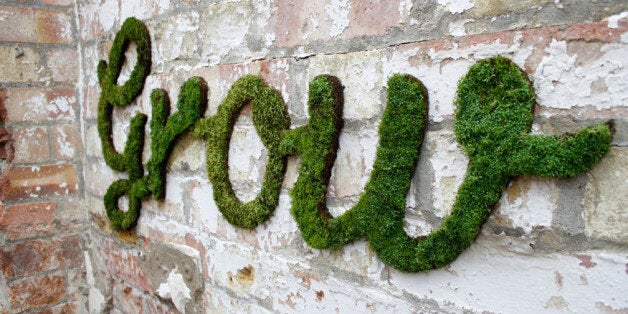 Graffiti -- some still consider it urban blight, but it's a well-established art form. And now, it's gone green.
In recent years, a handful of artists around the world have advanced the dialogue of the medium by using eco-friendly materials like moss to make their statements, and their work has inspired a cross-section of society, from crafty moms to street culture bloggers.
While it might seem like a small adjustment in materials, the implications of green graffiti are revitalizing. If graffiti at its root seeks to confront and transform an urban canvas, then there is perhaps no act more subversive than using living, breathing organisms to change a bleak landscape into a verdant one.
Moss can be applied to surfaces using an organic adhesive, or blended into an all-natural (albeit unsavory) "paint" including ingredients like yogurt, sugar and beer. Either way, it has a very small ecological footprint compared to the aerosol paints traditionally used in making graffiti.
Artists that have become known for their green art include Anna Garforth, whose "moss typography" and outdoor installations draw attention to the restorative and healing properties of its principle material. According to her website, Garforth has a client list that includes international banks, design schools and galleries, but she's not above sneaking "behind locked gates" to draw attention to a "small wilderness."
Edina Tokodi, a Hungarian-born, New York-based artist also takes her work directly to the public, having adorned subways and other high-traffic areas with moss and grass stencils of animals. She is the founder of Mosstika Urban Greenery, "a collective of eco-minded street artists dedicated to green guerilla tactics and inspired public art."
"If everyone had a garden of their own to cultivate, we would have a much more balanced relation to our territories," Mosstika's website states.
In addition to working with moss, both artists also work with other organic materials. The Huffington Post contacted both Garforth and Tokodi via e-mail for comment, but neither returned comment before press time.
Related
Popular in the Community