When marketers think of content, they forget how influential music can be among audiences. For millennials, Macala Wright argues:
Music is an emotional touchpoint
Music incites social action
Live music experiences forge lasting bonds
In short, music brings people together -- and that's part of 1BAND 1BRAND's latest mission. In an effort to unite artist and brand communities, the company, along with co-sponsors GYK Antler, WeWork and GIMME DANGER! recently launched a series of live events across the country to "champion creative collaborations."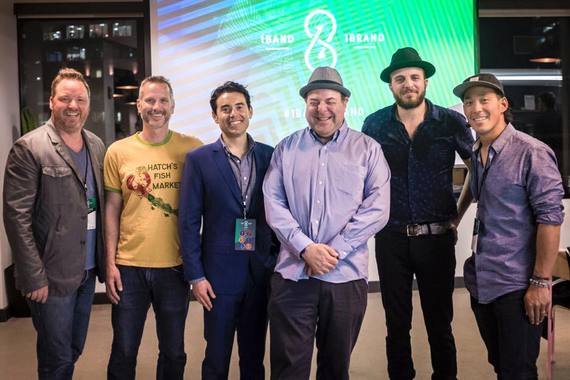 Through live events, content, consulting and proprietary tools, 1BAND 1BRAND has developed more than 100 artist-brand partnerships. To learn more about how the business is connecting the dots between music and marketing, we spoke with Brady Sadler, the co-founder of 1BAND 1BRAND and the EVP, Growth and Innovation at the marketing agency GYK Antler.
1) Please describe the evolution of the music industry and music sponsorships over recent years. Also, what sort of impact have technology and social media had on the music and marketing landscapes?
The music industry has been in a state of turmoil since the introduction of the MP3 and iTunes, now more than ten years ago. Recently, YouTube, Spotify, SoundCloud and others have made recorded music virtually free in the eyes of many consumers and, to the dismay of many record executives, it's never going back.
While technology has leveled the playing field and empowered artists to build direct relationships with their fans, this democratization has also resulted in a cluttered environment that forces artists to search for new ways to gain exposure and earn non-traditional revenue.
In today's media environment, brands have an equally tough time breaking through and connecting with consumers. To do so, they must create a constant stream of content that is authentic, engaging, and entertaining. However, most brands are in the business of creating products and services, not content.
There are three main reasons brands will turn to artists for marketing partnerships:
Compelling Content. If brands expect consumers to like, follow and engage, they need their owned channels to be more than just a sales pitch. While brands may be great at creating products and services, they are not inherently built to develop compelling content. Artists however, are the original storytellers and the perfect partners to support this need.
Cultural Relevance. Just like the old cliché goes, you are the sum of the people you spend the most time with. This now applies to brands, especially since they have to develop a personality and can no longer hide behind an address on their product label. Aligning with the right artists can help reinforce a brand's values and provide the brand with an interesting story to tell alongside the artist.
Authentic Connection. Artists have the opportunity to leverage technology and develop direct channels to communicate with fans. When executed effectively, marketing messages sent through these channels are seen as inherently 'native,' which also happens to be a favorite buzzword of the marketing world.
While brands are getting hip to this shift, few understand how to effectively engage artists. That often leads to campaigns that feel forced. However, when a thoughtful strategy is in place and the artists and brands are appropriately aligned, everybody wins. The artists get a monetary reward, additional exposure or both. The brands receive engaging content to reinforce the values of their company and the fans get more great art. That is a beautiful thing.
Both sides still have reservations about entering into these partnerships, but it's clear the opportunity is too great to ignore.
2) What are a few strong historical and current examples of brands sponsoring musicians? What were the results?
In some ways brands and artists have always been working together, but recent trends have created a lot of room for innovation.
When I survey friends and colleagues about the most artist-savvy brands, Converse is regularly at the top of the list. The brand has long been associated with the creative class, but recently they have demonstrated a commitment to artists that few brands can match. In 2011, Converse launched its own recording studio dubbed "Rubber Tracks." It provided space, equipment and engineering talents to help artists record for free, and retain all rights to their own music. This helped the brand build direct relationships with a legion of ambassadors who promote their products by proudly wearing them on stages across the world. These subtle endorsements are extremely influential, especially with young fans that tend to emulate their favorite artists.
The program also includes a live events component where the brand pairs up emerging and established artists for unique performances that are free to fans. Recently, Converse launched the "Made By You" campaign, featuring imagery of sneakers worn by musicians, painters, actors, photographers, explorers and more, which serves as a showcase of endorsement from the featured artists. Overall it is clear this approach to marketing is working for Converse, who reported a 28% increase in sales this past quarter.
An emerging brand that has made a commitment to music is the healthy food chain, sweetgreen. To celebrate their annual sweetlife festival, the brand launched the "Beets Don't Kale My Vibe" salad in collaboration with the festival's headlining artist Kendrick Lamar. Promotion included restaurant signage, branded tee shirts and a portion of all product sales were given to a youth charity. This demonstrated how to extend the impact of a live event sponsorship in a very clever way. It also showed the brand's sense of humor, their pop-culture sensibilities and their corporate values.
3) What's in store for music and marketing moving forward?
Innovators on both sides will continue pushing the boundaries of these partnerships.
While superstars have and always will align with brands for traditional advertising and endorsements, emerging artists will be increasingly relevant given their flexibility, influence and direct relationships with fans.
Smart artists will build the necessary infrastructure to support their interactions with fans in a way that mirrors corporate CRM systems. This ability to reach audiences, backed by robust data, will empower artists in many new ways. Some will enlist their most influential fans to help test and launch branded products, while others will bundle branded goods with music and access.
Speaking of access, branded experiences will also play a role in the evolution of these collaborations. Studies show that many young consumers value experiences over products, which is one factor driving the popularity of music festivals. These events provide unique opportunities for brands to interact with consumers and, when done correctly, these activations go far beyond naming rights and signage just as sweetgreen proved. More brands will underwrite concerts, art shows, travel experiences, public installations and more. Truly innovative companies will go even further and develop ongoing initiatives like artist in residence programs to drive more regular collaboration.
4) On May 12th, you hosted the first 1BAND 1BRAND event, in Boston, to kick-off the nationwide tour. How did it turn out?
The first event exceeded all expectations. There was a great turnout representing a diverse range of artists and brands including New Balance, The Boston Bruins, TedX, PayPal, Timberland, Spotify, Red Bull and more.
We had a dynamic conversation that focused on a number of key themes that we will continue to explore including how to leverage technology and data to form partnerships and what makes a partnership feel authentic to artists. I'm excited to learn from this community that we are convening and continue the dialogue at our next event in NYC July 22nd and beyond.
What do you predict will happen to music and marketing in the coming years? Share your thoughts below!
Related
Popular in the Community