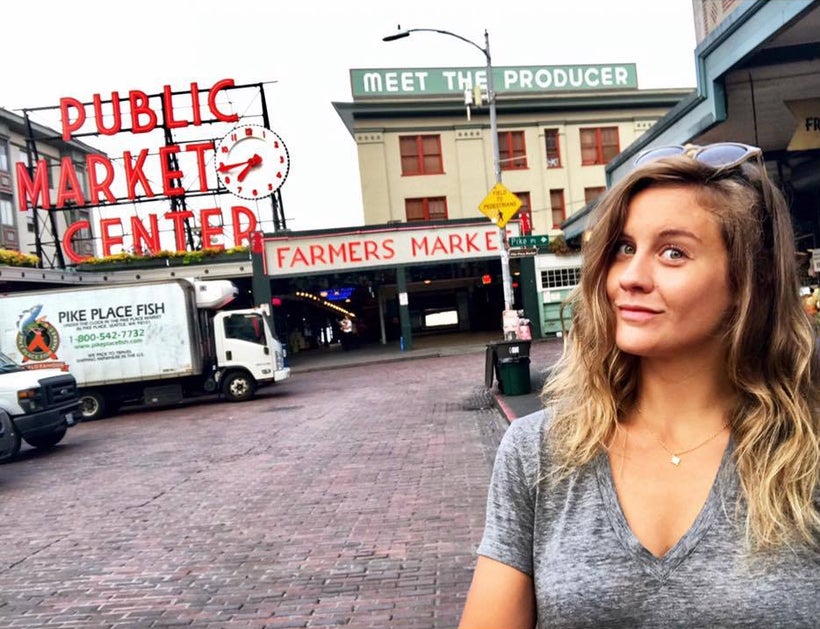 What are your travel goals? Do you prefer to travel domestically or internationally? I've found that a trip doesn't have to be international to be cool, challenging or exotic. Traveling, no matter how far you go, opens up your world in ways you could never imagine. After completing my 7 continents goal and stepping foot on Antarctica last November, I'm officially calling my next travel goal: travel to all 50 USA States by the end of 2018!
I've been mulling over this specific goal for several months now since my USA road trip in April 2017. For me, considering a goal means that I have been researching all the states I have left, mapping out potential road trip routes on Roadtrippers, checking out train trips across states, setting flight price alerts on Kayak, creating a budget, etc. I always learn so much when I'm planning trips ― this one makes me feel like I'm back in 4th grade learning about the states again (shout out to Mr. Mack's class)!
I purchased a USA scratch off map on Etsy, and obsessively scratched off every state that I've been to the moment I opened it. It helped me visualize the states I had left and how many trips I could do them in as I finalized my decision.
So, after completing all 7 continents, why am I setting my sights on America?
We have 50 unique, majestic, intriguing states that hold some of earth's most brilliant sights and landscapes. I take for granted everyday how amazing our country and freedom is here. Our passport is powerful, and we should use it to go see the rest of the world, but there is a lot power in getting to explore your own beautiful country.
Being born and raised in the United States, I really do want to see more of my own country. My focus for so long has been international travel ― that has taken me to over 111 cities across 35 countries and 7 continents. At a time when America feels so divided, I feel like focusing on domestic travel will help me to connect with diverse people from all over, and continue to keep our current situation in a realistic and empathetic perspective.
I'm a sucker for a goal with a deadline. Combine my travel bug with my OCD fondness for checklists, and you've created a travel monster. After my USA road trip this past April, I realized (ok, I didn't just "realize", of course I have a google doc to strategically track all of this) that I had 16 states left to visit. I cannot be that close to finishing a checklist and not put 100% into completing it. I'm all about the long game, but being a little antsy can set you ahead of the curve.
CROSS COUNTRY ROAD TRIP INSPIRATION
I found myself inspired after my USA cross country road trip this past April to see more of my beautiful home country and meet more Americans. Driving 3,000+ miles across 12 states ended up being an amazing experience. As with every trip, my opinions were challenged, broadened, and evolved. Expectations were shattered. That's what happens when humans meet face to face, our guards go down and we realize we're all in this together ― regardless if you're traveling in America or anywhere in the world.
Another inspiration for my setting this goal was because of my frentor Miriam Thurber. She just turned 20, and not only did she hit 20 countries before her 20th birthday, she has also already traveled to 45 states, with the goal of getting to all 50 by age 25. That motivated me to chase this dream as well; just further proof that those around you truly do impact and influence your life. Miriam told me this about setting travel goals:
"I'm obsessed with travel, checking things off lists, challenging myself and doing new things. After doing some research, I determined that although the '50 by 25 states' goal was formidable, it was doable. I have 5 states left: Oregon, Idaho, Washington, Alaska and Hawaii. As a college student in Pennsylvania, visiting all 50 states by the time I'm 25 years old is going to require effort, careful planning, and monetary sacrifice in other areas of my life. But, because I love travel, seeing new things, and pushing myself, it seemed like a perfect challenge ― setting goals and chasing dreams always requires discipline and growth."
I love traveling to its core, no matter where I'm at or how far I am from home. I am grateful wherever I get to go, and I get just as genuinely excited about visiting South Dakota as I do Barcelona. Childlike curiosity and excitement have been my key to finding the thrill in everyday life, no matter where I'm at in the world. Traveling transforms you ― helping you grow personally and professionally as you face people and situations that you've never been exposed to before, making you more adaptable with each adventure you take. Each journey is unique; I encourage you to turn your dreams into goals and never give up.
Calling all HuffPost superfans!
Sign up for membership to become a founding member and help shape HuffPost's next chapter
This post was published on the now-closed HuffPost Contributor platform. Contributors control their own work and posted freely to our site. If you need to flag this entry as abusive,
send us an email
.