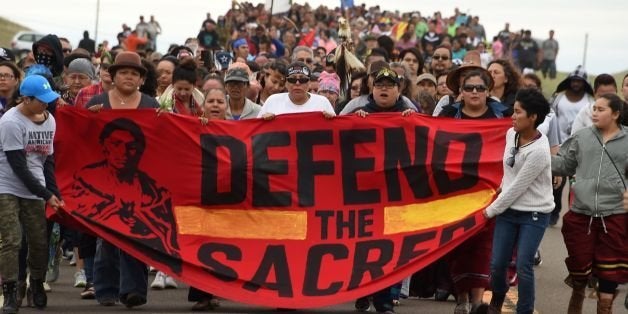 The scene was eerily reminiscent of Selma and Birmingham.
Snarling, trained attack dogs ripping into the flesh of peaceful protesters, drawing blood. Only this time, instead of police batons being used to club people over the head, private security forces sprayed mace into people's eyes. This time, instead of African Americans being beaten in the Deep South, Native Americans were being assaulted in the Upper Midwest.
If a picture is worth a thousand words, a video is worth a million. Click on this Democracy Now! VIDEO LINK to see for yourself the sickening scene that played out near Cannon Ball, North Dakota over the Labor Day weekend, where eyewitnesses reported a pregnant woman attacked, a small child bitten and 30 people pepper sprayed. Others were punched and tackled. The unprovoked attack came on the 153rd anniversary of the Whitestone massacre, when the U.S. Army killed more than 300 members of the Standing Rock Sioux Tribe.
Just as the conscience of America was jolted awake by the shocking images of peaceful civil rights defenders being violently set upon in the '60s, so is it being aroused today by the horrifying sight of peaceful native rights defenders being brutalized.
Thousands of water protectors, representing hundreds of Indigenous tribes from across the U.S. and Canada, have gathered at the Sacred Stone Camp in North Dakota to stand in solidarity with the Standing Rock Sioux Tribe in what tribal Chairman Dave Archambault II calls a "prayerful and peaceful" standoff against the Dakota Access pipeline. The fracked oil pipeline -- which would run from North Dakota to Illinois and snake through treaty lands and under the Missouri River -- threatens to worsen the climate emergency and contaminate the drinking water supply of millions of people.
Appallingly, construction of the pipeline was approved by the U.S. Army Corps of Engineers over the objections of the Environmental Protection Agency (EPA), the Department of the Interior and the Advisory Council on Historic Preservation. In a March 11 letter to the Army Corps, the EPA warned: "Crossings of the Missouri River have the potential to affect the primary source of drinking water for much of North Dakota, South Dakota, and Tribal nations."
The Labor Day weekend altercation was sparked by the pipeline company's unconscionable demolition of sacred Indigenous burial and cultural sites. In a statement to the media, Chairman Archambault described the bulldozing as "devastating," saying:
These grounds are the resting places of our ancestors. The ancient cairns and stone prayer rings there cannot be replaced. In one day, our sacred land has been turned into hollow ground.
Imagine this being done to the graves of white people. I can't.
Try to feel the heart-rending words of Standing Rock Sioux tribal historian and genealogist LaDonna Brave Bull Allard, whose great-great-grandmother miraculously survived the 1863 Whitestone massacre, and who co-founded the Sacred Stone Camp to resist the Dakota Access pipeline:
I don't understand why we are expendable in America. I keep telling people, we do our best. We have always been here. This is our land. Why should we fight to live on our own land? Why should we have to do that over and over again? We start our lives. We do our best to live. Why? I would never hurt anybody. I have always done my best to do good things in my community. Why can't they just let us live? We love this land. And half of the time I feel bad, because they make us feel bad for loving this land.
Why, indeed? In August, Archambault appealed to President Obama (who personally visited the Standing Rock tribal community in 2014), saying "if there's any way he can intervene and move this pipeline off our treaty lands, I'm asking him."
Well, there is a way. The president can revoke the permits for the project. In fact, he has been urged to do just that by more than 30 national organizations. So far, he has refused to take this step, but last Friday, bowing to tribal pressure, the Department of Justice, the Department of the Army and the Department of the Interior jointly declared a pause in construction on some federally controlled lands, which includes the Missouri River crossing.
This is huge, but don't be deceived into thinking Obama has stopped the Dakota Access pipeline. He only paused it temporarily, providing convenient political cover for presidential hopeful Hillary Clinton, who has been conspicuously silent on the issue. On her campaign's website, Clinton promises to "stand for Tribal sovereignty and in support of Tribal resources and sacred sites." So why is she not speaking out against the pipeline? If her words are to mean anything at all, she must stand now with the Standing Rock Sioux Tribe, or find herself again standing on the wrong side of history.
In stark contrast to Obama and Clinton, U.S. Senator Bernie Sanders (I-VT) made an unprecedented effort to engage tribal communities during his historic presidential campaign, and is demonstrating real political leadership by standing shoulder-to-shoulder with our Native brothers and sisters in their time of need. He has been unequivocal in his support for native rights:
Regardless of the court's decision, the Dakota Access pipeline must be stopped. As a nation, our job is to break our addiction to fossil fuels, not increase our dependence on oil. I join with the Standing Rock Sioux Tribe and the many tribal nations fighting this dangerous pipeline.
President Obama and Secretary Clinton need to heed the words of Yakama Nation Tribal Chairman JoDe Goudy, who declared:
Together, we express to the U.S. government that now, more than ever, is the time to fulfill the trust obligations laid out within the treaties and historical interactions with the Native peoples of this land. Until such things come to pass, the spirit and voice of all peoples shall unite with Standing Rock. One voice, one heart, and one spirit to speak for those things that cannot speak for themselves.
Such nobility of spirit -- in the face of violent corporate provocations and our government's dark history of atrocities against Native Peoples -- is awe-inspiring. Yet here we are centuries later, and not only has there been no serious attempt to right the wrongs of the past, but the suffering of Native Americans continues.
Stopping the Dakota Access pipeline will not heal Mother Earth, or the deep wounds and intergenerational trauma inflicted on such a proud and noble people, but it could mark a turning point towards making peace with the planet, and begin a long overdue national conversation on truth, reconciliation and treaty rights.
Just as the civil rights movement once forged a more just nation, so does the native rights movement now promise to do the same. This, of course, will require a national reckoning on honoring the treaties, something I believe most Americans would welcome. I also believe most Americans know injustice when they see it and stand -- in their hearts -- with Standing Rock.
Calling all HuffPost superfans!
Sign up for membership to become a founding member and help shape HuffPost's next chapter