In our imaginations, "casual Fridays" were invented to fashionably celebrate both the end of the work week and the upcoming weekend. So when we're in between these two lovely time periods, we opt for relaxed outfits that don't require too much thought. When it comes to footwear, we turn to the one shoe that can either dress up or dress down an outfit: New Balance sneakers.
Instead of your typical pair of running sneakers, these classic kicks have so many variations and colors that they will match any look you pull together. They can class up your casual digs to playful new heights, or they can bring an otherwise stuffy-looking outfit down to earth. With their low top and and solid structure, pants and dresses of all lengths pair perfectly. Plus, they're comfortable -- so comfortable, in fact, that you'll be wondering how you made it through the whole week wearing anything else.
So in celebration of one of our go-to shoes, check out all the different ways to style some of our favorite "casual Friday" outfits below.
Add some edge with a faux leather jacket.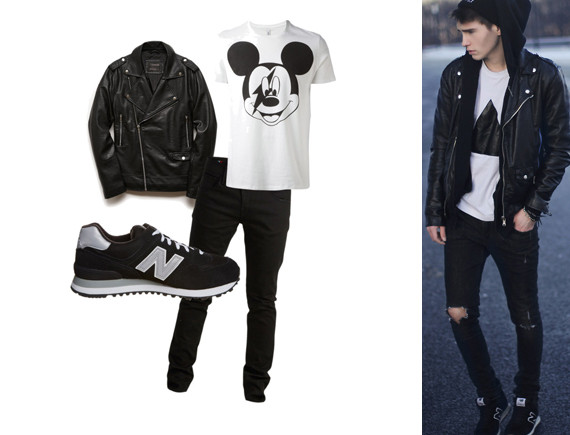 New Balance M 574 Trainers, Selected Shonedante 1335 Skinny Fit Jeans, 21 Mens Faux Leather Moto Jacket, Neil Barret Mickey Mouse T-shirt; Photo courtesy: Lookbook.nu/roms
Provide some unexpected athletic appeal to lace pieces.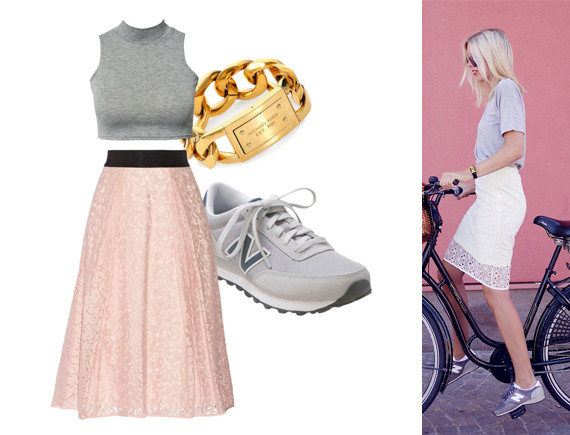 New Balance 501 Running Sneaker, Milly Floral-lace Midi Skirt, Michael Kors Large Curb Chain Logo Bracelet, Club L Essentials High Neck Crop Top; Photo courtesy: Lookbook.nu/hannas
Complement your chambray with some serious swag.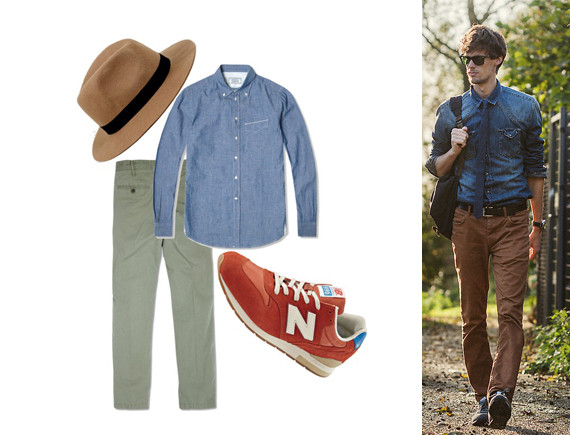 New Balance Sneaker 996, Bedwin & The Heartbreakers Hollywood Original Fit Poplin Pants, Officine Generale Button Down Japanese Oxford Selvedge Stripe Shirt, TOPMAN Camel Puritan Hat; Photo courtesy: Lookbook.nu/paullookbook
Relax the vibrant vibe of your party look.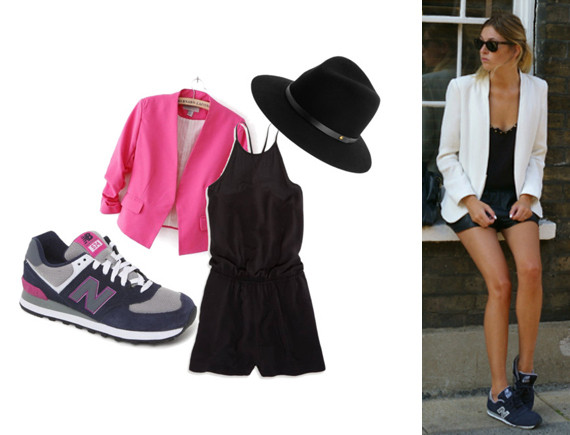 New Balance 574 Core Plus Collection Sneaker, American Eagle Soft Romper, Rouche Pastel Blazer, Rag & Bone Floppy Brim Fedora; Photo courtesy: Lookbook.nu/CamilleC
Combine your snapback with an equally colorful sneaker.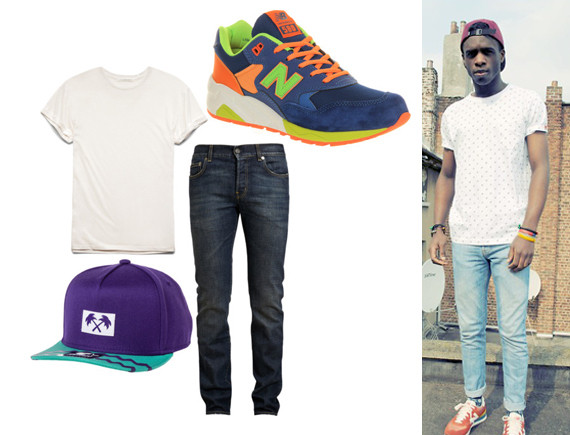 New Balance Mrt580, Trainerspotter The Starter Wiggle A Frame Snapback, Saint Laurent Lightly Distressed Jeans, 21 MENS Heathered Knit Tee; Photo courtesy: Lookbook.nu/BushH
Forget dressing down your LBD, it's all about the little white dress.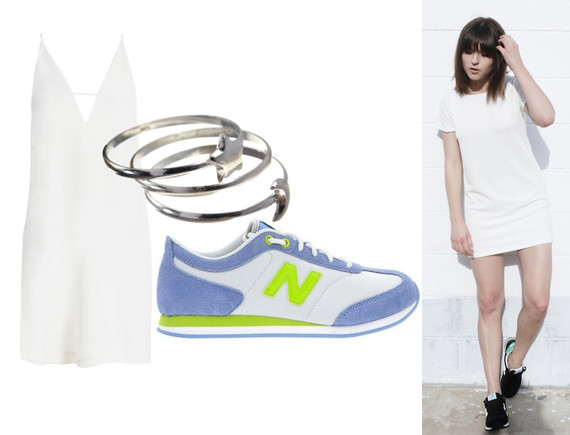 New Balance 550 Classic Run Shoes, Zimmerman V Dress, Accessorize Sterling Silver Star And Moon Stacking Set; Photo courtesy: Lookbook.nu/rimarama
Go from your day job to night out with ease.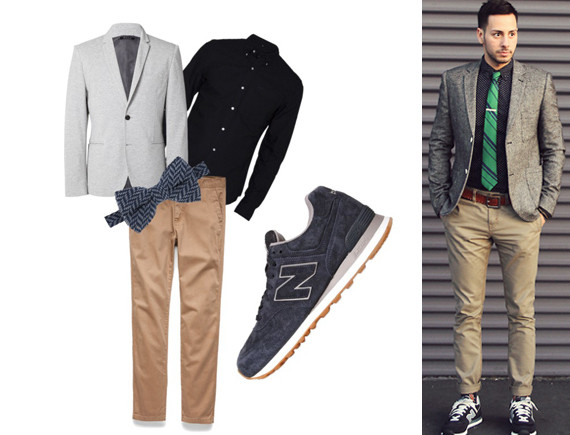 New Balance 574 Suede Sneakers, 21 Mens Classic Cotton Chinos, Hurley Ace Oxford Woven Shirt, 21 Mens Cotton-Blend Pique Blazer, Red Baker DUNBOW Herringbone Bowtie; Photo courtesy: Lookbook.nu/reyalfashion
Tighten up a loose silhouette with these structured trainers.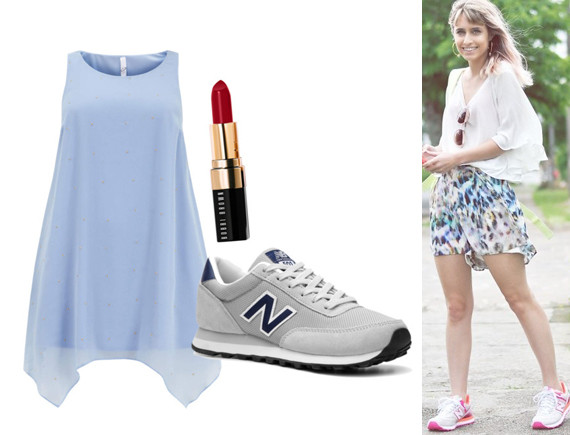 New Balance 501 Retro Sneaker, Evans Blue Stud Tunic Dress, Bobbi Brown Lip Color Candied Red; Photo courtesy: Lookbook.nu/julialcantara
Brighten up a muted wardrobe.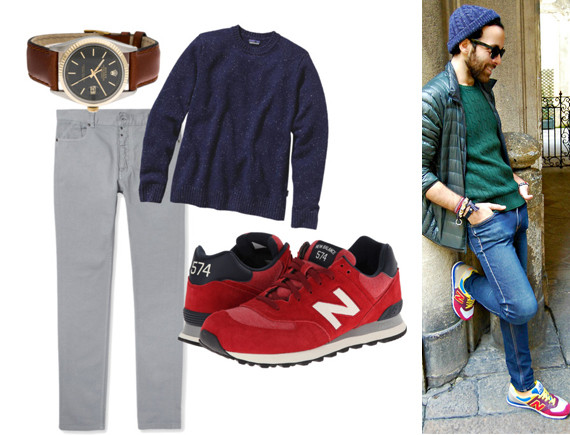 New Balance Classics ML574 Pennant Collection, Maison Martin Margiela Slim-Fit Denim Jeans, Patagonia Men's Flecked Lambswool Crew, Rolex-Tone Datejust Watch; Photo courtesy: Lookbook.nu/angelotropea
Or stay true to your all-black minimalism.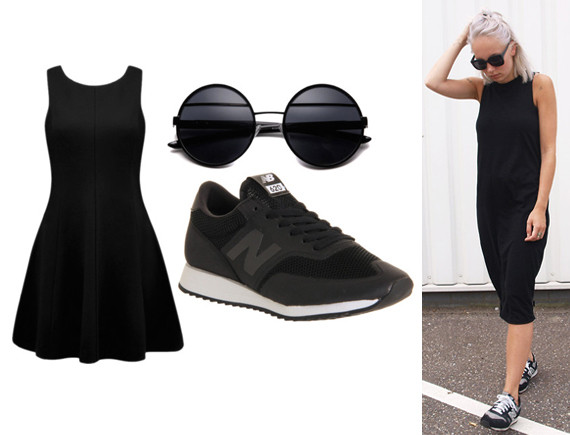 New Balance 620, Forever New Bella Panelled Scuba Skater Dress, Petra Round Strikeout Sunglasses; Photo courtesy: Lookbook.nu/ZoH
Update your awesome vintage finds.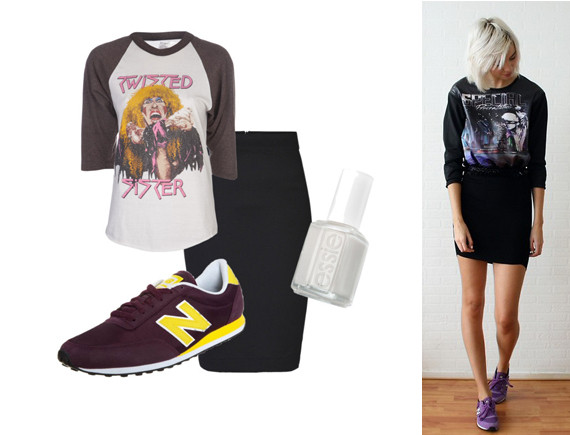 New Balance U410 Trainers, Vintage 1985 Twisted Sister Tour T-Shirt, ONLY Pencil Skirt, Essie Marshmallow Nail Polish; Photo courtesy: Lookbook.nu/sietske
If all else fails, complete your outfit's color scheme.


New Balance Wr996, High Waisted Jean Shorts Cuttoff Cuffed, Mango Double Layer Top, Empress Flower Bangle; Photo courtesy: Lookbook.nu/haveafashionbreak
Before You Go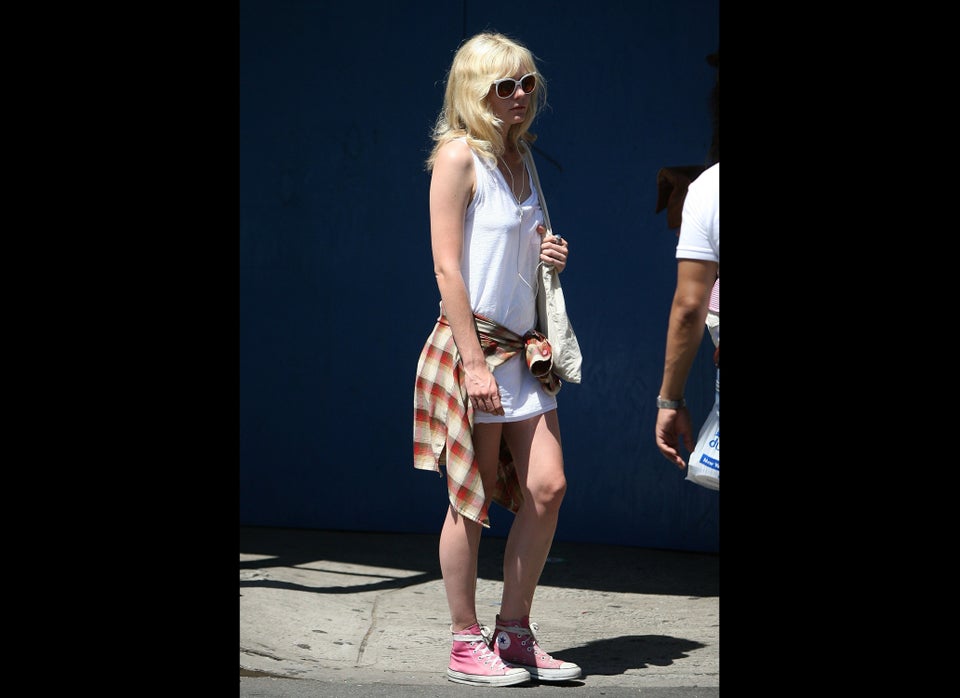 Celebrities in Sneakers