With special thanks to Kathryn Sumner, British Parlor Game Expert and Muse.
Last night, while snowbound by the massive blizzard that engulfed New York City, I watched Out of Africa, hoping to squeeze some warmth from the sultry African landscapes on the screen.
One evocative scene depicts a 1919 New Year's Eve party held at a social club in Nairobi, complete with a turban-clad orchestra, chic foxtrotting couples, fingerbowl Champagne glasses, and fisticuffs between tuxedo-ed gentlemen. Thick streams of colorful banners hang like jungle vines from the ceiling; then, at midnight, a satin-gown-and-evening-glove-wearing grande dame points a pistol at the ceiling and shoots twice to mark the occasion. Plaster dust mixes with the confetti, but no one seems to mind.
While it's unlikely that modern hosts would appreciate a gun-wielding guest at their upcoming New Year's festivities, there are still plenty of sublime, old-fashioned, glamorous amusements that we can import from bygone eras to help us ring in 2011.
What follows is a list of ten Let's Bring Back-inspired holiday entertaining tips for this weekend's New Year fetes. From silver streamers to Champagne towers, from winter picnics to royal recipes: party flourishes like these would have made Baroness Blixen proud.
Without further ado, let's bring back ...
1. Champagne Glass Towers.
A round pyramid of stacked coupe Champagne glasses, in which Champagne is poured into the top glass and trickles down to the lower tiers. Popular in the 1920s, such towers are gleaming monuments to pretty decadence. Can you think of a more spectacular way to ring in the New Year?
Put a good face on the recent Nor'easter: have a snowy afternoon picnic on New Year's Day. Bundle up, fill your wicker picnic hamper with white wine (which you can chill just by sticking it in a snowbank), a thermos of soup, and sandwiches. Sit on a cheerful red wool plaid blanket -- and don't forget your dog, who will love rooting around in the snow while you nestle and dine.
Punch bowls are the Lolitas of serving ware: filled with pink party punch, they look dainty and sweet and innocent but portend all sorts of naughty behavior. They used to be the life of the party and deserve that honor once again - you should definitely trot one out for your New Year's Eve fete.
4. New Year's Day Parties
A lovely, optimistic alternative to the typical New Year's Eve parties. Set up a lovely buffet and open your doors at noon. Those who are nursing hangovers can stroll in later in the afternoon.
On New Year's Day, grab ten of your closest friends, a handful of brightly colored stocking caps, and head to the a pretty frozen lake or outdoor skating rink. These once-popular diversions were often followed by a post-skating party supper as well. The 1966 edition of The New York Times Menu Cook Book recommends this endearing menu:
• Hot Buttered Rum
• Old-Fashioned Vegetable Soup
• Crusty French Bread
• Mixed Green Salad
• Cranberry Cheese Cupcakes
6. Silver Streamers on New Year's Eve
The sort that come in coils; you hold one end and throw the rest into the air, releasing the most pleasing stream of silver. The sight of a room absolutely strewn with shimmering silver is a lovely way to behold the New Year.
7. Serve a Color-Themed Dinner Party Menu
These humorous dinners were popular toward the end of World War I in certain European circles, and a color-themed menu would be sure to amuse guests at a modern New Year's Eve supper as well.
The 1966 New York Times Menu Cook Book describes one such meal, which was "contrived to be monochromatically red": the menu consisted of a smoked salmon starter, a cold rose-tinted cherry soup, roast beef with a hot puree of beets, sliced tomato salad, a centerpiece of radishes, and raspberry sherbet topped with red ripe strawberries. The book also notes that "there is a certain humor in the fact that during a green meal in the same period Roquefort cheese appeared with the salad."
8. Or, Serve Only Recipes Named After Royalty
... and other notables. Such delectables include Cherries Jubilee (created to honor Queen Victoria's Diamond Jubilee in 1897), Beef Wellington, Strawberries Romanov (devised to please the palate of Czar Nicholas I), and Oysters Rockefeller (because America has had its royalty too, and still does; this dish was created for John D. Rockefeller by Antoine's restaurant in New Orleans).
9. Host a Drawing Room Theatrical
Write up a little script based on your favorite story, whether it be from Shakespeare, Noel Coward, or Alice in Wonderland ("The Walrus and the Carpenter" makes delightful fodder for such a drama). Assign roles to your nearest and dearest, and make important costuming decisions. A (preferably new) mop head becomes a wig; tin foil can be welded into a convincing knight's helmet. The photographs that result from these home theatricals will provide ample blackmail fodder for years to come.
10. Libations-fueled Supper / Parlor Games
Another variation on the theme: witty parlor games at the dinner table. One such game: fetch a top hat from your closet, have each guest write down a subject (from "most memorable meal" to "women drivers" to "Lady Gaga: muse or sham?"), fold it up, and put it into the hat. Each guest then draws a paper at random from the hat, and must stand up and deliver a one-minute speech on the topic. No pauses or "ums" are permitted. Those who make it to the sixty-second mark get to chose their reward; those who do not are assigned a funny penalty by the group.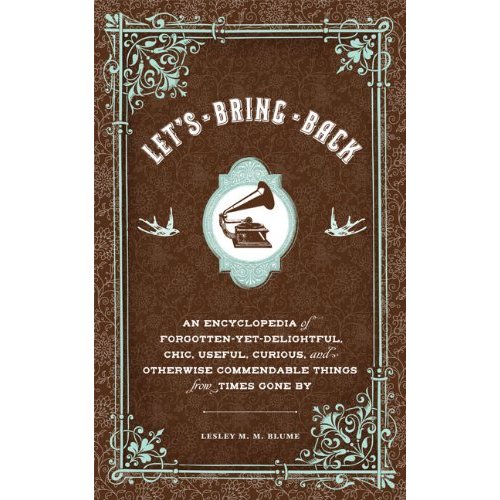 For publicity inquiries, please contact April Whitney at Chronicle Books: April_Whitney@chroniclebooks.com