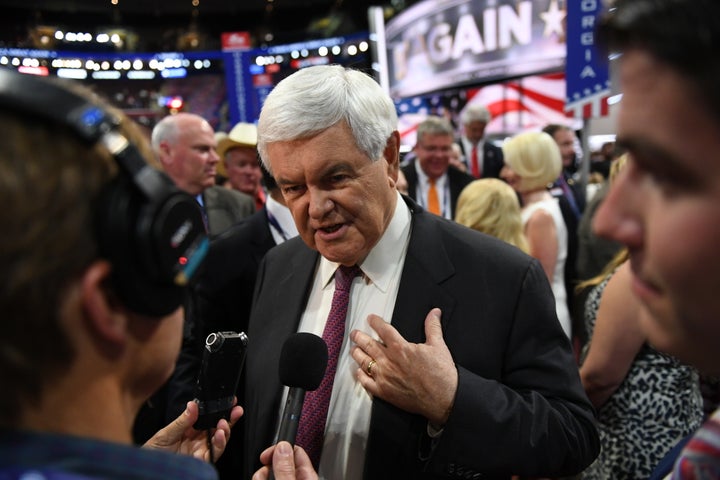 WASHINGTON ― Newt Gingrich apparently has no plans to pay back dozens of small businesses that made yard signs and TV ads for his 2012 presidential campaign.
Gingrich filed a document with the Federal Election Commission this week detailing a debt settlement plan to finally terminate his 2012 presidential campaign committee. The document shows that "Newt 2012" plans to stiff 114 businesses and consultants that are altogether owed $4.6 million.
The former House speaker, failed presidential candidate and Donald Trump vice president runner-up was forced to file the debt settlement plan with the FEC as part of its alternative dispute resolution process. Gingrich was the subject of a complaint alleging that his campaign had illegally commingled campaign funds with corporate funds from a company controlled by Gingrich and his wife Callista.
While the FEC general counsel found reason to believe the allegations in the complaint, the six commissioners split along ideological lines in a 3-3 vote, it did not penalize Gingrich. Instead, the campaign agreed to file a debt settlement plan and terminate in 2016. The plan was originally due on May 23, but Gingrich was granted an extension until August 1.
Gingrich did not respond to a request for comment made through two spokespeople.
It's common for political campaigns to wind up in debt that takes years to pay off ― President Barack Obama's 2012 campaign still owes $725,583, down from nearly $2 million two years ago ― but Gingrich owes an unusually large amount from his battle with Mitt Romney in the 2012 Republican primary.
The debts are owed to small firms that helped the Gingrich campaign knock on doors, call voters, produce TV ads and distribute yard signs. In 2012, The Huffington Post interviewed several vendors who were pretty mad about getting stiffed. The sums involved ― tens, even hundreds of thousands of dollars ― weren't chump change for a small business.
"We got burned," a Las Vegas graphics company owner said then.
One vendor told HuffPost in July 2015 that Gingrich is "not the first politician to disappoint his supporters, and he won't be the last."
Arthur Delaney is a co-host of "So That Happened," the HuffPost Politics podcast:
Popular in the Community