Digital issues of an annual magazine published by Northwestern University's Medical Humanities and Bioethics Program are now back online after school officials allegedly took them down in response to an essay that described a nurse giving a patient a blow job in 1978.
Each Atrium issue is themed around a different topic, and the Winter 2104 issue focused on the idea of "Bad Girls." It included an essay by Syracuse University professor William Peace, who described an experience in a hospital (not Northwestern) in which a "head nurse" performed oral sex on him after he was paralyzed at the age of 18 and started using a wheelchair.
The Foundation for Individual Rights in Education, a free speech watchdog group, wrote in a May 26 letter sent to Northwestern President Morton Schapiro that Feinberg School of Medicine Dean Eric Neilson was "allegedly very concerned" by the content of Peace's article, "worrying that it was incompatible with the 'brand' of FSM and of Northwestern Medicine, the corporate parent overseeing the hospital system that includes FSM's primary teaching hospital."
Emails obtained by The Huffington Post also show administrators expressing concern that the article could threaten a "branding agreement" with the medical school and the hospital, and that it could suggest the hospital doesn't value nurses or that it condones sexual relationships between patients health care workers.
After administrators raised concerns about the issue's content, "Bad Girls" and all other Atrium issues were taken offline.
Alice Dreger, a Northwestern professor of clinical medical humanities and bioethics who was the guest editor for the "Bad Girls" issue, said she worked with Northwestern to try to get the school to reverse its decision. According to Dreger, school officials agreed to put the other issues back online, but not the Winter 2014 one. The print version of the magazine has a subscription base of roughly 3,000 people, but the digital versions are available online for free.
Dreger recently wrote a book about academic freedom. "If Penguin wanted to write me a publicity stunt, this is exactly what they would do," she said, referring to her book publisher.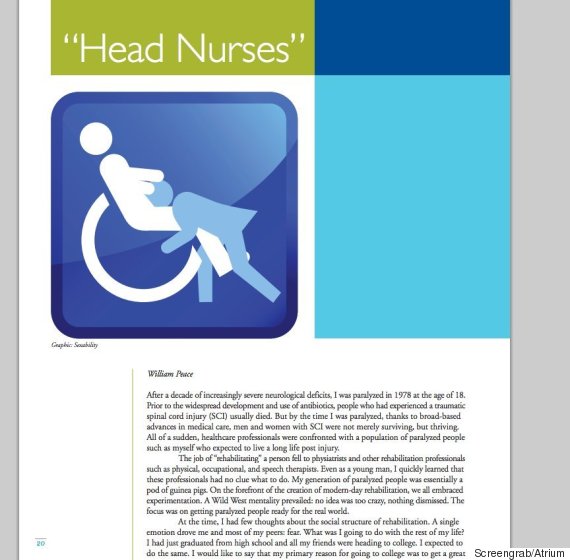 Biting her tongue for 14 months, Dreger held off on going public with her battle over the "Bad Girls" issue until she saw the lengthy Title IX investigation of Northwestern film professor Laura Kipnis, who caused a firestorm with an essay published in February in the Chronicle of Higher Education.
Dreger said the investigation into Kipnis, coupled with continued stonewalling from administrators and her observations of the way other universities were handling professors' speech, prompted her to open up about the Atrium problems.
But on May 18, one day after Dreger told administrators she was going to go public, the issue "magically" went back online, she said. Dreger shared an email from one Northwestern official with HuffPost that read, "At the current time we have no objection to ... reposting the prior published Atrium issues."
"It's just so shocking to me that I was dealing with a problem involving one blow job in 1978 when I would've been 12 years old," Dreger said.
Neilson, the medical school dean, deferred a request for an interview to the university's press office. A Northwestern spokesperson provided a statement saying the university honors "academic freedom." The university declined follow-up requests for answers to HuffPost's actual questions.
Dreger and Kristi Kirschner, who also wrote an article for the "Bad Girls" issue, both told HuffPost that future issues of the magazine will now be subject to approval from a new committee made up of senior administrators and public relations staff from the university. FIRE took issue with this pre-publication review process in its May 26 letter.
"This raises serious concerns not only for Atrium's autonomy but also for that of any faculty or departmental publication that dares to venture into uncomfortable or controversial territory," Peter Bonilla, director of FIRE's Individual Rights Defense Program, wrote. "It is particularly concerning that this should occur at a medical school, where the spirit of unfettered inquiry and debate ought to be especially robust, given the potential implications for humankind of their outcomes."
Kirschner resigned her clinical professor position in December 2014 after nearly two decades working with the university. She said her choice was "in no small part due to changes in the academic milieu" and the "attack" on the faculty magazine.
FIRE requested a response to its letter by June 9, but so far, the university has not said anything. Bonilla said he worries the censorship could have a "chilling effect" on other faculty and represents a threat to academic freedom.
"It's a road that most universities don't want to go down," he said. "It can call their credibility on any number of other things."
"There is an inherent tension within academic medical centers between the missions of the hospital and the university, but recently the commercial interests of the hospital are dominant," Kirschner said. "The tipping point at Northwestern was the 2013 purchase of the university faculty practice by Northwestern Memorial Healthcare. Northwestern's medical school is no longer the institution I was proud to be a part of for a quarter century."
Peace told HuffPost he figured the article would be controversial -- not least due to his provocative language -- but he hoped it could take on a stigma about sexuality and people with disabilities. The most common question he's always been asked, Peace said, is "Can you have sex?"
"It's remarkable that taboo has not changed," Peace said. "I would like to believe the world is ready for it, but I guess it wasn't."
Related
Popular in the Community