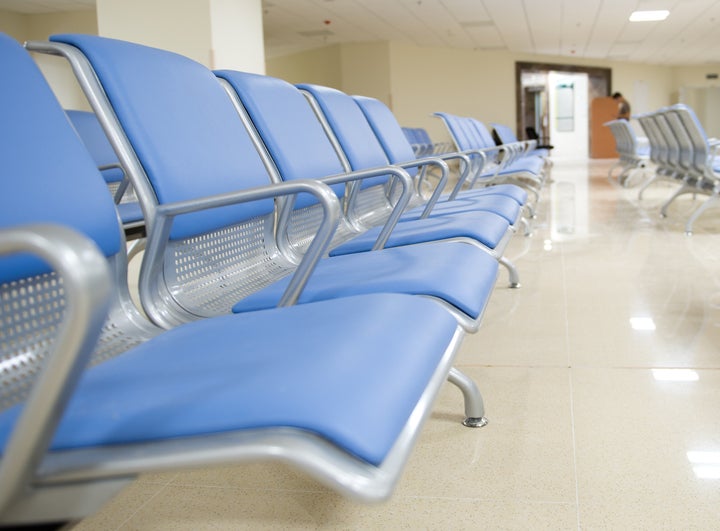 After spending nearly three weeks in the waiting room of the hospital's critical care unit, my family and I began to truly loathe our surroundings.
The standard-issue vinyl chairs in various shades of taupe and grey-blue.
The scratchy flooring made to withstand innumerable wheelchair rolls but not comfortable or cozy enough to truly be called carpet.
The neon glare and buzzing hum of the vending machines.
And the boring wallpaper that seemed to say both "cheer up" and "it's okay to cry ― he's probably not going to make it."
But it was the Christmas tree that pushed my mom over the edge.
"One hour in the hospital is like a full day anyplace else," wrote physician Richard Senelick in a piece about the toll that spending time in the ICU takes on family members. My dad spent 10 weeks in the hospital after a heart attack and cardiac arrest necessitated quintuple bypass surgery, so by those calculations, my family spent years in that waiting room.
We were beleaguered, bored and exhausted beyond belief, and when my mom threatened to toss the Christmas tree out the seventh-floor window, we realized her frustration really wasn't about the holiday decorations at all.
Could anything have made our experience more tolerable?
Researchers have attempted to answer this question in the last few decades. In surveying relatives of critically ill patients, medical professionals sought to determine the needs of patients' families. They learned what family members needed most during this time: a sense of hope, an honest and adequate flow of information, and a feeling that hospital staff cared about their family member.
"Everything about a hospital is set up for the convenience of doctors and medical staff. ... Nothing is designed for the convenience of the family."
Additional research produced a tool known as the "critical care family needs inventory." The assessment asks family members to rate the importance of basic needs, such as talking to the doctor every day and having their questions answered honestly. The tool has been refined over the years and adapted for use with specific populations, such as cardiac patients.
Finding the right balance between hope and reality is surely a daunting challenge for the medical providers responsible for sharing information with a patient's loved ones. Too much hope, and you're set up for a fall. Too much reality, and you risk emotional paralysis.
Our experience was a mixed bag. My dad had been in critical care long beyond what we'd expected following surgery, so we knew things weren't exactly ideal. But we didn't know just how far from ideal until one doctor pulled us aside to report that my dad was "probably the sickest person in the entire hospital." Needless to say, Dr. Doom did little to spark hope.
Other staff navigated difficult conversations with compassion and gave us a realistic sense of the road ahead. When we learned my dad could come off the ventilator, a critical care nurse warned us that the weaning process would be long and very difficult. She let us know he would need to spend a few additional weeks at the hospital and likely a couple of months at a rehab facility. She was right, almost to the exact date, and her unhopeful but sobering information was a great kindness.
Hospitals have made some strides in recent years to improve access to the things family members care about when they're spending extended time in waiting rooms. Researchers have found that family members benefit from rooms equipped with varied seating options, secure lockers in which to keep personal belongings, and accessible bathrooms in or near the room. Some hospitals provide meals for family members or pantries equipped with microwaves. Others streamline access to loved ones by providing family members with keycards to enter locked ICUs at any hour.
The hospital that hosted my family for months did provide basic amenities like Wi-Fi, but staff communication was inconsistent, and a volunteer-staffed information and assistance desk was almost always unattended. Our host hospital had a relaxation room with recliners and soft lighting, but it was kept under lock and key for reasons that were never explained to us. We didn't learn about the room until long after the day of my dad's 14-hour bypass surgery, when a different front-desk employee spontaneously offered us the key.
I spoke about my family's experience with Senelick, who wasn't surprised by these inconsistencies. "Everything about a hospital is set up for the convenience of doctors and medical staff," he said. "Visiting hours, the window of time a family has to meet with case workers and social workers ― nothing is designed for the convenience of the family."
What the system needs is more flexibility, Senelick said. However, large hospital systems and staff are subject to complex insurance reimbursement requirements that may limit their care to billable actions. And change does not come easily.
"Families must navigate the hospital system while handling the emotional strain that comes with a sick family member, and hospitals are beginning to recognize this."
Emotional issues like weepiness, fatigue and depression ― all of which eventually plagued my family ― are common occurrences in ICU waiting rooms.
A 2007 University of Michigan study found that someone whose spouse was in the hospital was nearly 1.5 times more likely to develop depression. And a 2008 study conducted by the University of Pittsburgh School of Medicine suggested that family members of ICU patients were prone to post-traumatic stress disorder, regardless of whether the patient had died. Six months after hospitalization, 35 percent of family members surveyed had PTSD.
Some hospitals are working to reduce the emotional burden on families by encouraging them to take breaks and providing space for them to do so, or by offering discounted hotel rates through partnerships with area hotels.
At least one Boston hospital is working with former ICU patients and their family members to improve conditions. The volunteer advisory group has produced a number of novel suggestions. One was to remove posted visiting hours so that family members feel empowered to stay as long as they want, potentially resulting in better communication between both patient and doctor and patient and family.
One idea of Senelick's is to assign each patient's family members a liaison or advocate who can help them understand their loved one's complicated web of care. My family certainly could have used one. It would have removed one more item from an emotionally taxed family member's to-do list to have a central resource who could have helped set up meetings with specialists and provided guidance on home health agencies.
No one will ever feel truly at ease when spending time in an ICU waiting room. Families must navigate the hospital system while handling the emotional strain that comes with a sick family member, and hospitals are beginning to recognize this. I just hope they prioritize these efforts and share them nationwide.
In the meantime: Hospitals, please update your decorations.
Jodie Briggs is a science and health writer in Brooklyn, New York. She writes about tobacco control and rural health issues and holds master's degrees in public policy and science writing from Johns Hopkins University.