Regret to inform you: Coal blasting rages on in southern Illinois, along with cancer-linked mountaintop removal operations in central Appalachia, and mining across the West.
Let's get the narrative right: Coal is not dying, it's declining and shifting, and though mountaintop removal is on the ropes, the knockout still awaits federal action. US coal mining production in 2015 is still set for 926 million tons, down from 996 millions tons, and estimated to rebound to 941 millions tons in 2016, according to the US Energy Information Administration. Thanks to the Appalachian decline, the Illinois Basin mined 104.9 million tons in 2014, up 4.6%.
Whether it's 996, 941 or 926 million tons of coal, that's still a lot of unprotected coal mine blasting now linked to cancer, and higher rates of birth defects and disease.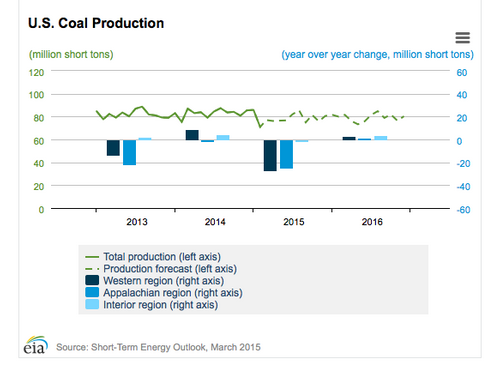 It would be great to see such leadership in the US Congress, and among health and environmental groups based on Capitol Hill.
Earth Day has come and gone, but not the struggle to end mountaintop removal, which was launched in the same year: In 1970, an arsenal of explosives and draglines breached the ramparts of Bullpush Mountain in the Cannelton area of West Virginia, and blasted the first mountaintop removal mining operation.
Despite years of litigation, protests, education campaigns, public hearings and regulatory promises, the cancer-linked strip mine operations continue today in central Appalachia as the flip side of Earth Day's promise of restorative justice.
To celebrate Earth Day and not acknowledge the devastation of mountaintop removal, which provides only a small percentage of our national coal production, is to betray the origins of Earth Day itself.
Few people may recall that one of inspirations of Earth Day emerged out of earlier Human Ecology Symposiums organized by public health professor Morton Hilbert, to address the impact of our footprint on the land and its inhabitants.
Our nation's collective inaction over the fallout from strip mining and mountaintop removal does not simply mock the goals of Earth Day co-founder and former Sen. Gaylord Nelson, for "an environment of decency, quality and mutual respect for all other human being and all living creatures."
The federal sanctioning of such deadly mountaintop removal operations obliterates the very essence of Earth Day's purpose--and makes us all complicit to a crime against our earth and its Appalachian residents, as well as those dealing with strip mining in southern Illinois and the West.
So, let's be honest: The day after Earth Day is just another day of strip mine blasting in America--until we decide to take a stand like Wales, CREDO and the Washington University students, and end it.
Popular in the Community