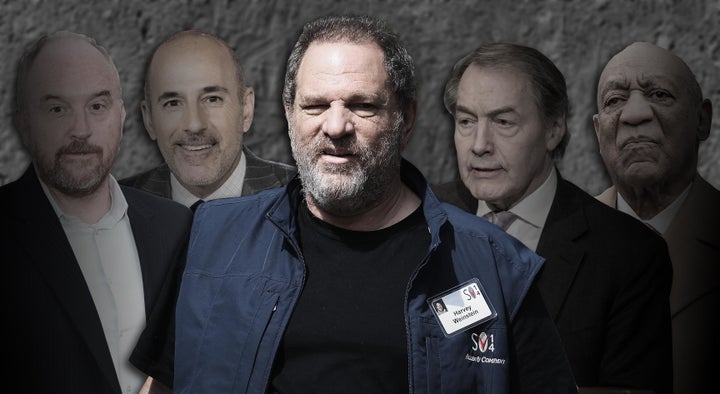 When sexual harassment happens, it's easy ― and not wrong ― to blame individual perpetrators, i.e., the "bad men." And over the past couple of years, lots of men have been fired, demoted, arrested and publicly shamed for various acts of sexual misconduct.
But a major study from the National Academies of Sciences, Engineering, and Medicine outlines a more comprehensive way of looking at sexual harassment within organizations and identifies the strongest predictor of such behavior. Surprisingly, it has little to do with individual perpetrators.
The study finds that the strongest, most potent predictor of sexual harassment is essentially the culture of the company ― what the researchers call "organizational climate."
If employees believe that their organization takes harassment seriously, then harassment is less likely to happen, according to the 311-page report released Tuesday. That faith in fair treatment acts as a deterrent against bad actors and encourages workers to speak up about harassment ― key to keeping bad behavior at bay.
"It's not about rooting out the bad apples; we need to focus on the whole barrel," said Lilia Cortina, a professor of psychology and women's studies at the University of Michigan and one of 21 experts who authored the report. "When organizations really cultivate a climate that makes clear it will not tolerate sex harassment, employees are much less likely to engage in sexual harassment," she said.
The belief that a company will fairly handle harassment even trickles down to would-be perpetrators, who become less likely to actually harass anyone if they understand there are real consequences for bad behavior, added Cortina, who has been researching sexual harassment for nearly 25 years.
For the study, which began more than two years ago, a committee of scientists, engineers, doctors and experts in sexual harassment, law and psychology reviewed research published over the last 20 years in peer-reviewed journals. They also commissioned a survey of women in science, engineering and medicine who answered questions about their experiences. Additionally, they conducted an analysis of student and faculty survey data from two large state university systems.
The study uncovered a massive harassment problem in the sciences, particularly at medical schools, where students were most likely to be harassed, The Washington Post pointed out. More than 50 percent of the faculty members said they experienced harassment, according to the data.
A Culture of Harassment
Though the researchers focused on academia, many of the study's findings are also applicable to the private sector, which is grappling with its own sexual misconduct crisis.
These days, it's not hard to turn up real-world examples that match up with the researchers' findings. If you dig to the bottom of any of the recent news reports on men who've been accused of sexual misconduct, you'll typically find a twisted corporate culture.
At NBC News, for example, it was widely known that "Today" show host Matt Lauer ― who was fired for alleged sexual misconduct late last year ― often behaved in ways that crossed the line into harassment.
He was "flirtatious, would frequently make jokes, some with sexual overtones, and would openly engage in sexually-oriented banter in the workplace," according to an internal investigation that NBC conducted in the months after Lauer left the company.
For its investigation, the news network said it interviewed 68 current and former employees about Lauer's behavior. The report claims that no high-up executives were aware of his misconduct.
The NBC report, which was criticized for being conducted internally and not by an outside law firm, ultimately concludes that the company doesn't have a culture of harassment. "[T]he investigation team does not believe that there is a current widespread or systemic pattern of behavior that violates Company policy or a current culture of harassment in the News Division," it says.
But the details in the report belie that claim.
Several of the women interviewed said they believed Lauer was hitting on them, particularly by complimenting their looks in sexually suggestive ways. We can even see evidence of this on the "Today" show. The women said that after they deflected his advances, Lauer moved on.

The NBC investigators claim that this behavior doesn't rise to the level of "hostile work environment." Yet it does appear to be part of an atmosphere in which Lauer was permitted to act in ways that made women uncomfortable, and it's clear they had little power to change the situation.
What's striking is that no one bothered to do anything about his behavior (except for former "Today" show co-host Ann Curry, who says that her complaint went ignored). Was it because Lauer's behavior didn't bother these women? No. They told investigators they feared retaliation and didn't think complaints would be kept confidential.
This is what is meant by organizational climate. Intentionally or not, NBC employees got the message that the company, which is mostly run by men, didn't want to hear about their problems with Lauer, a network star.
In an environment where employees fear retaliation and don't believe perpetrators will be punished, harassers ― particular company stars ― can more easily get away with bad behavior. Just look at the apparatus of lawyers and enablers that helped disgraced Hollywood producer Harvey Weinstein get away with harassment and even sexual assault for so many years. Donald Trump wasn't incorrect in saying, "When you're a star, they let you do it."
When Men Outnumber Women
The second most potent predictor of harassment, the study found, is whether the men at an organization outnumber the women, particularly at the top of the org chart. That puts most big public companies at risk, especially in the male-dominated tech and finance sectors. If the profession is traditionally male ― again, tech and banking serve as good examples ― the chances of harassment rise.
The researchers helpfully define sexual harassment, too ― it's a spectrum of behaviors, some of which are not illegal. It ranges from a pattern of hostile remarks about a person's gender to unwelcome sexual advances to requests for quid pro quo romance ― e.g., have sex with me and I'll promote you; don't and I'll fire you. The researchers also identify "ambient harassment," in which people can be negatively affected even if they aren't directly experiencing any of those advances, but are still left to witness the abhorrent behavior.
The story of what happened at Uber tracks with this finding. After engineer Susan Fowler reported that her direct supervisor was coming on to her, she was told it was his first offense and that he was a high-performer. No real disciplinary action was taken. The company's stance on harassment was made clear.
As Fowler notes in her blog post, many women struggling to work in what was generally a hostile environment left the company rather than fight a losing battle.
At Nike, women were reportedly routinely mistreated, demeaned and under-valued. There were corporate outings to strip clubs, bosses who groped female subordinates and entire departments where women weren't welcome, according to The New York Times. There was a deep mistrust of the human resources department. "Some avoided the department altogether, fearing retribution or convinced nothing would happen," according to the Times.
Then, just recently, some female workers took it upon themselves to raise the issue with the sporting goods company's CEO, sparking a cultural upheaval.
Editors and writers at The New Republic put up with Leon Wieseltier's sexual misconduct for years, according to reports, because no one thought the magazine would do anything to stop his behavior. Indeed, revelations about his misconduct only surfaced last year as the Me Too movement was kicking into high gear. He'd already left the magazine, but the allegations prevented him from landing a new high-profile role.
"I think there was part of it that was out in the open that was culturally accepted," said former New Republic editor Franklin Foer. "[T]here were, to my shame, a handful of times where I heard him talking about women in the office where I didn't object or didn't complain."
In other words, that's just how it was.
But it's not how it has to be. Since Fowler's blog post, Uber has gotten rid of its CEO, who was known for his bullying and offensive behavior. It commissioned former attorney general Eric Holder to investigate the company's culture and has made some headway into changing its ways.
Building A Better Culture
The National Academies' study contains detailed recommendations for companies that truly want to root out harassment. First, make it clear what kinds of behaviors are not tolerated. It is not enough to merely say harassment isn't tolerated, but to offer detailed and clear examples. Facebook, for example, offers a list of unacceptable behaviors including insensitive jokes, slurs, unwelcome advances, leering and more.
Companies should also explain what the consequences are for misbehaving.
Cortina said that often, when a company claims to have a zero-tolerance policy, "victims of harassment will hesitate to come forward, fearing they'll get someone fired. It's counter-productive."
Businesses should also dispense with the secrecy and let employees know what sorts of actions have been taken. Too often, cases are settled and shrouded in nondisclosure agreements or secretly punted to private arbitration. Everyone is left in the dark.
Finally, the study's authors recommend surveying employees anonymously to find out the scope of the harassment problem.
"To transform a culture from being one of disrespect and derision to be a culture of respect, everyone needs to know where the problems are and what the flaws are so that everybody can be working on it," Cortina said.
Related
Popular in the Community