Co-authored by Aylin Ünver Noi, Non-Resident Scholar, Center for Transatlantic Relations SAIS
"The only thing we have to fear is fear itself."
Franklin D. Roosevelt's historic pronouncement from his inaugural presidential address resonates these days. The terrorist attacks in Orlando, Bangladesh, at the holy sites in the Saudi city of Medina, in Baghdad, and at the Atatürk airport in Istanbul are but a fresh reminder that terrorists spread fear as their main weapon and tactic. The free world will not cave in, as it never has in the past, when confronted with terror, brutality, and evil, under any circumstances. ISIS's loss of Fallujah, Iraq's Anbar province stronghold that they held since January 2014, was a major blow to the terrorist organization. ISIS soldiers, even commanding officers, are starting to refuse to fight, facing execution in most cases. The overall shrinking of ISIS-controlled territory in Iraq created a shift in their strategy, turning to suicide terrorist attacks as their primary weapon demonstrated by the dreadful attacks on Atatürk International Airport in Istanbul and the Karrada shopping district in Baghdad.
Everyone, Let's Go Visit Turkey!
Praise for Turkish authority is in order today. Strong new measures were taken immediately after the terror attack to prevent further attacks. Heavy concrete barriers were brought to the area, heavy arms such as MP-5 type automatic guns were provided to security personnel, the number of patrols stepped up, and the work on risk analysis and suspect profile evaluation increased. Atatürk International Airport, the 11th busiest airport in the world, re-opened immediately in the early morning following the terrorist attack. Debris and broken glass were still being cleaned up, but passengers could check-in and flights were operational. Turkey didn't cave in. It did not allow major travel disruption to be accompanied by international headline news showing how great an impact the terrorist attack produced. Bravo Turkey! Terrorists surely had in mind undermining the booming tourism that has experienced a major increase in 2005, cashing in 17.5 billion USD and making Turkey one of the ten biggest revenue owners in the world.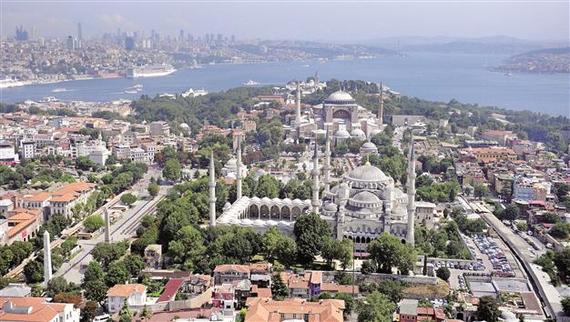 In 2011, Turkey ranked 6th most popular tourist destination in the world. The country expects over 30 billion USD revenue this year (PHOTO: Hurriyet Daily News)
Solidarity with Turkey: The EU, Russia and Israel
Immediate widespread international condemnation by the world leaders showed firm solidarity with Turkey. The EU extended its condolences, reiterating the significance of the close relationship and cooperation with Turkey on counter-terrorism, migration, energy, economy and trade. Negotiations on Chapter 33 of the acquis communautaire (financial and budgetary provisions) were opened at the twelfth ministerial level meeting of the accession conference with Turkey, held in Brussels two days after the terror attacks, as part of the refugee deal signed between the EU and Turkey. Visa liberalization was also part of the deal, but suspended in May by the EU owing to Turkey's reluctance to make amendments on its anti-terror law described as undemocratic. The security and democracy dilemma that Turkey faces today is among the factors that will shape its European future.
Terror attacks organized either by ISIS or the PKK have indicated the need to follow a new and more conciliatory foreign policy approach for Turkey. In the days before the latest terror attack, Ankara adopted a policy of mea culpa diplomacy in a bid to normalize relations with Russia, and also gave signals of normalization of its relations with Israel and Egypt. This changing policy might prevent the countries to act through the logic of "my enemy's enemy is my friend" and even restart intelligence sharing among the countries, needed for joint efforts to fight terrorism effectively.
The positive outcome of mea culpa diplomacy first was reflected in statements by the Israeli and Russian leaders in the aftermath of the attack. Israeli Prime Minister Benjamin Netanyahu harshly condemned the terror attack that came hours after Israel and Turkey signed a reconciliation agreement, saying: "All civilized nations must stand together to fight the scourge of terrorism." Russian President Vladimir Putin offered his condolences to Turkey in a promising bid to mend ties, starting with lifting of the administrative restrictions and ban on Russian tourist travel to Turkey.
Two Major Threats to Iraq: Terrorism and Corruption
The shocking terrorist attack in Baghdad leaving at least 291 dead and many more wounded, at the closing days of the holy month of Ramadan, must finally address the security of the Iraqi capital. Jailed Briton James McCormick, who sold Iraq fake bomb detectors, was convicted in 2013 - a long time since the scandal broke out, and a long time for the Iraqi government to fix basic checkpoint security major weak spots. The recent decision by the Iraqi Prime Minister Haider al-Abadi to stop the use of fake bomb detectors, replacing them with the U.S. made Rapiscan scanner, and also ordering more discipline from the soldiers at the check points (banning them from using cell phones while on duty in order not to lose attention and focus), may be carried out or may not, as a number of previously ordered decisions were never implemented. The ten years McCormick will serve in prison are far fewer than he deserves for the thousands of deaths caused by his callous deception. But a bigger and more daunting problem in Iraq is corruption.
In the aftermath of the latest devastating attack in Baghdad, the Iraqi Prime Minister announced investigation on deals made with the conman McCormick. Iraq is the most corrupt Arab country, and unless the former Prime Minister Al-Maliki - accused of siphoning 500 billion dollars during his tenure from 2006 to 2014 - faces justice, along with other accused officials, Iraq's hopes for a better future are dimmed. The Iraqi people must rise up and win this battle and the international community should step up pressure.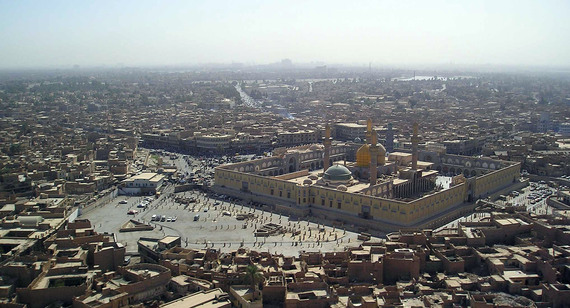 The Iraqi Commission of Integrity announced that half of the government revenue (half a trillion dollars USD) in Maliki's time was stolen (PHOTO: SigmaLive)
Post-ISIS Political Dialogue in Iraq Should Start Now
Iraq's divided politics are focused on defeating ISIS, but unless a fair political solution for Sunnis, Kurds, and Shias is reached, post-ISIS reality may not provide much needed tranquility. As the battle for Mosul nears, and as the end of ISIS in Iraq comes closer, it is time to discuss a post-ISIS political solution for Iraq. The current al-Abadi government's effort to decentralize power, at least empowering Iraq's provinces and municipalities, is a step forward. Baghdad still deprives the Kurdistan Regional Government of its duly owned funds, leaving Kurdistan in a very dire economic situation while the Peshmerga successfully repeals and pushes back ISIS, while the region is harboring over two million refugees. The Iraqi people, exhausted from more than a decade of sectarian violence, uncertainty and terror deriving from the power struggle must be finally granted peace and the chance to re-build their shattered lives. Global and regional powers should use their leverage on the Iraqi people to help them to achieve life together in peace in the post-ISIS era. Otherwise, the emergence of new threats, the transformation of their country to a tinderbox of terrorism again and even a failed state will be inevitable. The logic behind "the problem of a region is not my problem" is not valid in the globalized world.
This summer, joining millions of other folks from around the globe, I decided to have my summer vacation in Turkey. Just because.
Colleagues Mariette Hagglund and Andy Mullins of the Johns Hopkins University SAIS Center for Transatlantic Relations contributed to this article.
REAL LIFE. REAL NEWS. REAL VOICES.
Help us tell more of the stories that matter from voices that too often remain unheard.