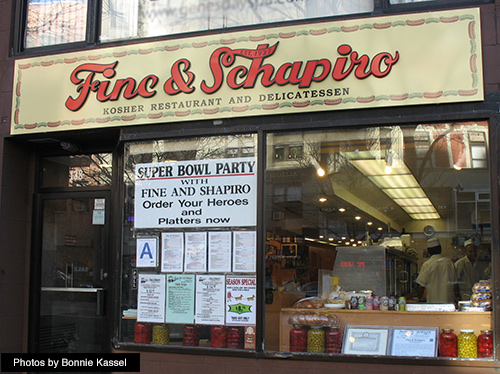 Every person on the planet has a story, and I believe the same can be said for every small family business. Case in point: Fine & Schapiro on West 72nd Street. This kosher restaurant & delicatessen has been at the same location between Columbus and Amsterdam Avenues since its inception in 1927. It's the oldest kosher restaurant in New York City. In the 1920's and 1930's as large communities of European and Russian immigrants migrated to the Upper West Side of Manhattan, food shops catering to their cultural preferences followed in droves. Fifty years later, a widespread gentrification in this neighborhood dramatically changed the landscape, and Fine & Schapiro was one of only a handful of businesses to survive. In fact, it is the only authentic kosher deli in the twenty-five block stretch from Columbus Circle to West 86th Street. When the current owners David and his partner Edward took over the restaurant twenty-two years ago, they continued the tradition of cooking and roasting all their meat on the premises. The turkey tastes like nothing you can buy in a mainstream deli, or even fine cooks can make at home.
David and Edward had been friends as young men in the Soviet Union before each separately emigrated to the United States. Edward's first job when he arrived in America was as delivery boy at Fine & Schapiro; after a few years he'd worked his way up to Manager. When the original owners decided to retire, Edward called his old pal David then living in Philadelphia, convinced him to move to New York, and together with another friend, Benjamin (now deceased), they bought the business. The rest, as they say, is history.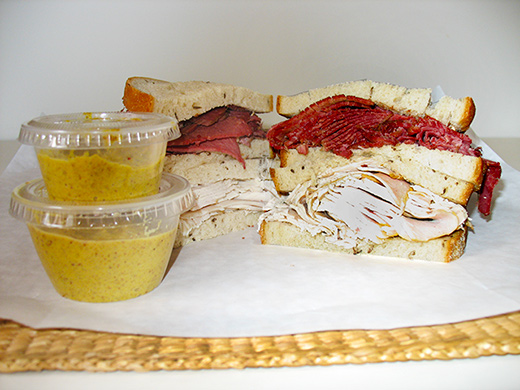 You don't have to be Jewish to have grown up on sandwiches measured in height by inches; the standard is embedded in the culture of New York. I can't eat a warm, lean corned beef on rye or hot falling-apart-to-the-touch brisket on a roll (what some people grow up calling pot roast) without thinking of my childhood. My father's personal favorites alternated between a turkey/corned beef combo with Russian dressing and coleslaw or turkey/pastrami combo with spicy mustard. Russian dressing is considered too rich for Pastrami. And whatever you order must be accompanied by sour pickles and Dr. Brown's cream soda. For those of you unfamiliar with the Jewish deli ritual, these unspoken rules are quite specific. No white bread, lettuce or yellow mustard please, and don't even think of asking for butter! All good Jewish delis are kosher--even the eggs for the egg salad come from kosher chickens (Hellmann's mayonnaise is OK as it's nondairy). The intensely flavored hot dogs at Fine & Schapiro have no fillers; all soups are homemade. Chicken soup with an extra half chicken on the side has been our go-to sick food for years.
I find it refreshing that Fine & Schapiro focus on quality and make no attempt to be trendy or cool; they're a throwback to the days when diner-style booths were de rigueur. David continues to coordinate orders and deliveries for their large catering business from the Rolodex at his station. Fine & Schapiro is unbeatable for take-out picnics in the park or movie/sporting event nights on TV at home.
Open 7 days a week, 10-10, and they deliver! (212) 877-2721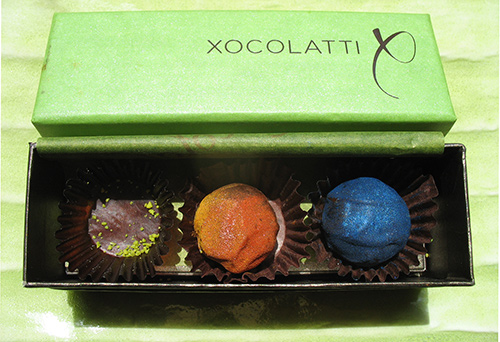 The pista (pistachio) truffle didn't make it to the photo shoot!
Inspired by the Aztec word for cacao, xocolātl, the chocolate shop Xocolatti on 172 Prince Street in SoHo is literally at the other end of the city from Fine & Shapiro in both style and location. The stacks of celadon green and matte brown boxes lining the walls of this tiny, exquisite boutique are more reminiscent of a museum installation than store interior. Shaineal Shah, the young Indian founder and designer of Xocolatti wanted to be a chef--not an option for his traditional business-minded family. Being a good son, Shaineal graduated university with a degree in finance, but the dream of a career working with food never left him. After a stint at the French Culinary Institute in Manhattan, Shaineal asked his mother Mona to become his business partner in a new venture, and she agreed.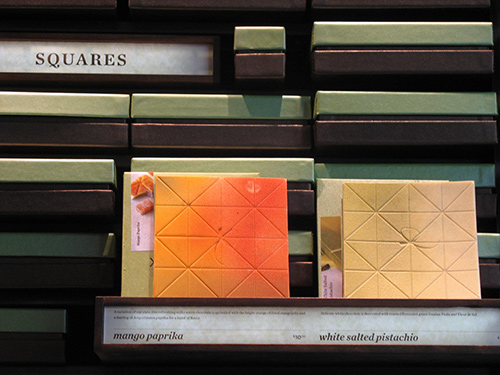 Generations of the Shah family have been in the Bombay luxury jewelry business--an influence obvious in Shaineal's couture chocolates. Several in the assortment actually glisten from a dusting of gold. I've heard his confections described as jewels in a box; for me each sphere and rectangle epitomizes the aesthetics commonly associated with Japanese cuisine. Normally I'm a fan of pure dark chocolate and Xocolatti's Malagasy which combines two of the best beans from Madagascar fits the bill to perfection. But surrounded by an intriguing diversity of textures and colors, one can't help feeling adventurous. The saturated flavors of ginger, saffron, mango and pomegranate imprinted on Shaineal during his early childhood in Mumbai has evolved to include sake and habañero. The passion fruit truffle won USA Gold at the International Chocolate Awards.

Bark-like slates of chocolate are miniature works of art
The cream-colored "slates" textured with paprika, flakes of dried chiles and pistachios from Iran (birthplace of the pistachio), are thin sheets of white and dark chocolate sandwiched together. Masala Milk, one of the few all white chocolate offerings, is an homage to the Indian concoction of boiled cream with subtle masala spicing (including cardamon). I found it to be addictively creamy delicious. When you see the bark-like pieces delicately nestled in tissue, well there isn't a more gorgeous gift to give or receive. Many of the chocolates can be special ordered covered in a coating of white, pale pink or blue for weddings and baby showers.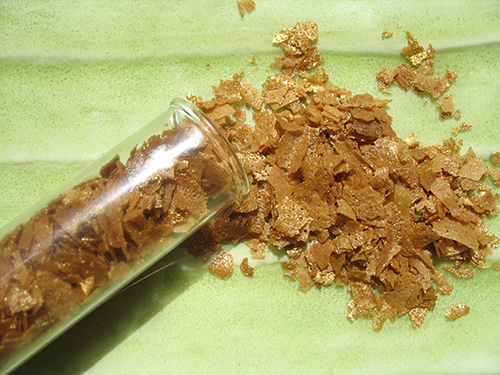 Test tubes filled with glittery crushed butter biscuits add umph to many desserts
The sweets in this shop are far more than exotic indulgences. They reflect refinement and artistry. One truffle is delicately decorated with minuscule bits of rose petals. Each piece of this Aztec food of the gods is handmade in Port Chester, New York. "Chocolate Reimagined" is the motto on the Xocolatti business card: xocolātl reimagined, it is indeed.
Open Tuesday through Saturday, 12-9; Sunday 12-6. (212) 256-0332
Xocolatti ships both domestically and internationally.
Click on the green comment box to the left of the article as you read. Let me hear about your experiences. Ask questions. I'm happy to offer suggestions and look forward to solving challenges together. And check back every month for my latest tips.
*Disclaimer: I receive no compensation for my recommendations.
Support HuffPost
A No-B.S. Guide To Life
Related
Popular in the Community