 Whether it is an academically studied drug or a strange natural remedy, I'm always on the lookout for something that can help a patient (or reader) and in the process expand my knowledge about sleep. One such remedy is soursop. Ask individuals living in the Caribbean what their secret is for a good night's sleep, you'll often get the answer, "soursop."
Soursop -- what's soursop?
It turns out that soursop (Annona muricata) is a fruit mainly grown in tropical climates. It has many other names, including guanábana, graviola, anona, and sirsak. As a member of the Annona genus of flowering plants, its most recognizable relative for Americans is the pawpaw. Soursop is a strange-looking fruit; imagine a Granny Smith apple crossed with a pineapple... on steroids. This should give you a mental image of the spiky fruit, which can weigh up to 15 pounds. Cutting open the green rind reveals a white pulp with a consistency similar to that of cooked fish, and rows of dark, inedible seeds.
Lay writings about soursop as a sleep aid are easy to find. In the West Indies, soursop leaves are commonly used as a sedative. In the Netherlands Antilles, the leaves are brewed to make a beverage that enhances sleep. The leaves can also be put into one's pillowcase to enhance sleep.[1]
While anecdotal material about soursop as a sleep aid is easy to find, scientific studies are not. I was able to locate one published article from 1979. Its preliminary findings were not compelling.[2] Studies about soursop's relative, the custard apple, have vaguely demonstrated central nervous system depressant effects.[3]
While researching soursop's soporific properties, the aforementioned seeds of the plant kept popping up because of a unique chemical they contain called annonacin. Guessing that annonacin might be a potential sedative, I turned my attention to that chemical. While I was unsuccessful finding a connection between annonacin and sleep, I was shocked to find another significant connection.
On the Caribbean island of Guadeloupe, within the French West Indies, there is a rare form of Parkinson's disease that is seen with an unusually high frequency. A body of articles link soursop consumption to this atypical form of Parkinson's disease that does not respond well to medical treatment [4-11]. Suddenly, my fun little blog post about soursop helping you sleep a little easier had taken a very interesting turn.
Amazingly, the soursop intrigue did not end there. While there were articles looking at soursop as a treatment of herpes and other lesser disease states, it was the soursop/cancer link that really put this fruit over the top.[12] Numerous in vivo studies seemed to show at least some promise in terms of annonacin being a potential anticancer agent.[13],[14] Despite a total absence of studies showing annonacin or soursop having any ability to fight cancer in humans, it has not stopped companies from trying to market the plant as a cancer cure. Sellers of the drug Triamazon were busted for selling unlicensed and fraudulent treatments in Great Britain. Here in the United States, the Federal Trade Commission lists the soursop extract Bioque Technologies, Inc. markets to treat melanoma as a "bogus" cure.
As a physician and researcher, I consider myself fairly evidence-based in my approach to sleep. However, I also subscribe to the philosophy of if it works and it is not harmful, go for it. I wanted to see for myself if soursop was the cure for sleeplessness that many though it might be. It was time to try some soursop.
It turns out, soursop is not so easy to acquire. This will be apparent to you when asking the produce guy at Whole Foods where he stocks the fresh soursop. Because packaging and traveling with the fruit is logistically very difficult, it tends to be a regional crop in places like South America and the Caribbean. Living in Central America, I would have been in luck; unfortunately, I live in Central Virginia. I would have to go elsewhere.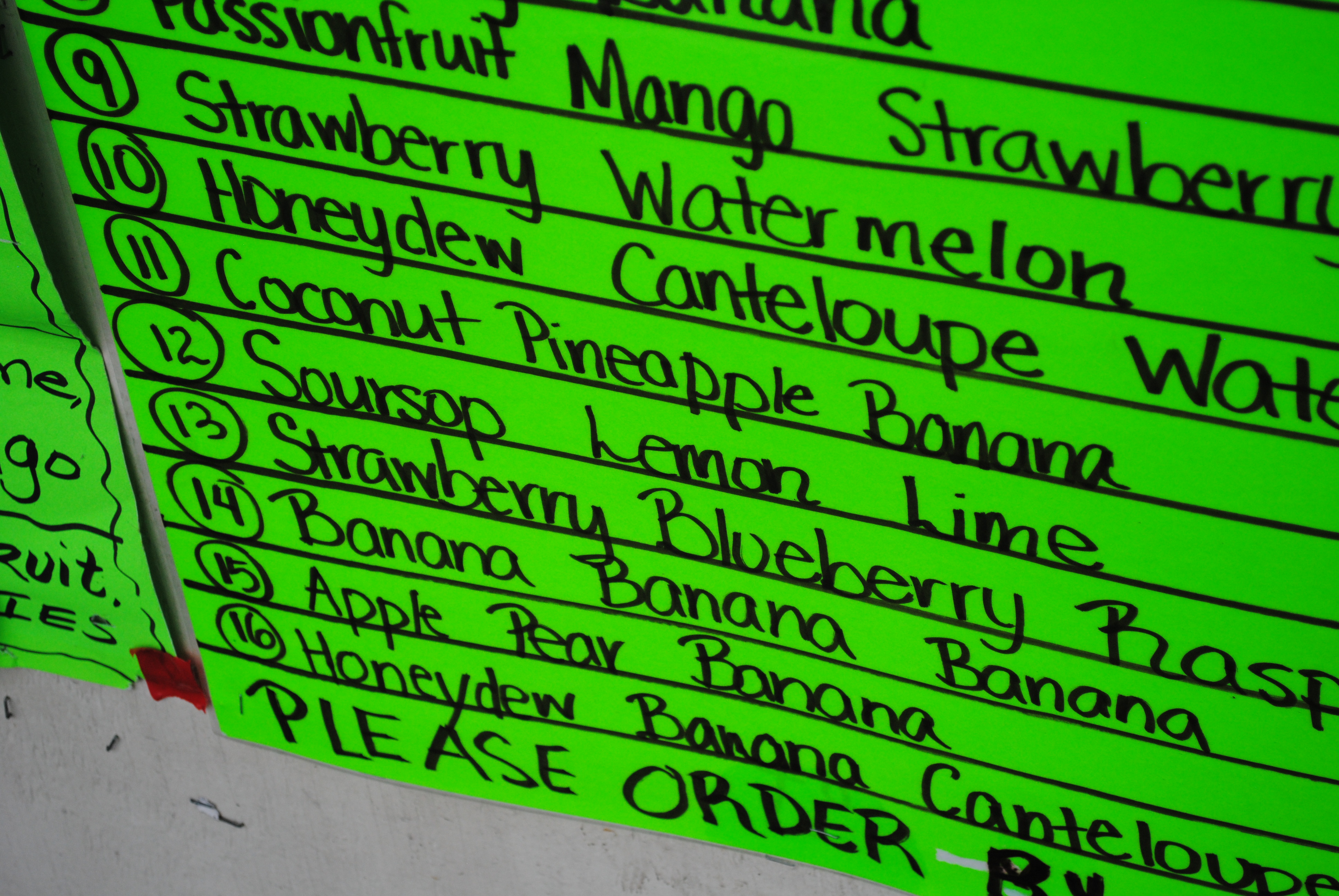 "I'll have the number 12, please."
Elsewhere would eventually be St. Thomas in the U.S. Virgin Islands. Arriving in the capital city of Charlotte Amalie, I could not wait to get my hands on soursop. As my skill at driving on the other side of the road improved, I began to find soursop sources throughout the island. Having scoured St. Thomas, I eventually took my red Hyundai to St. John, where I found the best soursop of my trip. On the corner across from the post office in Cruz Bay was a colorful shack with the sign Market Smoothie on top and a chalkboard proclaiming "fresh Soursop." Paydirt!

Thomas, the drink specialist at Our Market Smoothie, Cruz Bay, St. John
Thomas, the friendly "drink specialist," was happy to show me a genuine soursop fruit (or guanábana). He then produced a knife and swiftly cut out the heart of the fruit, removed its seeds, and blended chunks of the fruit with lemon and lime juice to produce a cold, tart, but tasty beverage on a very hot day. As I stretched out in the shade looking over Hawksnest Bay, I have to admit I felt pretty relaxed. Could it be the soursop? I would say my study was inconclusive, but if I ever come across some funding, this would be a study I would be happy to oversee!
[1]. Morton, J. "Soursop", In: Fruits of warm climates. 1987. p. 75-80.
[2]. Bourne RK, Egbe PCA preliminary study of the sedative effects of Annona muricata (sour sop). West Indian Med J. 1979 Jun;28(2):106-10.
[3]. Bhalke RD, Chavan MJ. Analgesic and CNS depressant activities of extracts of Annona
reticulata Linn. Bark. Phytopharmacology 2011, 1(5) 160-165.
[4]. Caparros-Lefebvre D, Elbaz A. Possible relation of atypical parkinsonism in the French West Indies with consumption of tropical plants: a case-control study. Caribbean Parkinsonism Study Group. Lancet. 1999 Jul 24;354(9175):281-6.
[5]. Caparros-Lefebvre D, Sergeant N, Lees A, Camuzat A, Daniel S, Lannuzel A, Brice A, Tolosa E, Delacourte A, Duyckaerts C. Guadeloupean parkinsonism: a cluster of progressive supranuclear palsy-like tauopathy. Brain. 2002 Apr;125(Pt 4):801-11.
[6]. Lannuzel A, Michel PP, Caparros-Lefebvre D, Abaul J, Hocquemiller R, Ruberg M.Toxicity of Annonaceae for dopaminergic neurons: potential role in atypical parkinsonism in Guadeloupe. Mov Disord. 2002;17:84-90.
[7]. Caparros-Lefebvre D, Lees AJ. Atypical unclassifiable parkinsonism on Guadeloupe: an environmental toxic hypothesis. Mov Disord. 2005 Aug;20 Suppl 12:S114-8.
[8]. Lannuzel A, Höglinger GU, Champy P, Michel PP, Hirsch EC, Ruberg M. Is atypical parkinsonism in the Caribbean caused by the consumption of Annonacae? J Neural Transm Suppl. 2006;(70):153-7.
[9]. Lannuzel A, Höglinger GU, Verhaeghe S, Gire L, Belson S, Escobar-Khondiker M, Poullain P, Oertel WH, Hirsch EC, Dubois B, Ruberg M. Atypical parkinsonism in Guadeloupe: a common risk factor for two closely related phenotypes? Brain. 2007 Mar;130(Pt 3):816-27. 2007 Feb 15.
[10]. Lannuzel A, Ruberg M, Michel PP. Atypical parkinsonism in the Caribbean island of Guadeloupe: etiological role of the mitochondrial complex I inhibitor annonacin. Mov Disord. 2008 Nov 15;23(15):2122-8.
[11]. Salama M, Arias-Carrión O. Natural toxins implicated in the development of Parkinson's disease. Ther Adv Neurol Disord. 2011 November; 4(6): 361-373.
[12]. Padma P, Pramod NP, Thyagarajan SP, Khosa RL. Effect of the extract of Annona muricata and Petunia nyctaginiflora on Herpes simplex virus. J Ethnopharmacol. 1998;61:81-3.
[13]. Ko YM, Wu TY, Wu YC, Chang FR, Guh JY, Chuang LY. Annonacin induces cell cycle-dependent growth arrest and apoptosis in estrogen receptor-α-related pathways in MCF-7 cells. J Ethnopharmacol. 2011 Oct 11;137(3):1283-90.
[14]. Yuan SS, Chang HL, Chen HW, Yeh YT, Kao YH, Lin KH, Wu YC, Su JH. Annonacin, a mono-tetrahydrofuran acetogenin, arrests cancer cells at the G1 phase and causes cytotoxicity in a Bax- and caspase-3-related pathway. Life Sci. 2003 May 9;72(25):2853-61.
[15]. http://www.ftc.gov/os/caselist/0823095/081024cmp0823095.pdf
Related