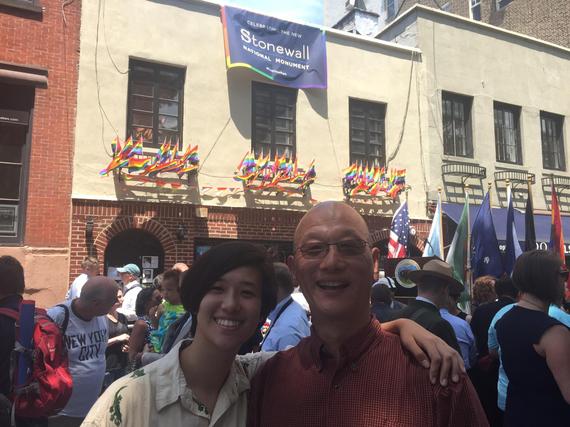 On Monday, my teenage daughter and I attended a powerful dedication of our nation's newest addition to the National Park System, the Stonewall National Monument. President Obama designated this new national monument to celebrate and remind all of us of the great courage and commitment of gay right activists almost 50 years ago.
During the 1960's, the Stonewall Inn bar in lower Manhattan was one of the few places in our nation where lesbian, gay, bisexual, transgender and queer people could safely convene, dance and recapture the humanity that was too often denied them in the rest of their lives. A police raid of the bar in 1969 elevated Stonewall as a national icon and spurred the gay rights movement across America and other parts of the world. The Stonewall monument designation on Monday also marks the one year anniversary of the landmark Supreme Court decision making same-sex marriage legal in all 50 states. Today, the LGBTQ movement is seen as a powerful civil rights effort, creating equality and dignity for all.
Yet as we celebrated this newest national monument, many of the speakers also reminded us that we must remain vigilant in stopping hate crimes. The horrible mass shooting in the LGBTQ Pulse nightclub in Orlando, where 49 people were killed is a poignant reminder that such hatred towards LGBTQ people remains very real and deadly.
For me, this act of hatred and violence made me recall the horrific murder of Matthew Shepard in 1998. My wife and I lived in Laramie, Wyoming in the 1990's. The brutal beating by two men, who then left Matthew to die tied to a fencepost, was a hate crime that shattered our sense of Laramie as a small, safe town. It was an eye-opening glimpse into the cruelty faced by those targeted for their sexualized identity.
Eleven years after Matthew Shepard's murder, President Obama signed into law the Matthew Shepard Act that extended hate crime protections to LGBTQ people. Also, less than one year after Matthew's murder, my daughter was born. Today, 17 years later, being at the Stonewall designation instilled in her an affirmation of her value and place in our country and as a member of the LGBTQ rights movement.
The Stonewall National Monument will always remind us that our nation's history is complex and vivid. Adding the important history of Stonewall Inn to our National Park System validates our parks as places for and about all Americans. They are places where we come together to celebrate life, heal our wounds, and remember those that put it all on the line to protect our democracy.
Calling all HuffPost superfans!
Sign up for membership to become a founding member and help shape HuffPost's next chapter