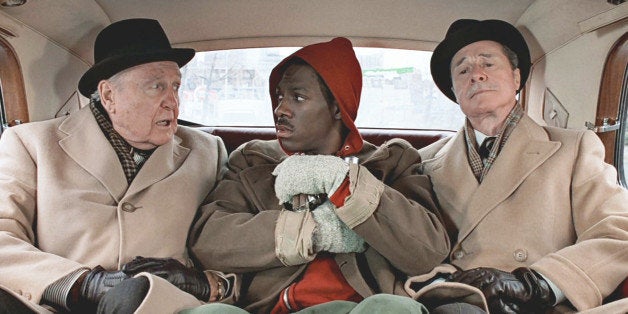 There are so many great Christmas movies that it's hard to know where to aim your remote at this time of year. Between classic Yuletide favorites, films whose Christmas segments have turned them into seasonal fare and an explosion of TV movies, the options are endless.
Feel free to challenge my picks, but here's where my DVD and VCR gravitate each December -- the holiday movies I like best.
Best Santa: Edmund Gwenn in Miracle on 34th Street, of course. In or out of uniform, he's so generous, wise and kindly he makes a believer out of everybody, even world-weary moppet Natalie Wood.
Best Scrooge: Nobody's ever topped Alastair Sim in the 1951 A Christmas Carol - and yes, not only is it a remake, but it was the 18th if you count TV versions! He looks the part and inhabits it perfectly, right down to his Christmas-morning giddiness. But Bill Murray's modern Ebenezer, morphing from smarmy TV exec to born-again philanthropist in Scrooged, gets honorable mention.
Best non-Christmas Christmas movie: Little Women, the 1933 version with the 1994 remake a close second, is known as a Christmas film because that's when the story opens. And also because it's such a feel-good gift of a story.
Best happy ending: As it closes with George's loved ones rallying around in his darkest hour, It's a Wonderful Life still makes me tear up after countless viewings. Some insist it isn't really a Christmas movie, but it opens at the holiday, embarks on an extended flashback (and flash sideways to an alternate world) then concludes on the 25th, so it definitely qualifies.
Best Christmas musical: White Christmas, a comedic song-and-dance extravaganza, edges out Holiday Inn despite the absence of Fred Astaire. The chemistry of Bing Crosby, Danny Kaye, Rosemary Clooney and Vera-Ellen, combined with a great Irving Berlin score (What Do You Do with a General? notwithstanding) and vibrantly colored VistaVision, makes it fabulous fun.
Best action hero: Bruce Willis made Die Hard's beleaguered cop John McClane into the guy we'd count on most in a Christmas crisis-funny, brave, resourceful and gruffly romantic. Yippie-yi-yo-ki-yay indeed!
Best holiday laugh fest: For nonstop hilarity, Trading Places is a sure bet. Financiers turn their protégée into a penniless felon, give his home and job to a streetwise punk and sit back to watch the fallout. The raucous holiday week culminates with gun-toting preppie Dan Aykroyd crashing their party dressed as Santa and nearly choking his clueless successor Eddie Murphy.
Best Christmas villain: Who else but the Grinch? He was a mean one, but how we love seeing his heart triple in size after the Whoville gang shows him what Christmas is all about.
Best workplace comedy: Scrooge aside, nobody was a worse office buzz kill than Desk Set's Spencer Tracy, whose 1957 behemoth computer was set to replace Katharine Hepburn's research team amid all the company's holiday revels. Luckily, love and common sense triumphed.
Best Christmas tree: Charlie Brown's tiny, pitiful evergreen, before and after the Peanuts kids give it a makeover to cheer their disheartened pal, is the hands-down winner.
Best Christmas noir: Gritty yet brimming with Hollywood glam, L. A. Confidential's tale of '50s crime and police corruption can't be beat in this genre--especially recalling that it was based on a real-life "Bloody Christmas" incident in 1951.
Best romantic comedy: Tough call between Love, Actually with its eight England-based couples and Sandra Bullock's courtship by two brothers and their loopy Chicago clan in While You Were Sleeping. But The Holiday is the best of both -- home swappers from LA and Surrey fleeing their faithless boyfriends at Christmas to find festivity, surrogate families and true love across the ocean.
Calling all HuffPost superfans!
Sign up for membership to become a founding member and help shape HuffPost's next chapter