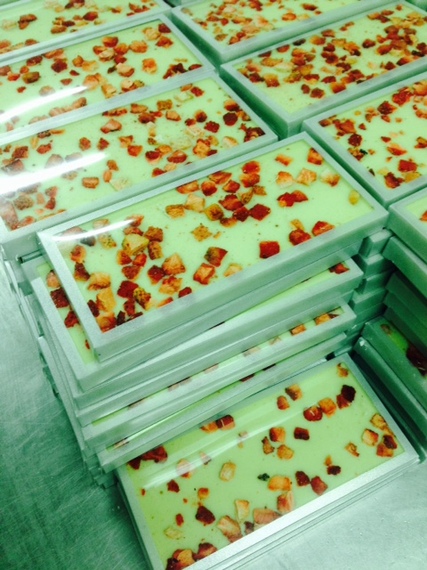 When you're in another country even the mundane, like using the metro, can become an exciting new experience. Of course, in a city as magical as Barcelona, the extraordinary beckons you at every corner.
It was on one of these street corners, heading into Escriba, a lovely pastry and chocolate shop, that my travel companion came up with the idea of tracking down some Blanxart chocolate.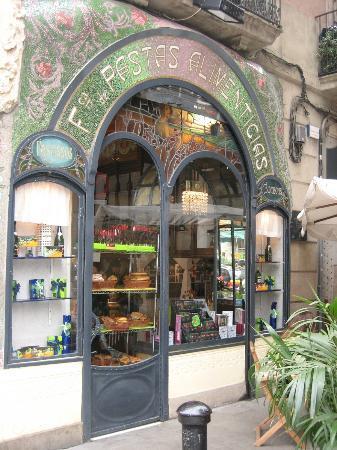 For those of you that aren't familiar, Blanxart is a Spanish chocolate company that produces artisan chocolates. You can find their chocolates in the U.S., but it takes some digging. So this opportunity seemed as good as any to fill our suitcases with chocolate for the journey home. It just so happened that my traveling companion on this trip was Allison Wagner. If you're a swimmer, you probably know that she owns numerous national swimming titles, an Olympic medal, and a world record. What you might not know about Allison is that she is also a passionate foodie, adventurous traveler, and a chocoholic!!! Needless to say, we were both on the Internet searching for a shop faster than you can say "el chocolate."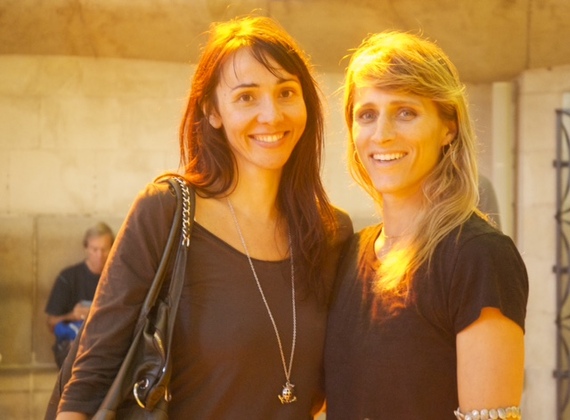 Unfortunately, our (nternet search left us empty-handed. Yes, Blanxart was being produced in Barcelona. No, they did not have a chocolate shop. I decided to contact the company directly. My Spanish is, at best, no bueno. It basically consists of a few handy kitchen terms like dónde están las toallas limpias, translation, where are the clean towels? Which I was pretty sure wasn't going to come in handy during this conversation. Lucky for me, cold calling corporate headquarters of a chocolate company fell into the category of mundane activity, turned Spanish adventure. After several minutes of awkward communication, I was transferred to someone who thankfully spoke fluent English. Much to my delight, Marc didn't just tell me where I could go in Barcelona to buy some of their chocolates (FYI they will have their own shop in 2015), he also offered to give us a tour of the production facility. "This," he said "is something we are always happy to do for customers that call us. You are welcome to stop by." Apparently you don't have to be a chef or an Olympic medalist to get a tour. All you need is a phone and a few hours to spare!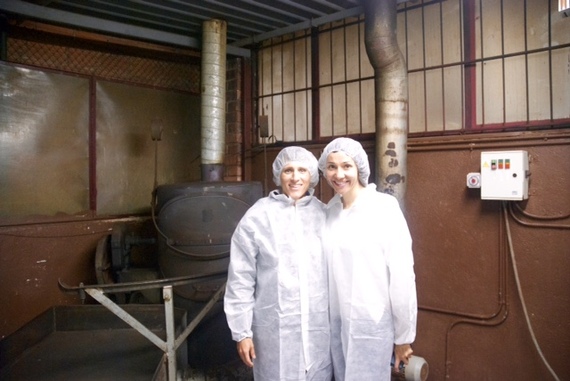 After gearing up in our white smocks and hair nets (how come the oompa-loompas didn't have to wear this getup?) we headed into the main production facility. Our first stop was to visit the cocoa beans, which come from all over the world. Blanxart focuses on producing chocolates that are grown in a variety of continents: Africa, Southeast Asia, South America. In addition, they use all three varieties of cocoa beans: Forastero, Criollo, and Trinitario.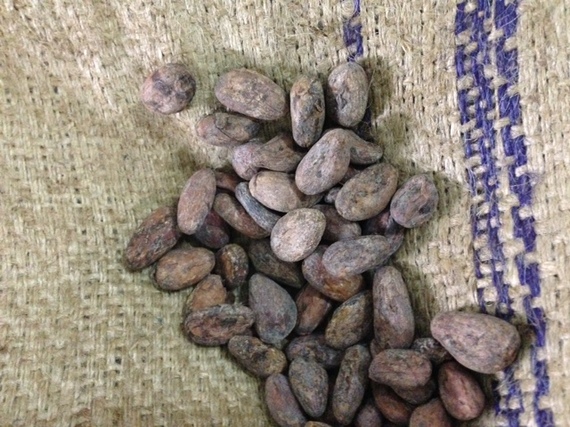 They even work with a type of cocoa I had not heard of before, White Criollo. One of the things I love about good quality chocolate is that it can be just as complex as a fine wine. It is highly influenced by the type of cocoa beans that are used, as well as where it is grown, and the techniques used to produce the end product. With this in mind, Blanxart uses artisan practices from start to finish. They first roast the beans in small batches at around 140C, using a small pod like roaster from 1912.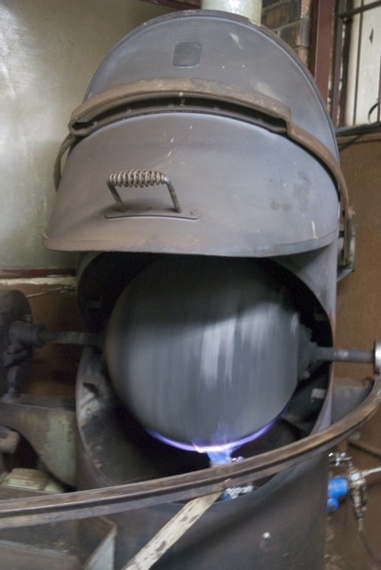 They have someone on staff who's able to fix the equipment. I imagine that tracking down parts is about as easy as landing a winning lottery ticket. After the beans have been roasted, they are ground in a fashion that is similar to grinding coffee beans. The lovely wooden relic Blanxart uses to grind the roasted cocoa beans looks as if it belongs in a chocolate museum.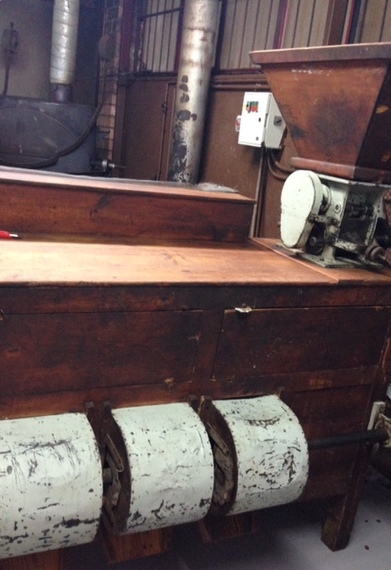 Despite its delicate appearance, the 100-year-old grinder is deceptively sturdy and efficient. Clearly from an era where machines were built to last, it grinds all the cocoa beans that come into the factory. Its engine hums with the brawn and efficiency of an old muscle car. Clearly looks can be deceiving.
Once the chocolate is ground it goes through a process called conching. For those of you not familiar with the term "conching," this isn't a new dance Miley Cyrus has introduced to replace twerking. It's an important step in the process of turning cocoa beans into chocolate. The term actually comes from the Spanish word concha. The term came from the original vessel used to conch chocolate, which looked like a conch shell. The conching process uses a surface mixer and agitator, which evenly distributes the cocoa butter within the chocolate. It also smooths out the particle sizes of sugar and cocoa solids within the chocolate.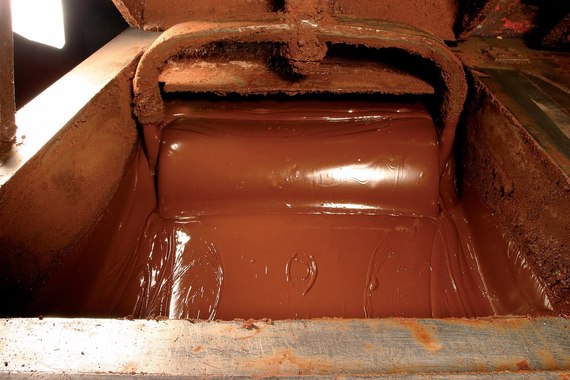 The frictional heat and agitation effects the characteristics of taste, smell, and mouth feel, ensuring that the finished chocolate has a smooth and silky texture. This process, depending upon the quality of the chocolate, can take anywhere from 12 up to 72 hours.

Once the chocolate has been conched it is ready to be tempered and turned into chocolate bars, and truffles.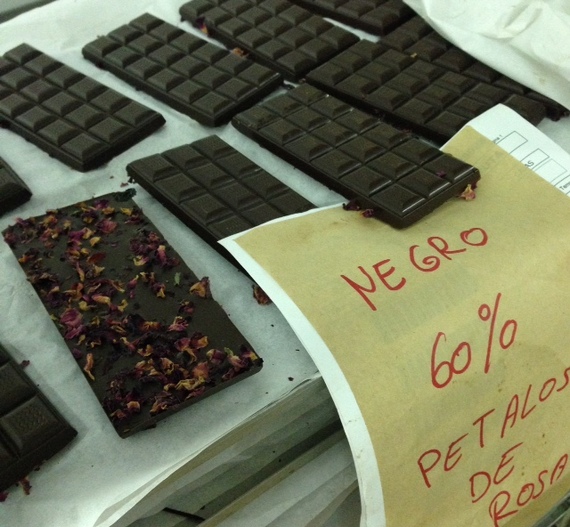 After the bars are produced they are hand wrapped and ready for shipping.
Having worked for years in pastry kitchens, where the environment was not always ideal for chocolate, I have seen first-hand the effects of improper storing on temperature sensitive chocolate. Ideally, chocolate should be stored in a cool and dry environment, around 65F/18C. Placing tempered chocolate in a warm or humid environment can cause the chocolate to become un-tempered. In layman's terms this means that it loses its shine and silky mouthfeel, turning streaky and chalky. To help prevent this from happening, Blanxart only ships their chocolate during certain months of the year. This is something you should also keep in mind if you do decide to visit their factory. If you're heading back home to Florida or Arizona in the summer, be sure to pack your chocolate in your carry-on. If, like me and my travel companion, you find yourself powerless against the temptations of chocolate, forget the carry-on, and your willpower.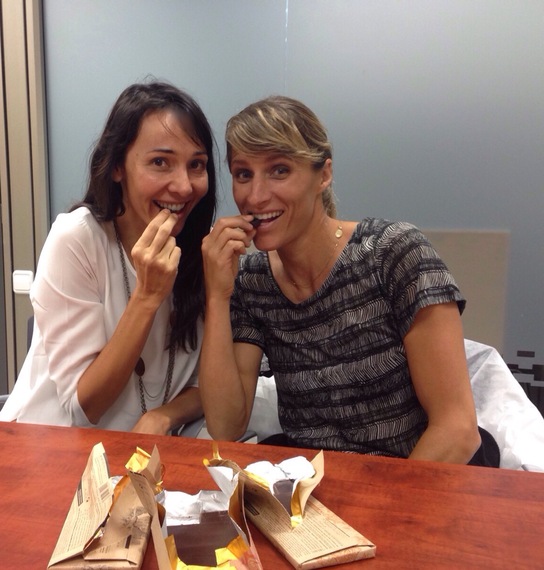 You can enjoy the Spanish chocolate before ever leaving the comforts of your hotel, and heading back home. If you do manage to bring a few bars back with you, you can make my recipe for Barcelona style hot chocolate.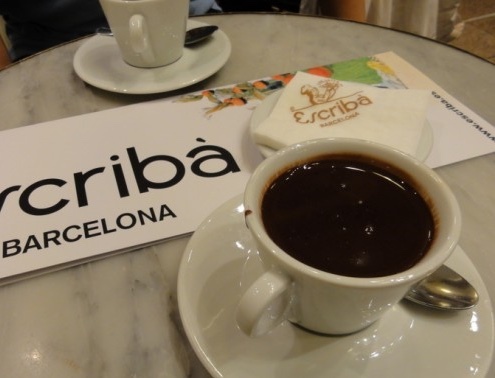 Barcelona Style "Chocolate Caliente"
Serves 4
4 ounces dark chocolate
1 ½ cups milk
½ cup heavy cream
2 teaspoons cornstarch
3 tablespoons sugar
¼ teaspoon cayenne
¼ teaspoon cinnamon
To prepare the hot chocolate, place the chopped chocolate, 1 cup of milk and the heavy cream in a saucepan over very low heat and cook, stirring, until the chocolate has melted. Combine the cornstarch and the remaining milk. Whisk the mixture into the chocolate. Add the sugar, cayenne and cinnamon. Cook on low heat, whisking constantly until the chocolate thickens, approximately 5 minutes. Remove from the heat, and whisk until smooth. Pour the hot chocolate into cups and serve.