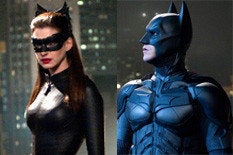 A hardcore love of Batman may prove to be an expensive habit this weekend, as some scalpers are reportedly seeking $100 for tickets for opening night of "The Dark Knight Rises," according to Smart Money.
The site's Pay Dirt blog noted that a Craigslist poster based in New York was asking $100 a pop for opening night tickets, and prices weren't much more reasonable in the rest of the country, either. In Iowa, someone was asking $140 per ticket on eBay and another user supposedly offered two tickets to a showing on July 19 for $300.
The highly anticipated sequel to 2008's "The Dark Knight" and 2005's "Batman Begins" is already having quite a good showing at the box office. Midnight showings at Imax theaters in New York, Pennsylvania, Colorado, Virginia, Ohio and Massachusetts are all already sold out.
Though seeing the latest Batman movie on opening weekend could prove to be expensive, the blog Centives calculated that being Batman wouldn't exactly be cheap either. The site found that between personal trainers, private jets, a full-time witty butler and the artillery of high-tech gear the superhero needs at his disposal, it would cost approximately $2.8 million a year.