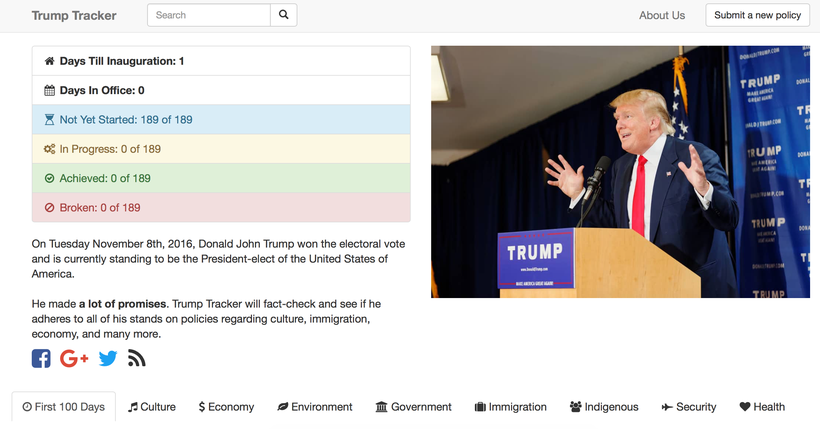 How code transparency is tracking down President Elect Trump's actions
The world may be keeping an eye on the transfer of power on Friday, January 20, but from 10:31 AM when the Trump administration takes over, the internet is going to be keeping score of the administration. The slew of President Elect Trump's promises on the campaign trail created enough fire to propel him to office, and now, several projects on the internet exist to validate Trump's policy making and promises. Trump Tracker is one of those projects, using a unique combination of open source tools to make tracking Trump's political movements easier.
Trump Tracker was born on 2016's Election Night by Viren Mohindra, a film & TV student at NYU's Tisch School of the Arts who dabbles with computer science. His inspiration for the Trump Tracker was Canada's Trudeau Meter and the simultaneous realization that the open source community's growth over the past 8 years made a project of this magnitude plausible. But even though the project was plausible, for a fulltime student, it had its concerns. "Even though the project idea has been great, I was not prepared for the responsibility that came from juggling the project and school all at the same time," said Viren, "Trump Tracker was released in the middle of midterms, and with the support of the entire community, it grew to a size I never imagined. But the interactions I've had making and maintaining this [Trump Tracker] are worth it."
Trump Tracker uses Reddit to crowd source Trump's campaign promises and to verify the promises with Trump's website, videos of his speeches, and sourcing from media outlets. Per Viren, "The vetting is a two-part process: first, we collect submissions from users (either from the site or the subreddit /r/trumptracker), checking to see if Trump actually proposed that specific policy."
Based on that, they evaluate the outcome of Trump's promise in three forms: broken promises, fulfilled promises, or negotiated promises. On top of using Reddit, the complete open-source nature of the project forms another layer of checking and balancing for the Trump administration. "From the get go, I've wanted this project to be open source, because I love the fact that people from around the world can contribute to it, sitting from their homes," said Viren, "It also provides a certain kind of democracy to the codebase, and more specifically to the actual content, which shouldn't be biased in any way."
Since the product's release, it has trended on Product Hunt, Twitter, and has been featured on multiple internet news sites. In the 72 hours after releasing the project, Viren saw that he had close to 12,000 active sessions on the site at any given moment. Over the past 4 months, the project has evolved in several ways. "I've been offered to use different host URLs (other than the current trumptracker.github.io) but I've shied away from using hostnames that have a negative connotation with the new administration. I want the Trump Tracker to be as credible and as unbiased as possible," noted Viren. The project is currently in talks with Archive.org to collaborate on their Trump video archive which is a "great resource" the Trump Tracker Project would like to tap into for video excerpts from Trump's Speeches.
As Viren continues his education, he wants to build this system out to make it applicable to each politician such that anyone can start tracking policies and promises of a politician to keep them accountable of their actions. According to Viren, "open source code is a democracy within itself, and it's exciting to empower people to keep their politicians accountable."
Calling all HuffPost superfans!
Sign up for membership to become a founding member and help shape HuffPost's next chapter
This post was published on the now-closed HuffPost Contributor platform. Contributors control their own work and posted freely to our site. If you need to flag this entry as abusive,
send us an email
.