You may have been shocked by this recent headline: "Dead babies near oil drilling sites raise questions for researchers." But those who are following the national debate about fracking are all too familiar with the concerns community members have about pollution from this new drilling technology.
In fact, our report on health risks to infants, children and pregnant women living near fracking operations found serious reasons for concern. As the CEH report notes, chemicals used in fracking and/or created by fracking operations have been linked to low birth weight, birth defects, respiratory problems, infertility and cancer, among other serious problems.
There has been much attention to water pollution risks from fracking, but there has been less research into air quality around fracking sites. Now a new study, co-authored by CEH's Research Director Caroline Cox and published in the peer-reviewed journal Environmental Health shines light on fracking air pollution risks. Along with the study, a report, Warning Signs: Toxic Air Pollution Identified at Oil and Gas Development Sites details the results from the sampling.
The study is an example of community based participatory research: CEH and our partner groups with the Coming Clean coalition worked with communities in six states where residents feel the daily impacts from nearby oil and gas development sites, including fracking operations. These local partners used their knowledge of the conditions in their neighborhoods to determine where and when to take air samples, and were trained to use sampling equipment that enabled them to collect air for laboratory testing. Even while taking air samples for this project, community members reported health symptoms including headaches, dizziness or light-headedness, burning or running noses, nausea, and sore or irritated throats.
Lab results from the air sampling were analyzed by CEH and a team of health, science, and community experts. The results were alarming:
Fifteen of the 35 "grab" air samples (meaning, where air is intentionally drawn into a sampling device), had concentrations of volatile chemicals that exceeded federal exposure risk levels for cancer, or for non-cancer health effects.
Fourteen of the 41 passive samples (where air naturally passes through a sampling device) had concentrations of volatile chemicals that exceeded federal exposure risk levels for cancer, or for non-cancer health effects.
One sample had air pollution levels that may pose an immediate danger to life or health, according to Centers for Disease Control guidelines.
Benzene, a known human carcinogen, was detected at sample locations in Pennsylvania and Wyoming, in levels exceeding health-based standards by several orders of magnitude.
In three states, formaldehyde was detected at levels exceeding the health-based standards of the US EPA's Integrated Risk Information System.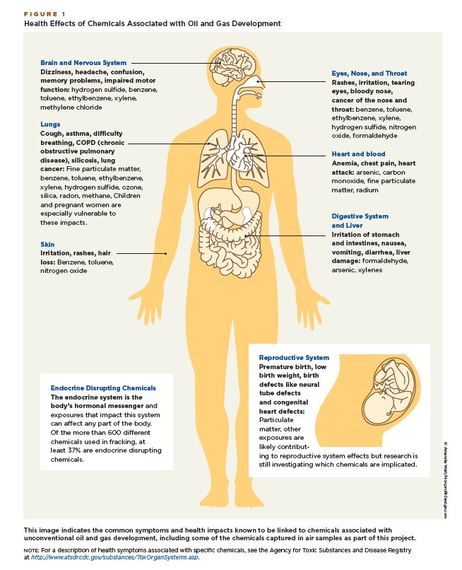 Others are also now finding air pollution problems associated with fracking operations. In Ohio, a team from the University of Cincinnati and Oregon State University are looking at air quality around fracked gas wells where residents have complained about odors and health concerns. These investigations point to the critical importance of further research into air pollution from fracking, and suggest a need for increased government monitoring, oversight, and regulation to protect public health.
State and federal agencies must use a precautionary approach when permitting oil and gas development. Even more critical, policies should promote renewable solutions to our energy needs, and stop subsidizing fossil fuels that contribute to our climate problems. Our health and our children's and grandchildren's health depends on it.
Popular in the Community