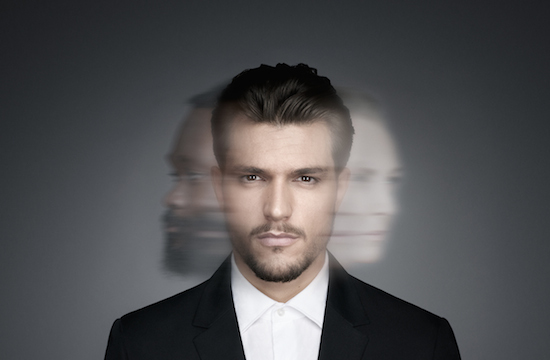 When a fashion designer includes a dried petal in his invitation and quotes a Cherokee proverb about man's struggle between good and evil, he's got me at "Hello".
Federico Curradi presented his debut namesake collection at this year's Pitti Uomo and talk about the perfect line to go with this chaotic world of ours at the moment! The setting, the old Dogana building, with a haunting soundtrack played by a long-haired DJ from a darkened corner, eerily bright lights shining on the young, fresh-faced, still as dead male models and special effects smoke pumped into the air. Orchids trapped in glass containers, barrels of dried oil spilling onto the ground, gas masks laying casually around the sets, this seemed like what the end of the world would look like. If fashion wasn't here to save the day.
Curradi's looks are in contrast easy, organic, loosely shaped, made with comfortable soft fabrics and understandable shades of mustard, brown, charcoal and burgundy. Even teal and light blue and sometimes all coexisting on the same sweater or in the same look. As long as men wear things that make them look and feel this luxurious, we may avoid destroying each other after all...
The Cherokee proverb that Curradi included in his invite needs to be reprinted:
There is a battle of two wolves inside us all.
One is evil.
It is anger, jealousy, greed, resentment, lies, inferiority and ego.
The other is good.
It is joy, peace, love, hope, humility, kindness, empathy and truth.
The wolf that wins? The one you feed.
The Special Alternative Set part of Pitti Uomo is always a joy to behold. Blending performance art with fashion, in a theatrical way that needs to withstand the test of being outside, in the midst of a busy fair ground that gives the eye so much to behold, this season it kicked off with a wonder. T. Michael is a bespoke tailor and designer hailing originally from Ghana and now creating in Norway. He blends his impeccable sense of style with a personal mantra of comfort, being true to his culture(s) and beauty.
His latest collaboration is with renowned outerwear company Norwegian Rain and historic British brand Grenson for a line of truly waterproof shoes that could change the way men dress in inclement weather. As a former shoe model myself, I remember our technicians at Nine West were always looking for a way to waterproof shoes, ones that lasted more than half an hour in the rain and snow. It's a nearly impossible task but the Grenson X Norwegian Rain line boasts up to none other than 13 hours of soggy-socks-free fun, in their beautiful leather boots and shoes.
Though it's hardly high definition, check out this short video I posted on YouTube, featuring the models, T. Michael's soulful introduction, and the waterproofed shoes of course!
Woolmark is the global authority on Merino wool. Based in Australia, Woolmark is the proud owner of that wonderfully iconic stylized wool yarn logo that we find today on all Merino wool products. The history of Woolmark is long and legendary, but in brief, it is the result of a 1936 decision which imposed a small tax on wool producers in exchange for promotion and research. When in 1937 the International Wool Publicity and Research Secretariat was established in London, what we know today as Woolmark was born.
In 1954 the International Wool Secretariat (IWS) established a prize, to be awarded to designers who made the best use of wool, in a fashionable and inventive way. This year's prize, for the first time ever, and now renamed the International Woolmark Prize, was awarded in Florence during Pitti Uomo. Another great first for a great fashion fair.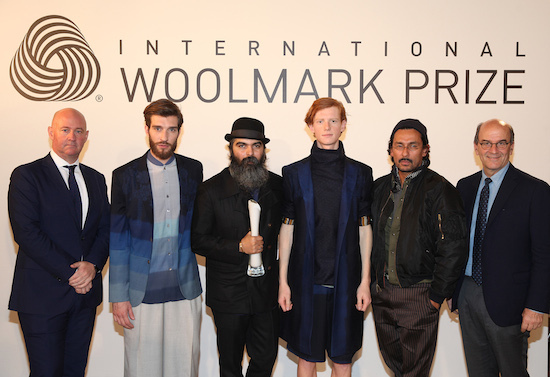 StuartMcCullough, model, SuketDhir, model, designer Haider Ackermann and Raffaello Napoleone, photo by Studio Nonamephoto
At the beautiful Villa Favard, the home of the Polimoda Firenze, Woolmark's judges, which included Vogue's Suzy Menkes, Pitti Uomo's own Raffaello Napoleone, fashion designer Haider Ackermann and Woolmark's Stuart McCullough awarded the prize to Indian designer Suketdhir.
The fashion show included six collections by the prize finalists, Munsoo Kwon from South Korea, P. Johnson from Australia, Agi & Sam from the UK, Jonathan Christopher from Holland, Siki Im from the USA and Suketdhir. Among the standouts for me were Kwon's line inspired by morning fog, with wool treated in a way that it could fade from dark charcoal to white on the same jacket. An almost bleached effect.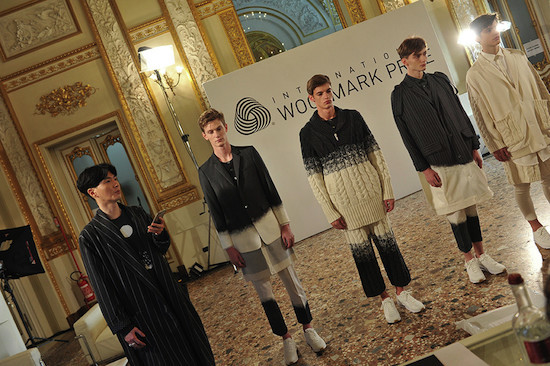 The US designer Siki Im instead masterfully crossed a Russian intellectual with a Turkish poet in a beatnik cafe in NYC and came up with an all dark charcoal and black silhouette that included almost always a touch of red. Simply breathtaking.
In the words of Mr. McCullough himself about the competition and the designers, "I can't remember one that was closer than today's." All were winners in my book!
Pitti Uomo continues through January 15th, at the Fortezza da Basso in Florence, Italy.
All images courtesy of Pitti Immagine, used with permission.