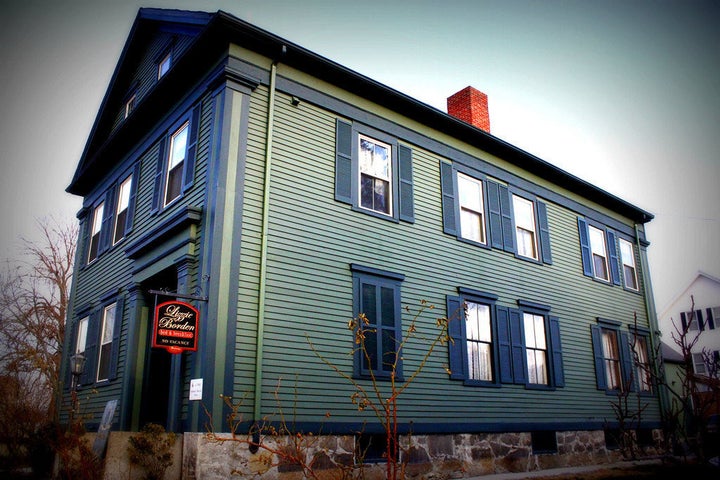 Ghost tours may seem like a guilty pleasure, but there is a perfectly legitimate way to humor the believer within: Bunkering down in a reputedly haunted hotel.
From the avenues of Bucharest to the streets of Sydney, there are countless hotels that capitalize on -- or desperately try to hide -- the terrible that happened or are happening within their walls. And where checking into a room guarantees an interesting, if not entirely restful, night's sleep.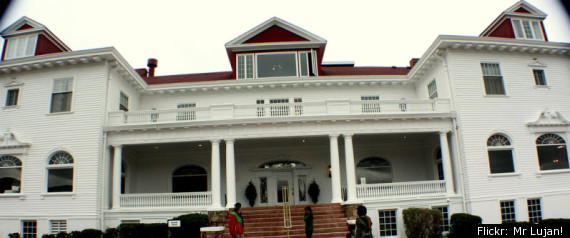 If we are to measure the impact of a building in pop cultural terms, The Stanley Hotel is the great-granddaddy of ghostly dwellings. Nestled among the mountains of Colorado's Estes Valley, the 138-room Georgian hotel is the inspiration behind Stephen King's Gothic horror masterpiece, The Shining.
An exemplary model of neoclassical architecture, King used The Stanley's isolated position, large, looming hallways and grand period features as fodder for his fictional Overlook Hotel (the Kubrick film adaptation plays on continual loop in all guest rooms).
Penning the novel following his stay in the near-deserted hotel -- King, his wife Tabitha and their two children were the sole guests due to it's impending off-season closure -- the author channeled the strange happenings in the now-infamous room 217.
If that suite is booked out ask for a room on the fourth floor -- specifically 401 -- which is said to be another hub of haunted activity.
While there are continued reports of apparitions standing over beds, along with stolen jewelery and luggage, and unseen children heard playing in the halls, it's the ballroom where the most commonly reported phenomena occurs. It is here that kitchen staff insist they often hear a party taking place, while others in the adjacent lobby speak of unexplained piano music. The most popular theory among employees being that the original owner's long-dead wife and avid piano player, Flora Stanley, takes unsolicited requests, while no explanation can be found for the soiree-loving specters.
The Stanley Hotel, 333 Wonderview Avenue, Estes Park, Colorado, USA. +1 800 976 1377. Rates from $147/night.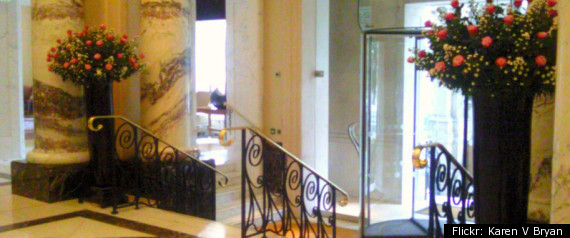 With a city as old as London, there are a plethora of spook-centric places to stay; but those wanting a little old-world glamor to go with it should book a suite at The Langham Hotel.
Opening for business in 1865 and remaining the very epitome of Victorian luxury to this day, the opulent West End landmark was once a favored spot for such notable guests as Oscar Wilde, Mark Twain, Antonín Dvořák and otherwise miserly US multi-millionairess Hetty Green.
But it took a few decades for the hotel to rack up its more permanent fixtures.
Suffering an economic hit due to the Great Depression and partly damaged in World War II, the hotel was closed before reopening as ancillary accommodation for the BBC offices.
While there is speculation that journalists made up ghost stories to get out of deadlines, sports announcer James Alexander Gordon states he awoke in his bed in room 333 to find a spinning fluorescent orb above him, which eventually took the shape of a man in Edwardian regalia. The terrified presenter asked what he wanted and the malevolent ghost charged towards him with arms outstretched before Gordon fled the room.
Guests can also commune with a pair of young children who are said to calmly walk around the upper floors of the hotel, or several male apparitions who occupy the kitchen and basement staff rooms. A Cardiff Giant and Canterville Ghost double act, perhaps?
The Langham Hotel, 1c Portland Place, Regent Street, London, England. +44 20 7636 1000. Rates from $345/night.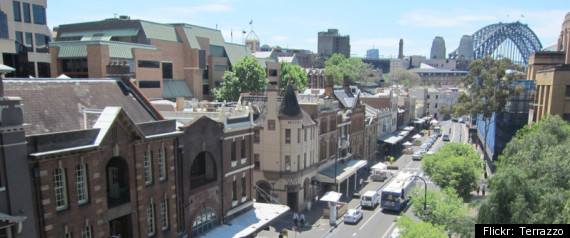 One of the most longstanding hotels in Sydney's historic Rocks district, The Russell offers first-hand experience of the building's original occupants.
While the area itself is rich with tales of restless spirits thanks to the rum-induced murders and untimely deaths of the once hygienically challenged convict settlement, ghost chasers should head here for an overnight stay.
A former sailor's hostel, the sandstone building is certainly no stranger to nefarious activity. Though the mischievous undertakings are still occurring today thanks to an extra guest who doesn't appear on the register - an old sea-faring apparition.
Opting for solitude, guests have only ever spoken of seeing the same figure who is said to appear before them late at night. While staff report the sound of footsteps treading the creaky floorboards with no other plausible reason.
The building recently underwent extensive renovations to bring facilities up to modern-day standards while retaining the historic decor, and manager Judy Beardsell says it only served to further rile up the ghost. She suggests that those wanting to lock eyes with the salty dog request room 8, which seems to be a favorite haunt. So to speak.
The Russell Hotel, 143a George Street, The Rocks, Sydney, Australia. +61 2 9241 3543. Rates from $141/night.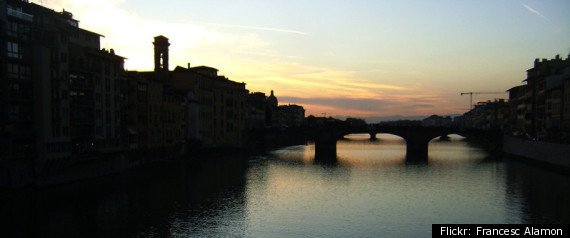 Charming and reasonably priced, Pensione Burchianti is a well-respected hotel in the heart of Florence. It also happens to be one of the most haunted throughout Europe.
Though the 17th century building boasts an alleged visit by Mussolini, it is the otherworldly residents that keep the locals talking.
With multiple sources claiming to see a pink, translucent figure in the Fresco Room, there are also sightings of a girl giggling in the halls, a maid that travels from room to room and an elderly woman sitting in a chair knitting. Others feel the sensation of being watched, their bed compressing as if someone is sitting on it and the feeling of icy cold breath in their face.
But while the hotel almost guarantees some kind of paranormal activity, things can ramp up so considerably that even the most steely-nerved guest can be left shaking.
The most distressing phenomena occurring when spirits make contact, with freaked-out former guests waking up with an immense pressure on their chest, unable to breathe. One woman even claims to have seen the impression of a face on the cheek or her sleeping friend, as if someone heavy was lying upon her. The indentation disappearing as she called for help.
The unnerving happenings occur with such frequency that the old owner refused to talk about them and made sure to leave the site by 6pm every night along with any female employees - leaving the night watchmen to nervously patrol the premises.
Hotel Burchianti, Via del Giglio, 8, 50123, Florence, Italy. +39 055 212 796. Rates from $97/night.
Lizzie Borden Bed & Breakfast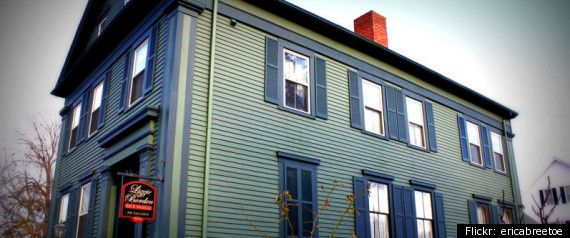 For those of you who need a well-documented murder to stoke the flames of imagination, the Lizzie Borden Bed & Breakfast in Massachusetts might be more your style.
Named after the New England spinster accused of murdering her father and stepmother with an axe in 1892, this otherwise unremarkable two-story Greek Revival is the go-to abode to satiate your historical blood lust.
Initially suspected of the gruesome killings due to her well-known dislike of stepmother Abby and having never forgiven her father Andrew for remarrying, Lizzie was eventually acquitted of all charges and released. Though the incident is so deeply entrenched in the collective psyche of North America that it spawned a nursery rhyme still sung to sleepy children (Lizzie Borden took an axe, gave her mother 40 whacks. When she saw what she had done, gave her father 41).
Visitors can choose to stay in any one of the eight rooms, the most popular being Lizzie's followed by the John V. Morse Room where Abby's body was found (Andrew's was discovered slumped on a couch in the downstairs sitting room), which features crime scene photos for those with a healthy disrespect for the dead.
With reports of lights flickering, batteries draining and special guest appearances from both Andrew and Abby, and a breakfast reminiscent of what was eaten on the morning of the murders, the not-so quaint B&B offers an appropriate level of ghoulish bang for your buck.

Lizzie Borden Bed & Breakfast, 92 Second Street, Fall River, Massachusetts, USA. +1 508 675 7333. Rates from $150/night.
Related