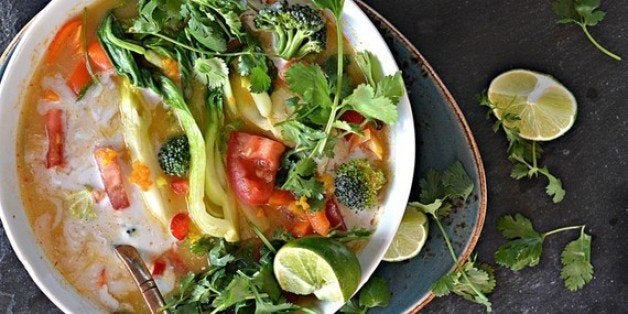 Thai soups are plentiful in their many variations and flavors. The base of this vegetarian soup recipe, known as Tom Yum, is lemongrass, galangal root, lime juice, kaffir lime leaves, tomato and spices. I simply used whatever veggies I had at home-- bok choy, broccoli, tomato, orange and red sweet peppers, zucchini-- and just could not resist adding coconut milk.
Lemongrass is easily found in Asian supermarkets, as is galangal root, which is a cousin to ginger. Though completely inedible itself, galangal perfumes this soup beautifully. It tastes terribly camphorous and medicinal if chewed, however, I promise you, the main reason that galangal root is used is because it creates that unique Thai flavor that makes all the difference in the yum factor.
This is not the traditional hot-and-sour Tom Yum, but my own vegetarian recipe made in a true 'California Thai' style. The sweet, sour, spicy and citrus notes swirl together in the pot to create that umami yum we savor in Thai cooking.
The base broth for a traditional Thai Tom Yum soup is typically fish/shrimp stock, fresh lemongrass, kaffir lime leaves, galangal root, lime juice, fish sauce, and chili peppers. Then vegetables and shrimp are added in along with cilantro leaves to garnish.
Galangal root and lemongrass create pungent flavor while kaffir lime leaves and freshly squeezed lime juice gives a citrusy-sour essence to the soup. There are many variations of this recipe as it is made differently according to the region of Thailand-- my recipe is adapted from a traditional Bangkok/Central Plains version, omitting shrimp and fish sauce. Not using fish sauce in particular makes it less authentic and probably unheard of by traditional methods. But that is fine because this is a vegetarian recipe and not exact, so why not add a splash of coconut milk and ginger too? I had some fresh turmeric root on hand and decided to grate it in with the ginger for vibrant color.
I have fun experimenting with different ingredients and don't follow many rules. This Tom Yum soup base is made with a touch of coconut milk like the Tom Kha version, which is aromatic and creamy using the same ingredient base as Tom Yum, but with an addition of chicken and coconut milk. Rather than the soup containing tomato and lime juice only, coconut milk gives dimension to the texture and flavor. Tofu is sometimes added in place of chicken, though I recommend adding the tofu to each individual serving instead of the entire pot. In Thai restaurants the tofu is occasionally pan-fried before adding to soup.
Another Thai ingredient is kaffir lime leaves. These fragrant leaves are wonderful and quite like using bay leaves. If you can find these in the Asian supermarket they are in the produce section. The market I go to has the leaves pre-packaged in a little cellophane-wrapped flat, and there are more kaffir lime leaves than I can use up entirely, as you only need a few per soup pot.
Since Asian supermarkets are easily found where I live in Los Angeles, Thai groceries are aplenty, however many Asian vegetables can be found at farmers' market as well. You can adapt this recipe using ginger, lime and veggies. I am searching for a pre-made vegetarian nam prik pow paste (black chili paste) but meanwhile I'll try my hand at making one at home without the shrimp paste that is the standard of most Thai seasoning.
I am a California girl that loves Thai cuisine. It's been a favorite of mine since I was a young girl growing up near the Thai Town neighborhoods where I still frequent when in search of authentic Thai food. Making this recipe takes little time and is quite satisfying to enjoy right away without much cooking involved. The freshness of this soup is best when served immediately.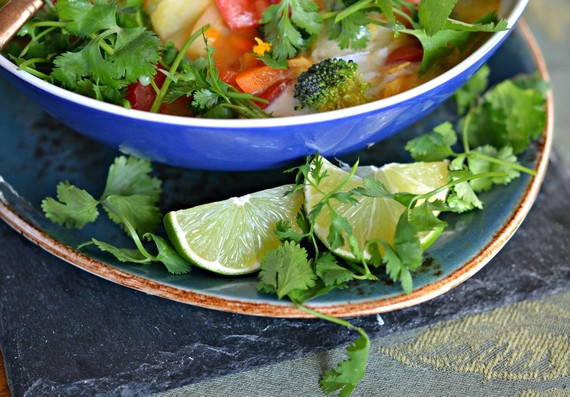 Thai Tom Yum Vegetable Soup
INGREDIENTS
3 cups clear vegetable broth
1 tablespoon coconut oil
3 tablespoons seasoned rice wine/mirin
2 garlic cloves, minced
2 shallots, sliced
5 kaffir lime leaves
3 thin slices fresh galangal root
2 stalks lemongrass, lower white portion, cut into 4-inch lengths, pounded and bruised
5 green Thai chili peppers, optional, to your liking in spice level
2 tomatoes, cut into small wedges
2 zucchini, quartered and cut into wedges
6 baby bok choy, whole
2 small orange sweet peppers, chopped
2 small sweet red peppers, chopped
1 cup of baby broccoli crowns
2 tablespoons grated fresh ginger
1 bunch fresh cilantro, leaves only
2 limes, cut into wedges
1 cup coconut milk
1/2 cup sautéed tofu (optional)

DIRECTIONS
Add the garlic, shallots and tablespoon of coconut oil into the pot and sauté on medium heat for about 3-5 minutes. Splash in a dash of rice wine (or mirin) and allow it to cook off a little, about 2 minutes.
Pour in the vegetable broth, continuing to keep the heat set on medium flame. Add in the lemongrass, galangal root, chili peppers, kaffir lime leaves and heat for about 6 minutes. Add the coconut milk into the soup.
Now add the veggies in-- bok choy, red and orange sweet peppers, broccoli, tomatoes, zucchini-- and cook for about 10 minutes on a medium-high heat. Do not over-boil your veggies! You want everything very fresh and crisp. The bok choy and broccoli especially, otherwise it will turn color and look less appetizing.
Using tongs, remove the galangal root, kaffir lime leaves and lemongrass and set aside. This way you do not serve it in your bowl, however, save them to add back into the pot to simmer and flavor your remaining soup.
NOTE: Place the galangal root slices, kaffir lime leaves and lemongrass inside a herb sachet. That way you can continue to season your soup without worry of eating these aromatics.
Turn off flame and serve in wide bowls, adding in fresh grated ginger (if you like) and garnish with squeezed lime juice and cilantro leaves. if you have any additions that make you happy, add them in to your serving bowl.
Related