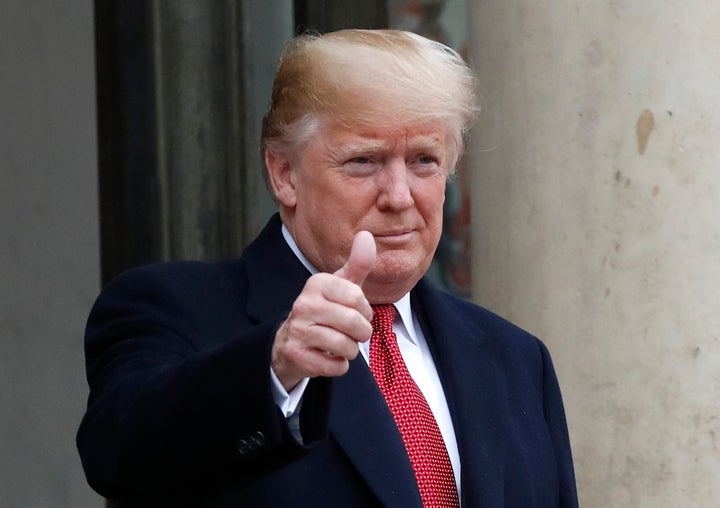 President Donald Trump on Saturday named seven individuals to receive Presidential Medals of Freedom, the highest civilian award in the U.S.
Among them is prominent Republican donor Miriam Adelson, who nibbled on pizza and mini hotdogs as she watched this week's midterm results with Trump at the White House alongside her husband, casino billionaire Sheldon Adelson.
The Adelsons spent more than $100 million to try to keep both chambers of Congress in Republican hands in the midterm elections.
The other six recipients are Elvis Presley, Sen. Orrin Hatch (R-Utah), baseball great Babe Ruth, the late Supreme Court Justice Antonin Scalia, retired NFL quarterback Roger Staubach and former Minnesota Supreme Court justice and NFL star Alan Page.
Presidential Medals of Freedom are bestowed on individuals, typically Americans, "who have made especially meritorious contributions to the security of national interests of the United States, to world peace, or to cultural or other significant public or private endeavors," according to the White House.
Hundreds of such medals have been awarded to political activists, Hollywood stars, philanthropists, diplomats and members of Congress, among others, since President John F. Kennedy reintroduced them as a civilian honor in 1963.
A statement from the White House described Miriam Adelson as a "committed doctor, philanthropist and humanitarian," as well as a "committed member of the American Jewish community."
The White House praised Hatch, one of the longest-serving senators in U.S. history, as a champion of "religious liberty" who "fought against communism, and stood on the side of freedom around the world." Scalia, who died in 2016, was lauded as "a champion of the Constitution."
The medals will be awarded Nov. 16.
Popular in the Community