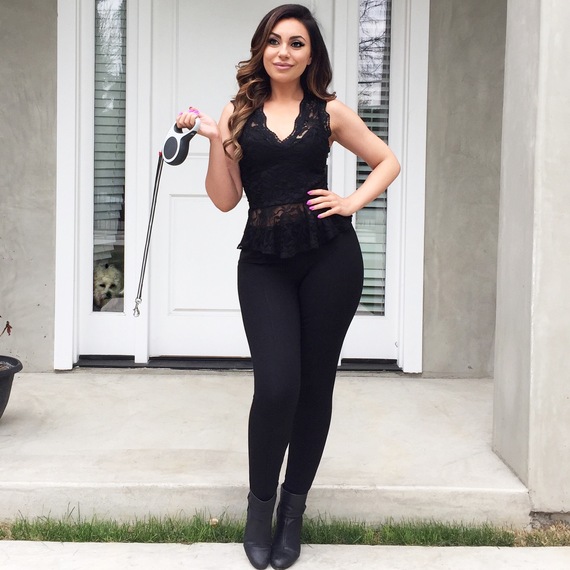 Uldouz Wallace had her start in Hollywood as an actress doing small roles, but it was her YouTube channel that has gotten her the most attention. After taking a few classes, she ended up posting videos as an experiment and gained a lot of subscribers and has quite a following on her social media profiles. Her videos also gained the attention of the comedy video website Funny or Die where she got to work with some of comedy's top acts. I got a chance to speak with her about how she started these videos and where all this creativity came from.
Hi, thanks for having the time to speak with me. Born in Tehran, I know you had a unique upbringing once your family moved to Sweden. Can you talk about that?
Uldouz: I was five years old and my parents decided to move to Sweden. My dad's family was already there because of the revolution. Basically I was raised in Sweden. First I came to Uppsala, Sweden and then I moved to Stockholm. Originally I went to school for marketing in French, I was in a class full with fluent French speaking students, I was the only one that was fluent in French, one day my French teacher Jaques Mangold pulled me aside and told me "Uldouz your French Sucks" in a super thick French accent, I was devastated, I looked up at him and said well screw this I'm going to America! So that's how I ended up going to San Diego!
How did you get discovered when you moved to the states?
Uldouz: First I went to San Diego and I went to school where I was getting my marketing degree and I just wanted to explore other ways to get an education. I moved to San Diego and then I went back and wrote my bachelor and masters thesis there. Then I went to Canada for a year, Vancouver. That's when I got into entertainment, so I started acting first. I took acting classes, I got signed into an agency, and it was kind of easy because I get to go out on auditions there all the time, and either you would get call backs or book stuff and seemed pretty easy going, way easier than LA.
What was your first acting gig?
Uldouz: I had a small part in Good Luck Chuck and it was such a big deal for me. It was for me, I was like, "Wow, look at me, I'm acting!" It was cool, I didn't really do much. I also did Smallville, Case 39, Men in Trees, and did The L Word too a long time ago. And then recently it's more like doing different stuff. Then I decided to go back to San Diego because Vancouver was nice but it was raining all the time.
From there you did a sketch comedy series called Living an Uldouz Life, which got some attention from Will Ferrell. What made you want to do it and what was it like getting praise from a comedian like Ferrell?
Uldouz: When I first moved to LA, I took this directing and editing class and I decided to do a social experiment and create that whole show so I had sketches on it, it was a comedy sketch series but one of them was a social experiment. I went to a gas station and I played a crack head and I was just asking people for money. I just washed their windshields and no one wanted to deal with me. I posted that up on my YouTube and one of the people from Funny Or Die noticed it then started working with Funny or Die. After that, I got noticed by Marlon Wayans of What the Funny. The crack head thing kind of worked out for me. [Laughs] This was the first time I got to do the sketches I didn't know it was gonna turn out to be bigger, where I had my own following. I kept building and working on it and just focusing on building my following.
With this popularity from your web series, have people noticed you on the street?
Uldouz: Yeah it happens all the time. Sometimes you try not to be seen and you'll be like, "Is that you? No I'm Sarah." [Laughs] People notice me; I'm really like chill if they want to take pictures. It's kind of funny, I get a lot of kids who come up and they just ask for pictures. There's always some guy sometimes that are like, "Yeah I saw you, but I was too scared to say hi!" which was so funny because I'm really easy going but they're too scared, too intimidating.
You mentioned that you got to work with Marlon Wayans. What did you learn from working with him?
Uldouz: I mean I worked for his company, I learned some things. We did a lot of writing, a lot of sketch comedy stuff. I think whenever I work with anyone whether it's Funny or Die, What the Funny, Big YouTubers, or Viners, I'm learning something because everybody's got their different take on it [Comedy]. It just keeps you on your toes because your mind just keeps thinking of new ideas and new different ways to do stuff.
Was it difficult for you to come up with good material for your videos? What was the writing process like?
Uldouz: I got a very creative mind and my mind thinks very differently. I went to groundlings and my teachers at groundlings said to me that your mind was very much like Will Ferrell's, you don't have any notes; like there's nothing that tells you to stop. I just kind of go for it and I think that was the best compliment any has ever told me. I come up with very weird and different ideas that are like outside the box and I just kind of go for it and I think people think too much about what's crap and what other people are gonna think. I don't care, I just go for it.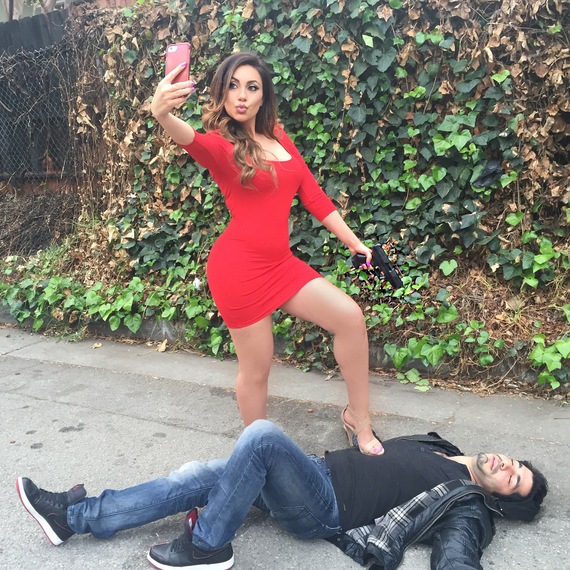 Is there anyone you look up to for inspiration?
Uldouz: There's so many. I like Tina Fey, Sofia Vergara, Hale Berry, Jennifer Lawrence, Michelle Phiffer, Amy Schumer, Madonna, Robert De Niro, Al Pacino, Joe Pesci and Will Ferrell.
Any dream role that you would like to take on?
Uldouz: I would love to be like a mob girl...kind of like Salma Hayek part in Savages, that would be kind of cool. Or maybe even a mob wife or mob girlfriend, something in a mob movie, I love mob movies.
Besides acting, you are also a model. What was it like going into the modeling world and what got you out of it?
Uldouz: When I was going to San Diego State, it was hard trying to go up and down in LA and trying to pursue acting, so the easy thing to do was modeling. I felt like it wasn't really for me because I'm too goofy and I couldn't take it seriously. I kind of did it for a while and I was in a couple of magazines. People were like, 'Oh you know, she's not the prettiest but she has this sexy comedy and that's kind of hot.' I got into this whole sexy funny niche I guess, and I'm just aiming more towards comedy and more back to the traditional world with acting.
You also mentioned you were an artist. How did you start that passion?
Uldouz: I started painting and drawing as a kid and it's been a big passion of mine. My mom always was like you couldn't be an artist because there's no money in that. I kind of just painted and kind of left it alone. Once in a while, I go through my space where I really paint. When I start painting, I get really obsessive, so I can't stop until a painting is done so I just keep going and I obsess about it until it's done. I realize I have all these paintings, but if I'm going to start focusing on that it would be time-consuming. It depends on my mood, so I have to be really inspired to do that. It's a hobby, but everyone keeps telling me I should put it up in an art gallery and start selling them. I thought about selling them, but they are like my little babies. It's like a piece of me is in somebody's home.
So what other projects are you working on?
Uldouz: There's a couple of them actually. I wrote my own pilot and I'm actually pitching that now and trying to get that made. I'm also in talks of doing a reality show, kind of behind the scenes of my life. I'm doing a clothing line, doing a book, I wrote a song. I made a song about 'Fuck Boys', which is a funny song. I'm also working on a feature, I can't say too much about it but it's about a girl who introduces her fiancé to her crazy family. I also finished a movie with Jason Lash called FML, so that's going to come out soon. Just a bunch of different stuff in the works.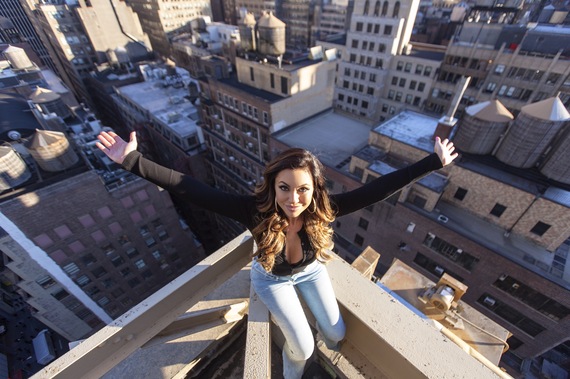 What do you see in your future as an actress? What do you hope to accomplish as you continue your career in the business?
Uldouz: In the next 10 years, I would like to have my own movies that I created, my own production company, and my own TV show. While I do that, I wanna be in bigger movies and have bigger parts obviously, but my goal is really focusing on creating my own way instead of waiting for parts. As far as that, just keep building on my following, keep building on content, and get this clothing line going, and maybe even open up a restaurant or bar. I just want to build different ways and different forms of income where it's not focused on one area in entertainment. So that's the goal and just putting my eggs in different baskets. It's a lot of work, but I guess you have to do it little by little and kind of plant the seeds and just watch them grow. It's gonna be a while before everything gets set in place, but once it's all there, it's gonna be worth it.