Given the fickle nature of fashion, we're not surprised that the guideline on not wearing white post-Labor day is slowly fading away. Emily Post agrees.
When it comes to western weddings, we also used to think of white as a color exclusive to brides. Everything else then would be a different color meant to complement the bridal white. As brides start to wear non-white wedding dresses, we are happy to see more couples experimenting with the way they use white in weddings. We love white color themed weddings. We're even seeing rehearsal dinner parties where guests are requested to wear white ala diner en blanc.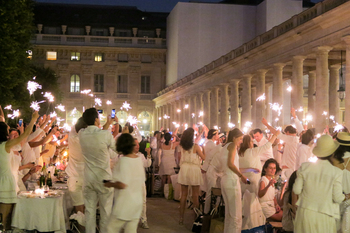 Trivia: The white bridal dress popularity started after Queen Victoria wore a white lace dress at her wedding
See our sample white color themed plan board below. Scroll right to view more inspiration.