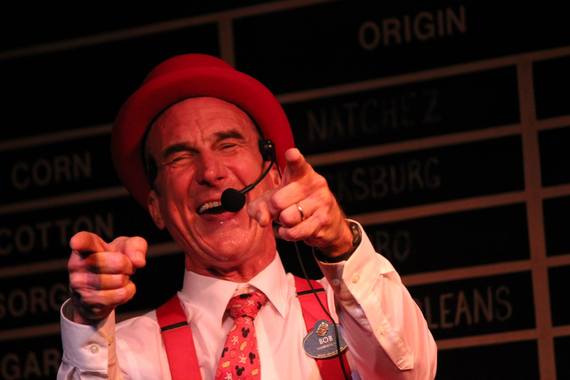 "Yehaa" Bob Jackson has a ritual before he takes the River Roost Lounge Bar stage at Disney's Port Orleans Resort-Riverside at Walt Disney World. In the entrance where he clocks in on show nights, there is a mural that displays inspirational quotes by Walt Disney, and Jackson taps his fist over one of them: "Give the people everything you can give them... Make it a real fun place to be."
"That's my motto," he says. "I enter the resort, get in character, and that's my objective; to do my very best job every night."
His character, "Yehaa" Bob, is a tireless, relentlessly goofy entertainer with serious piano chops (Jackson has recorded eight CDs, the latest a collection of original music, The Saddest Poem). He's got a wide-ranging repertoire, and signature crowd-pleasing bits and catch phrases ("How's my hair?") that he's honed over the course of his almost two decades of performing at the Roost.
Yehaa Bob's act is not one that usually makes such listicles as "Best Theme Park Attractions to See This 2015." It's more one of those unexpected collateral pleasures visitors either stumble upon or, feeling adventurous, pluck from guidebooks or websites.
The Entertainment page of the Walt Disney World website is not quite accurate when it comes to Jackson. It says his show is 30 min. and that its appeal is to adults. Jackson takes the stage Wednesday through Saturday at 8:30 p.m. and barrels through until at least midnight. Between his three sets, he mingles with the multigenerational crowd, using any useful bits of information he gleans from them in his act, which is wildly kid-friendly.
Jackson's show is not one of Walt Disney World's meticulously produced marquee attractions, like "Beauty and the Beast -- Live on Stage," or the fireworks extravaganza, "Fantasmic!" "I'm just under the radar," Jackson laughed in a phone interview. "They've got bigger things to worry about."
He may enjoy more creative freedom than other scripted WDW entertainers, but that's not to say Jackson's act is in any way cutting edge. If anything, he said, his act has become more Disneyfied in the past year, relying less on rock and roll standards, which used to comprise the bulk of his set list, and more on beloved songs from the Disney canon, played in his signature boogie-woogie or stride style.
One memorable night, Jackson recalled, he performed "You've Got a Friend in Me" from Toy Story in front of that film's director John Lasseter (now the chief creative officer at Pixar and Walt Disney Animation Studios) and his children.
"I've replaced almost my whole show with Disney songs," he said in a phone interview. "It's just been the greatest thing. I open with 'The Time of Your Life' (from A Bug's Life) and go right into 'The Bare Necessities' and half a dozen songs by the Sherman brothers. Audiences just love to sing 'Let's Go Fly a Kite' and 'There's a Great Big Beautiful Tomorrow.' Recently, I introduced 'Three Caballeros' into the show."
Jackson, a Dayton, Ohio, native who will be 62 on his next birthday, moved to Orlando in 1992 after years of entertaining abroad in hotels and on cruise ships with his wife, to whom he has been married for almost 40 years. The birth of their son necessitated settling down, he said.
He got a job as a piano player in the Dixieland band at the former Rosie O'Grady's Good Time Jazz Emporium, a nightclub in Orlando's Church Street Station entertainment complex. Through a trumpet player in the band, he landed a substitute gig playing piano at Walt Disney World's Diamond Horseshoe Revue, on which the sun set as an entertainment venue in 2009.
Through another gig at a dueling piano bar called Blazing Pianos, he met a musician who performed at Port Orleans and invited Jackson to audition when he was going to leave.
The River Roost Lounge Bar, capacity 148, wasn't so much a showroom as it was a holding room for people waiting for a table at the adjacent Boatwright's Dining Hall. "I said to myself, You could really turn this into something," Jackson said. "I was working in this big dueling piano bar where you get people to sing along and get up out of their chairs and participate in the show, so I had those skills."
He has been performing there since May 1997.
Since then, the show has grown like a house afire and settled into its rollicking groove. "I love to entertain," Jackson said, and he means it. "I love to watch the people laugh and have fun. It's pedal to the metal; no slow songs. I don't want anyone looking at their watch or thinking about babysitters. We go full speed."
Many now-famous artists have gotten their starts working at Disneyland theme parks. Michelle Pfeiffer reportedly embodied Alice (of Wonderland fame) in the Main Street Electrical Parade in the mid-1970s. One of Steve Martin's first jobs was working at the Main Street Magic Shop at Disneyland.
But, this isn't about that. Jackson is more in the tradition of such legends in their own parks as the late Wally Boag, whom Martin, in his memoir, Born Standing Up, credited as a major influence.
"I've worked with a lot of great entertainers at Disney, especially at the Diamond Horseshoe shows," Jackson said. "It was great to see how they entertained a room. The ones I remember still are the emcee Dr. Billyoulater and (magician) Terry Ward. They were as funny as can be."
That is the legacy Jackson carries on. From them he learned how to get a show going. He rigged the piano so that it would rock back and forth as he plays. He got a headset microphone so he could move through the crowd. He brushed up on those Disney songs. "It's a family show," he said. "It has to be funny, but not so toned down that it doesn't entertain the adults as well."
As comic punctuation throughout the act, he will rub his hand across his bald pate and ask the crowd, "How's my hair?" He will rally the troops to bellow a Tarzan yell by blowing a bugle. One popular audience-bonding bit involves prepping the crowd that whoever next walks into the lounge the crowd will pretend to hail from where they call home. So if that person is from, say, Chicago, Jackson will ask the crowd, "Anyone else here from Chicago?" This is the cue for the entire crowd to raise their hands and holler.
"Nobody expected me to do anything other than just sit and entertain," he said. "Now the show has a life of it's own. It's a fun ride.'