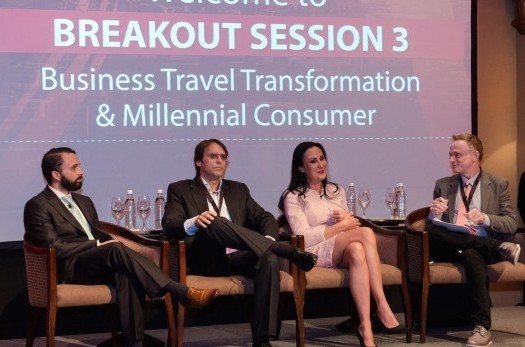 Panel discussion about Millennial travelers, at the SAHIC conference in Quito. Photo: LatinFlyer.com
The term "Millennial" is thrown around a lot nowadays. Roughly, it refers to the generation of people born anywhere between the early 1980s and the early 2000s. It's a big group of people, and they're just now starting to enter their prime traveling years. But what does this generation of younger travelers really want when it comes to hotels?
That was the topic of a panel discussion that I moderated recently at SAHIC, the South American Hotel & Investment Conference, which took place in Quito, Ecuador. It was an interesting conversation, with lots of insight from the esteemed panel: Deborah Négrel, vice president of development Americas at MGM Hakkasan Hospitality, Mariano Porcel, sales director South America Southern Cone at Travel Click, and Santiago Parra, business development director at City Express, the fast-growing Mexico-based hotel company. (You can find a brief, very unedited video clip from the discussion below).
Among the findings from our conversation:
• Millennial travelers want technology. They expect great WiFi, apps and accessibility via a lot of different technology channels.
• Millennial travelers believe their peers. They're less likely to listen to a straightforward advertisement for a hotel, but they will follow the comments and recommendations of their friends and colleagues via social media (likewise, they'll pay attention to negative comments, too).
• Millennial travelers want to leave their hotel rooms. The increasing popularity of more social lobby areas, with lots of space to plug in and work as well as socialize, is testament to the fact that millennial travelers are less likely to sit hunched over their hotel room desk when traveling for business or pleasure.
• Millennial travelers want unique hotel experiences. I had an interesting conversation with someone from Marriott International, who said that Millennial travelers prefer unique experiences over cookie-cutter hotels, and so that will likely play out in the design of hotels in the coming years.
• Millennial travelers are both high budget and low budget. Whether traveling for business or pleasure, Millennial travelers represent diverse economic preferences. They may stay at an expensive, trendy hotel during one trip, but then opt for a near-budget property on the next. But their demand for technology and design remains the same.
Related