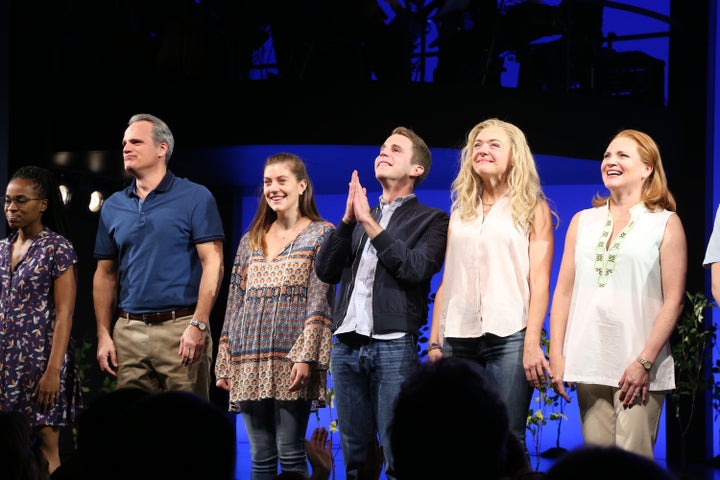 "Does anybody have a map? Anybody maybe happen to know how the hell to do this? I don't know if you can tell. But this is me just pretending to know. So where's the map? I need a clue. 'Cause the scary truth is I'm flying blind. And I'm making this up as I go."
So goes the first song in "Dear Evan Hansen," one of the most buzzed-about shows this Tony Awards season. "Does Anybody Have a Map?" is sung by two mothers who are struggling to connect with their teenage sons, and as some have noted, the number is basically a parenting anthem.
Starring Ben Platt (of "Pitch Perfect" fame), "Dear Evan Hansen" tells the story of a high school senior with social anxiety who, through a misunderstanding, becomes enmeshed in the aftermath of a classmate's suicide. Although the plot of musical centers around the titular protagonist and his high school world, the theme of parenthood is also a key component of the show.
Rachel Bay Jones plays Evan's mother, while Jennifer Laura Thompson and Michael Park play the parents of Connor Murphy, a troubled student who dies by suicide early in the show. All three actors are parents themselves, and their powerful performances speak to the love and heartache of raising children today.
Jones, Park and Thompson spoke to HuffPost about their emotional roles and the way this play has interacted with their own parenting experiences.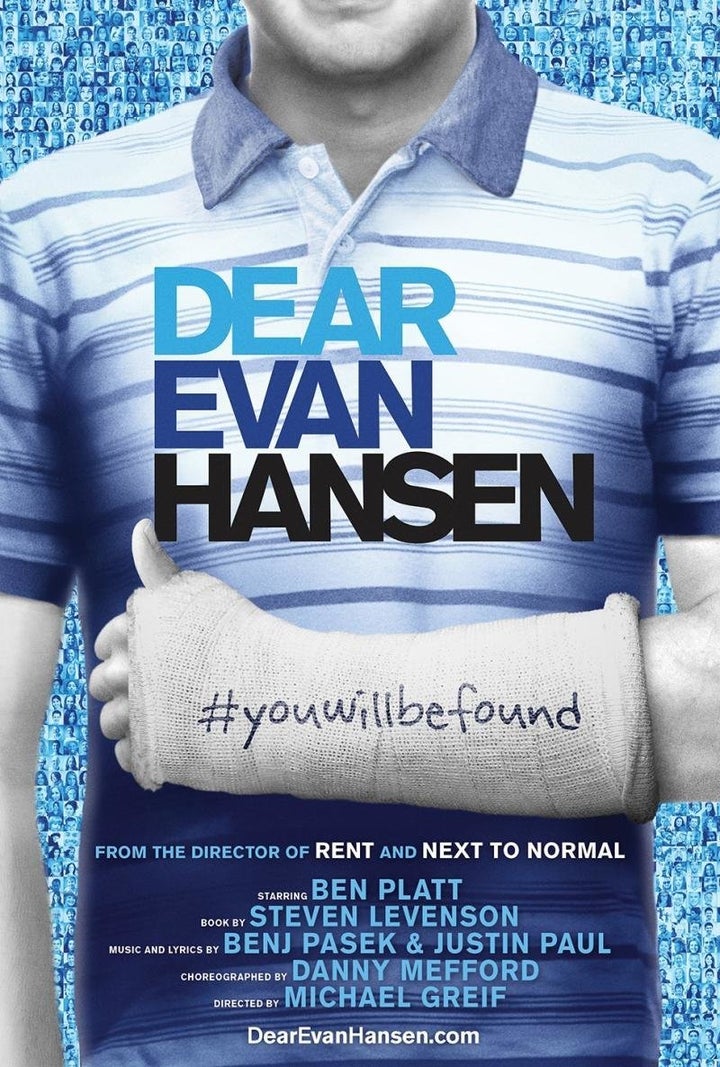 Jones, who has a 14-year-old daughter named Miranda, told HuffPost she believes songs like "Anybody Have a Map?" really resonate with parents. "You have absolutely no idea what you're doing. You read so many conflicting books, and advice from everybody is so different," she said.
"And when they become teenagers, they change, and you sort of wake up and realize they're not your baby anymore," she added. "Because they're not communicating with you the way that they used to, you don't have any idea how to handle the things that come up, ― you don't know what's going on. Sometimes you think you do, but then you find out you have absolutely no idea."
Jones believes that parents can connect with the show from the very beginning, as the opening scenes show groups of family members "trying understand each other and completely missing."
Thompson echoed her co-star's sentiments. "The books will tell you what milestones are going to be hit, what cures nighttime crying and feeding problems, and all of the issues that the average child will go through," she told HuffPost. "But there's really no such thing as an average child. Every child is made up of a different set of challenges and those are the things, the unexpected things that make us all flounder as people."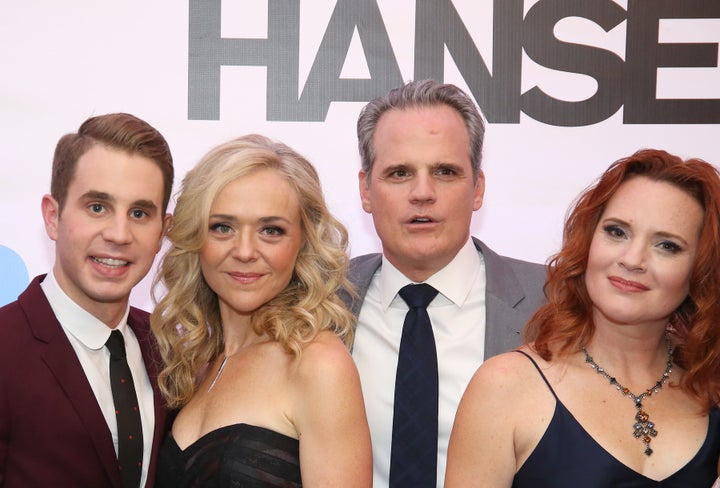 The actress has a 13-year-old son named Tommy. In a way, "Does Anybody Have a Map?" takes her back to the day she brought her baby home from the hospital.
"I thought, 'They're gonna let me leave with this person?' I couldn't believe it," she said. "I didn't feel responsible, didn't feel prepared, even as much as I'd read and set up nursery and had all the things I thought I needed. I was terrified."
She continued, "We spend a lot of time being scared early on. Everyone will tell you that nothing can prepare you for parenthood. It's gonna change your life. And people who don't have children just brush it off as, "Yeah, yeah, I get it." But It's really so far beyond what you can expect that there's no comprehending what that phrase means until you have a young being in your presence that belongs to you."
For Jones, the play spoke to her on another level, as her character Heidi is a single mother like she is in real life. Though she has a long-term partner now, she and her daughter's father separated when Miranda was very young.
"There's a very specific kind of relationship that develops when it's just the two of you against the world ― especially when there's hardship, when there's not the support of family close by," she explained.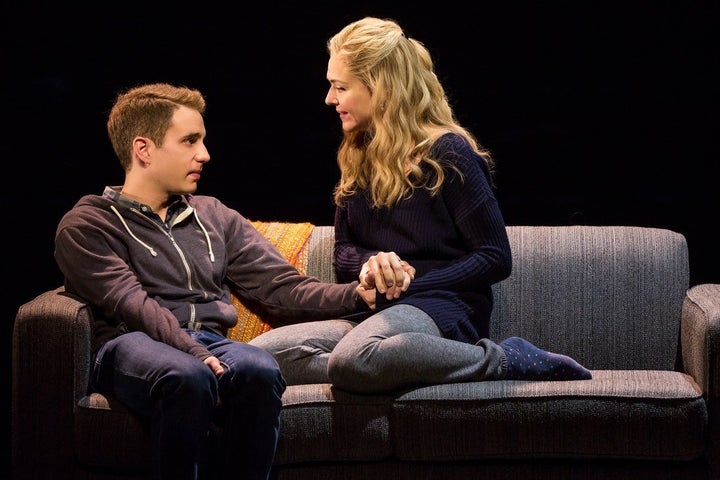 "And that has been the case for me with my daughter. Struggling to keep us afloat, struggling to give her the things she needs to make life gentler for her while really being in it as a working person is something I know very well. So I come to this with my own experience," she added.
In addition to drawing from their own experience for their roles, the actors have also brought lessons from "Dear Evan Hansen" to their parenting.
Park said this was particularly true for him. The actor has three kids, 19-year-old Christopher, 17-year-old Kathleen and 13-year-old Annabelle. His character Larry is a corporate lawyer dealing with the aftermath of his son's suicide and his regret that he wasn't able to get through to Connor.
In many ways, playing Larry has changed Park's approach to raising his children and his understanding of the value of communication.
"I say this all the time. I'm so grateful for 'Dear Evan Hansen' because it has made me a better communicator with my kids, it has made me a more open human being in the relationship I have with my wife, and it has made me a better parent," Park told HuffPost. "I've benefitted in ways that I cannot articulate as a husband, as a father and as as son."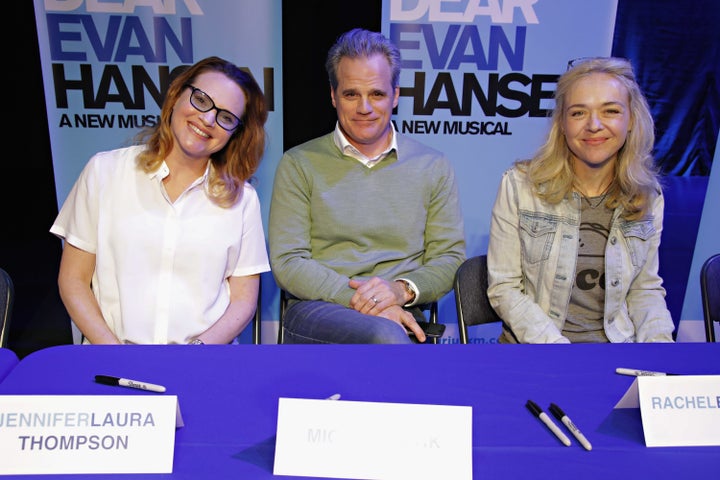 Though Larry had become a bit closed off from his son, Park urges his fellow parents to be open and persist in their efforts, even when it feels impossible.
"I beg you to reach out and never stop communicating with your son or daughter or grandparent or your uncle or your aunt," he said. "Never stop communicating. Try and try again. And when the door shuts, find a way to open that door again."
Evoking the Act I finale "You Will Be Found," Park said he believes both parents and teens need the reminder that they are not alone. "At the end of the day, that's what the show is all about: being found, knowing you aren't going through this by yourself," he explained. "Someone is always out there for you."
"Dear Evan Hansen" is a show that feels very relevant today, as it tackles the theme of being a teenager on social media and the way the internet affects high school life.
"I think social media tends to magnify the issues that we all have with feeling connected, feeling disconnected, feeling less than, trying to one-up each other, trying to connect with each other," Jones explained. "It exacerbates all of these issues that have always existed, especially in the life of a teen."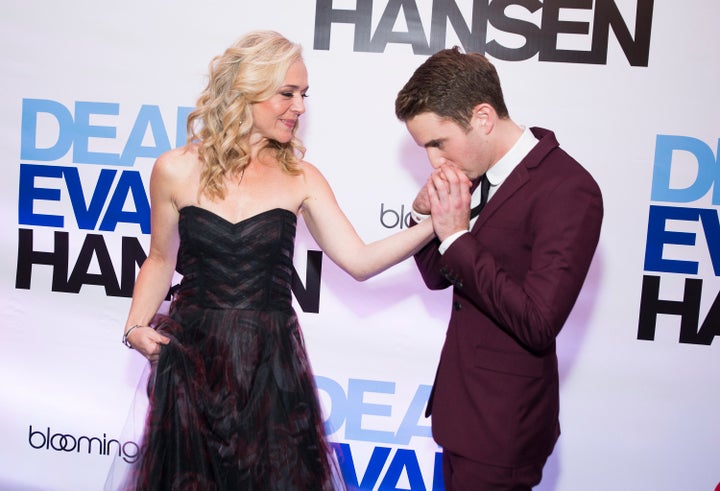 In the play, the parents only enter into the social media world their kids inhabit in a few times, and when they do, the experience overwhelms them. "I find that's pretty real, when I touch on what life must be like for my teenager in her world of social media ― it is overwhelming."
Park said he believes technology and social media are "double-edged swords" because they has the ability to bring people together for powerful causes but also inhibit one-on-one communication between individuals.
"When my daughter is downstairs and texting me to come down and make a sandwich, there's a problem there," he joked, adding that he doesn't mind using technology restrictions as a punishment though. Ultimately, he said of social media and technology: "I'm grateful, I'm dismayed, I'm confused and happy all at the same time."
Another theme is the connection between class and parenting, particularly as Heidi struggles to make ends meet between her job as a nurse's aide and time spent at night school studying to become a paralegal. Meanwhile, Connor's mom, Cynthia, leads a more affluent life.
"The show really deals with class issues in a beautiful way, in a really profound way," said Jones. "These two mothers are both completely worthy moms. But when you're a working class mother, you unfairly idealize these wealthy women who are able to be whoever they want to be as a parent, and that makes you feel inadequate all the time because you cannot provide for your kid what these perfect moms are able to provide."
Although it's true that wealth provides more opportunities, both Jones and Thompson said they feel none of that really matters when it comes to being a good parent.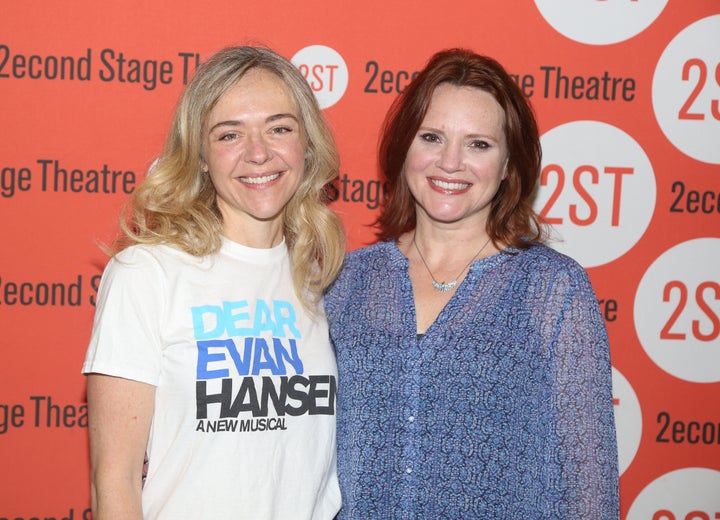 Thompson said she believes the play crushes some of the images of perfection that parents idealize. "Just because you have money and seem happy has nothing to do with your quality of life," she said. "Nobody knows what goes on behind closed doors."
"Dear Evan Hansen" has received nine Tony Award nominations, including Best Featured Actress in a Musical for Jones. One of her most poignant moments is her solo number, "So Big / So Small" ― an emotional song about her split from Evan's father and journey as a single mother.
"It really somehow gets to the heart of everything that we feel as parents," said Jones. "The need to be known by our children and forgiven for our flaws. The need to show our kids that even if we're flawed and even if we mess up over and over and over again, that we really do love them and really are here for them. And that they have us always to come home to."
The actress said she's amazed that the songwriters, Benj Pasek and Justin Paul, are two young, childfree men.
"I've known those guys for a long time, and I've always said they write the best mom songs," she said. "I think they just happen to have really great relationships with their moms, and they really understand all of us."
Jones, Park and Thompson said that one of the most powerful parts of their work in "Dear Evan Hansen" has been the response from other parents.
"I've received a couple of letters from mothers thanking us for telling this story, particularly Cynthia's story or the mom's story, because it's not one that's talked about very much," Thompson said, adding that she's also been moved by the response from fans waiting outside the theater.
"There are so many times when there's a teenager waiting to get a signature but there's a parent behind them in tears thanking me for telling this story," she said.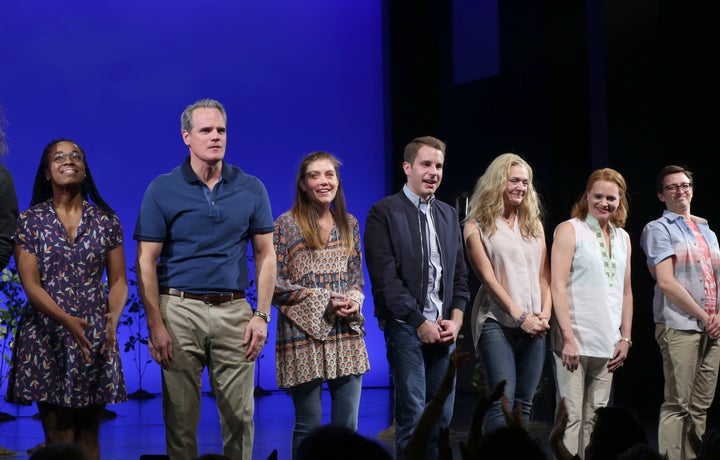 "Just the other night, a lovely woman with her daughter walked up to Rachel Bay and me and explained that the show was so important and was very emotional," Thompson recalled. "They said her son had committed suicide and the young woman was his sibling. They were so moved and touched by the story being told, and that felt very rewarding."
Jones said she believes "Dear Evan Hansen" helps people understand each other. "So often, there's a generational divide that starts in the teenage years that never fully heals until we're parents ourselves and we begin to understand." she explained, noting that teens in the audience come away a better sense of their parents' experiences, while parents are remembering what it feels like to be a teenager.
She said she constantly hears positive feedback from kids and parents ― especially single moms and children of single moms. "So many women are thanking me for this portrayal of Heidi," she said. "So many children are thanking me for allowing them to see their mother and the struggles that she must've gone through."
Added the actress, "There's no more gratifying experience for me as a person than to to hear that come back to me, that in any way the show we're doing is connecting people in this way."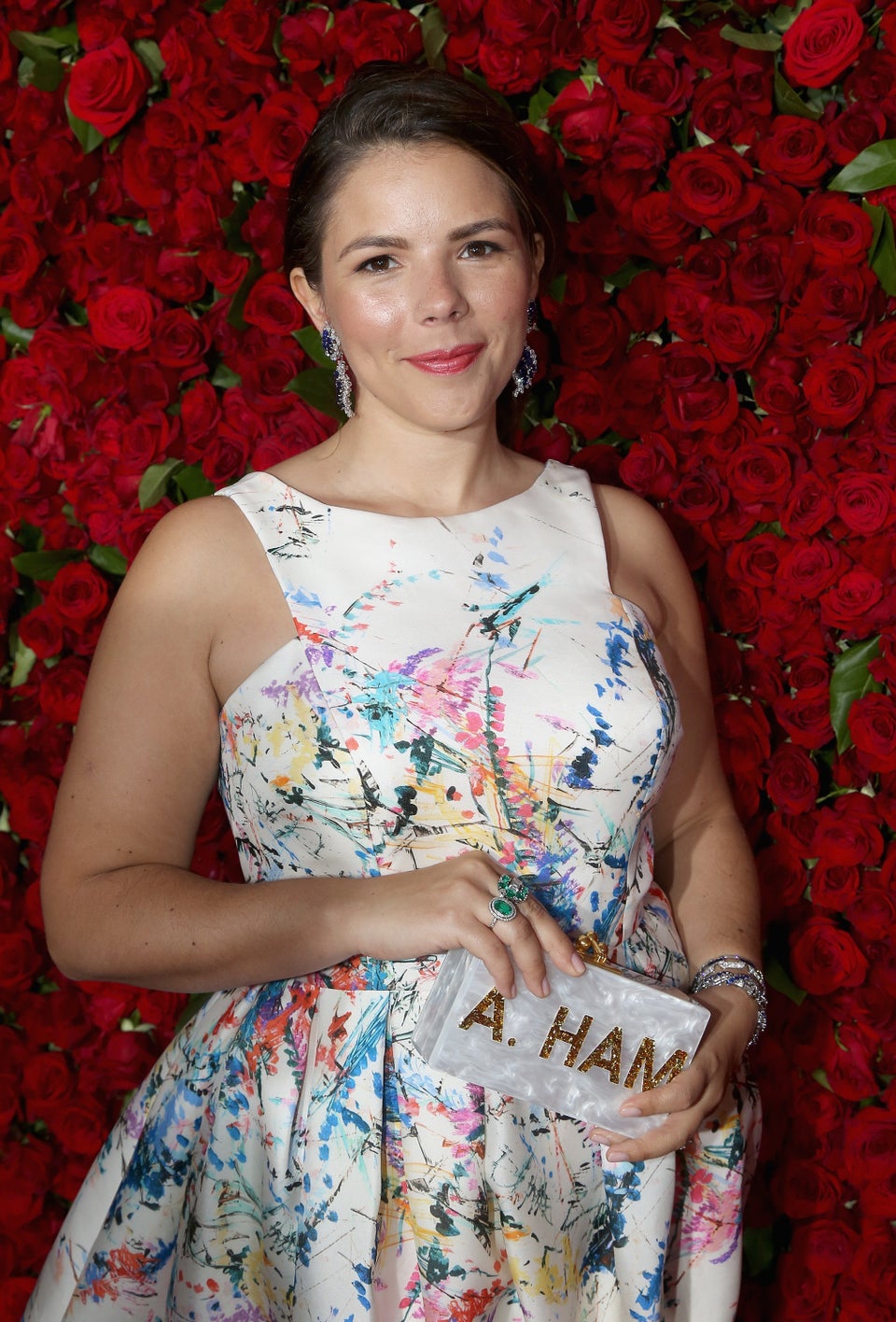 Tony Awards Red Carpet 2016