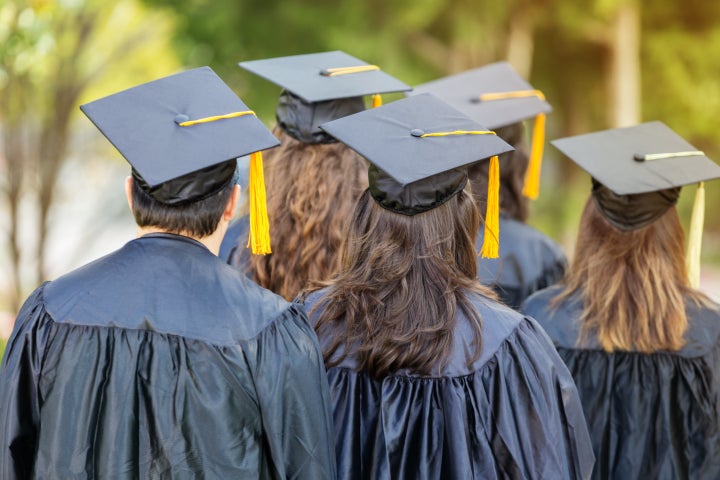 Recently I was talking with a graduating senior at Barnard, where I am Dean of the College, and the conversation turned to a new hairstyle she was considering. She paused and said, "Well, if I get that style I won't wear my cap at graduation." I looked at her and said, "Oh, but you will wear your cap at graduation, so maybe you need to figure out a different hairstyle."
Surprised, she asked, "I really have to wear my cap?"
"Yes," I said. "For your community, for your family, and for yourself."
Graduation is a pivotal moment, and wearing academic regalia is a powerful way to embrace the fullness of that moment. Earning an academic degree is significant not only because it's a life-changing achievement for oneself but also because it tacitly recognizes that not everyone has the opportunity to acquire an education. We look around the world, around our own country, around our community and we see that education is not easily accessible by everyone because of laws or circumstances.
A number of Barnard students are in the first generation of their family to get a degree. Many of us have relatives who are just as smart as we are, just as interested in education as we are, but never had the opportunities that we enjoy. Those of us privileged to earn a degree must never take our education for granted.
Women, in particular, must be mindful of this opportunity, though I admit that the traditional cap and gown were not created with women in mind. There are no pockets ― I took my gown to the tailor and had pockets sewn in ― and as the student I conversed with noted, the cap is not popular with many women. But who cares about hair when we have access to something so priceless?
As a woman, as a person of color, as the first person in my family to go to a private college, and among the first generation in my family to earn an advanced degree, I have never taken my degrees for granted.
I wear my cap and gown because I was the premature baby who wasn't supposed to survive and thrive. I was the high school senior told by my counselor that I wouldn't get into Barnard, and therefore he refused to write me a letter of recommendation.
"I wear my cap and gown because I was the premature baby who wasn't supposed to survive and thrive."
I wear my cap and gown for all my black and brown sisters, my immigrant sisters, my "I had to work" sisters, my "my parents didn't think girls needed more education" sisters—and for everyone who could not get an education despite the fact that they were and are so smart.
I wear my cap and gown because the only cap given to my grandmothers was a maid's cap. Both my grandmothers came to this country from Barbados and worked as domestics. Although they didn't earn much money, they raised families, industriously bought properties and rented out rooms, and selflessly helped other immigrants from Barbados become established here. I often ask myself: If they had lived in a different time with more resources, what could they have achieved? They could not possibly have imagined that I would become the first African American Dean of the College at my alma mater.
My mom went from high school to working as a seamstress in a clothing factory until she married and stayed home to raise her children. She was fortunate to get the chance to earn her college degree in her fifties through a New York City Board of Education program to train elementary school paraprofessionals to become teachers. She proudly graduated from Brooklyn College, and worked at an intermediate school in Brooklyn until she retired.
My academic regalia was the last gift my mom gave me before she passed away. I will always remember her proud smile and tears at my doctoral graduation as she sat in her wheelchair.
My father had an eighth-grade education in Barbados, came to the U.S. and served in the army during World War II, and for the rest of his working years earned a living as a mason because that was the skill he had learned in Barbados. Unlike my mom, he never had the chance for additional education.
My parents' pride for me as I graduated from Barnard, then Teachers College for my M.A., and then from the University of Pennsylvania for my Ed.D. was the culmination of all the sacrifices they and their parents had made. This was what it was all about. You don't immigrate to another country and make all these sacrifices and struggle unless you have a purpose — for yourself or for your children.
So for them, I wear my cap and gown. When I put them on, it's not about me. It's about a family accomplishment. It's about a family having made sacrifices.
I wear my cap because I come from a long line of women who wore hats as crowns every Sunday and on special occasions. I think of my mom and my grandmothers and the pride they had when they wore their hats. They taught me to wear a hat at a jaunty angle, with my back straight and my neck elongated. I never worry about my hair getting ruined because when I wear the cap, I am wearing a crown, and I walk in the fullness of my mother's and grandmothers' grace and strength.
I make a point of modeling to my students the immensity of our privilege by wearing my own cap and gown proudly. I wear these items as a signal to my students who are struggling to believe that they can make it that this too is possible if they keep their focus.
The message is coming through. Last week, the student worried about her hair was sporting a new, shorter hairstyle. She told me she has a wonderful cut that will work well with the cap. She looks great, and she will look fabulous on graduation day in her academic regalia including her cap.
Popular in the Community