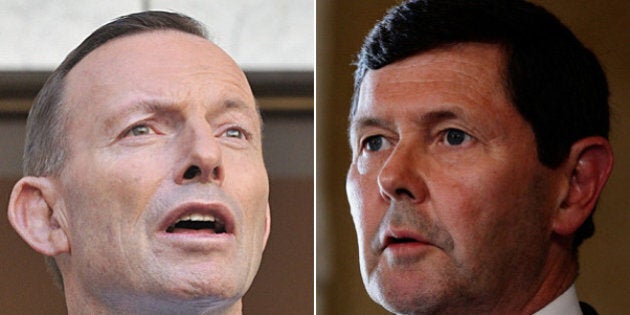 CANBERRA -- Defence Minister Kevin Andrews has been corrected by the Prime Minister about his two-to-three year assessment of the length of Australia's military engagement in the Middle East.
Andrews has also likened the Iraq/Syria border to the border between NSW and the ACT, and ruled out Australian combat troops, something the Prime Minister had failed to do.
Australia on Wednesday officially accepted a U.S. request to expand Australian airstrikes to Islamic State targets from Iraq to Syria.
Andrews on Thursday morning defined Australia's engagement on Channel Nine's Today show.
"Look, two, three years. I can't say for exact terms," he said.
Asked if Islamic State could be defeated in that time, Andrews said, "That's our hope. That is our intention.
"But the reality is that this is going to go on for a number of years.
"We have had some success to date. And with our coalition partners, Canada, the US, the UK, France etc, we believe that we can make a real difference."
Abbott, in Papua New Guinea for the Pacific Island Leaders Forum, rejected the two-to-three-year assessment.
"Well, we don't want to put a particular timeline on this other than to say that they'll be there as long as needed but no longer than necessary," he told reporters.
"With all of our military commitments, we make them because there is a job to be done. They do the job -- our military personnel, our armed forces personnel -- they do the job effectively and professionally and when the job is done, they come home."
The new Australian airstrikes, which could begin within days, will not target troops from the Assad regime, only IS militants, equipment and facilities.
The Defence Minister said RAAF fighter jets firing over the Iraqi border into Syria will be defending Iraq.
"It's a bit like the border between NSW and the ACT," Andrews said.
"We know where it is on a map but most people wouldn't know where it is and Daesh certainly doesn't respect it.
"They operate on both sides of the border and if we can go over the border into Iraq and bomb Daesh over the border, then we can knock out hopefully some of their facilities, their training bases, their control and command bases."
He ruled out sending Australian combat troops to Syria.
Andrews said Australia's plan in the fight against Islamic State will take at least two to three years, but asked if he categorically ruled out putting Australian troops on the ground, he responded "Yes I do."
"Our troops are there training the Iraqi forces, ultimately the Iraqi forces have to be out there defending their country and taking back Territory from Daesh."
The Prime Minister yesterday failed to rule out the potential for combat troops in the Middle East.