The Golden Globes red carpet was all black.
Everyone from Nick Jonas to Meryl Streep was sporting black at Sunday night's award show as a symbol of protest against sexual harassment and assault in Hollywood. Claire Foy wore a sleek, all-black suit, and Justin Timberlake looked dapper in a silk-trimmed black suit. Other all-black-clad celebrities included Tracee Ellis Ross, Emma Watson, Hugh Jackman, Jessica Chastain, Octavia Spencer and Kerry Washington.
"The question isn't who are you wearing tonight, it's why are you wearing black?" E! News co-host Giuliana Rancic said on the red carpet.
The powerful act of solidarity comes in the wake of the #MeToo movement in which millions of people around the world shared their stories of sexual harassment and assault. The movement inspired a cultural reckoning that has brought down many alleged predators in power including Harvey Weinstein, Kevin Spacey and Matt Lauer.
Actress Michelle Williams wore black and brought activist and #MeToo creator Tarana Burke as her red carpet guest.
"This moment is so powerful because we're staring at a... collaboration between these two worlds that people don't usually put together and would most likely have us pinned against each other," Burke told E! co-host Ryan Seacrest. "It's really powerful to be on the red carpet tonight."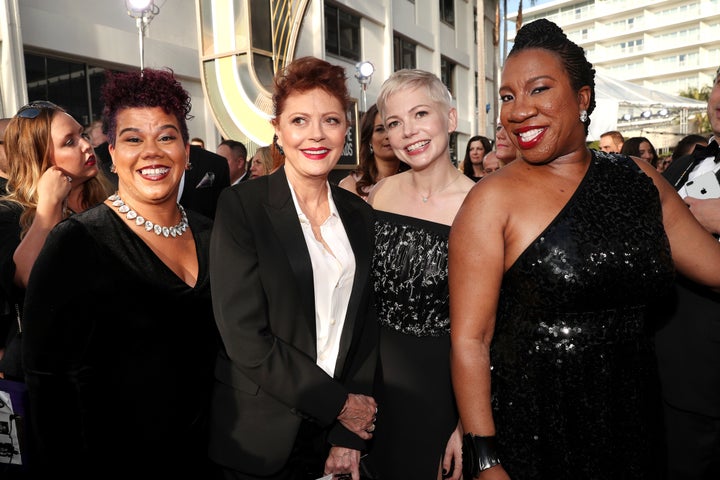 Williams added how powerful this moment is for her as a woman and a mother.
"I thought that I would have to raise my daughter to learn how to protect herself in a dangerous world and I think because of the work that Tarana has done and the work that I'm learning how to do we actually have the opportunity to hand our children a different world," she said.
Another accessory commonly spotted on this year's red carpet were tiny pins that read "Time's Up." The small black and white pins are part of the recent initiative of the same name spearheaded by more than 300 actresses to combat sexual violence in Hollywood.
Stars including Seth Meyers, Hugh Jackman, James Franco and Bob Odenkirk donned Time's Up pins on the red carpet.
The Time's Up initiative was announced on New Year's Day and was inspired by the recent #MeToo movement as well. One way the initiative is hoping to combat sexual misconduct is through a newly created legal defense fund that will help less-privileged women come forward with their stories.
"This is not about Hollywood," actress Debra Messing said on the red carpet. "This is about every woman in every industry, globally."
Scroll down to see more pictures of big stars wearing black.