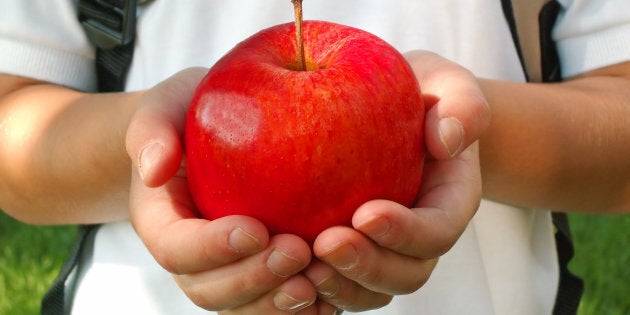 As any parent of a school-aged kid knows, just because you can taste the end of the school year doesn't mean you can rest on your laurels. Homework may have decreased, but the number of Christmas concerts and wrap-up events has increased; because you're just not parenting right unless the variety of demands you're expected to meet is inversely proportionate to the days left of the term.
This is why I took secret (okay fine, it was quite obvious) pleasure in telling a friend who is a newby to this school thing that you need to buy presents for some of the school staff and your kid's teachers. The phone call went something like this:
Her: "Meet me for coffee?"
Me: "Can't. I'm buying presents for the teachers."
Her: "What the f**k! I didn't know we were supposed to do that."
Me: [patronising tone] "Of course we are. And for the some of the staff, too. Get with the program."
Hahaha, there's one more thing to cram into the last three weeks of term, girlfriend! And it's a big one, too. While I admit that I am partly motivated by my total addiction to Christmas shopping, I do also absolutely believe in thanking the people who educate and care for my child.
My son, like most kids in Australia, goes to an amazing school. All of his teachers, and many of the support staff, brought their freaking A-game to 2016, and I am so impressed, and so grateful. The way I see it, I co-parent with the school, and this year especially I have relied on their expertise and experience to get us through. What that means is that I've also gotten to know everyone as real people, and it's one of the few areas in my life where I have paid attention. Because I've learnt from previous years that it makes gift-giving so much easier.
One teacher is as obsessed with Michael Jackson as I am. Another is my Christmas spirit animal -- we agree that it's just not Christmas unless our homes look like Buddy's North Pole re-creation in Elf. One of the administration staff, who is a Zyrtec-administering queen, has two daughters who are her world. My son's main class teacher puts me to shame with his Sunday food-preps and clean eating. He's getting BPA-free Tupperware.
It's fantastic if your class rep has organised a big group present. But I rely so much on the school, and it delivers so beautifully, that I always feel a small separate acknowledgement is necessary. If however, you have not been as involved with your kid's school as I have been this year, or your class rep is a total slacker, don't let anyone put you off the tried and true wine/alcohol (even if it turns out that they don't drink, they're lying -- oops, I mean they can always re-gift or take it to a celebration), gift vouchers to big department and/or grocery stores (not as impersonal as they seem -- quite helpful at an expensive time of the year), or homemade treats (so delicious, unless I've made them. Seriously, never eat anything I've made).
Here are some alternative presents worth considering:
Books or book vouchers
Everyone reads -- and most bookstores happily provide exchange receipts, so it's a fairly safe gift.
Christmas cards and wrap
Considering recipients would have been just as busy as you leading to the end of term, they most likely haven't gotten around to their personal Christmas agendas -- so help them out. A lot of places actually even sell wrapping packages (paper, ribbons, tags) that make things even easier.
Snowglobes and tree decorations
So festive and fun. Even though I know not everyone is into cheesy Christmassy awesomeness like moi, I bet they know someone who is. In a season where we're all time-poor, and finances are stretched, don't underestimate the value of a gift that can potentially be taken as a host-gift to a dinner.
Something for the children in their lives
This is the ultimate acknowledgement of what matters most to people, and what Christmas is really all about -- children! And we all know that a DVD or a small set of Lego is priceless when the kids wake up so early on Christmas morning, that it is technically still Christmas Eve.
Sunglasses and sunscreen
Arm them with the essentials for an Australian Summer. Practical and often an after-thought when people are rushing around, so you can never have too much of either item.
I hope I've given you some ideas to help you as you prepare for 2016 to be finished with already (it's been a big year for the world). And while we're on the topic of sending thank you gifts, I'll just suggest here that if there's anyone whose writing you've enjoyed this year, whose pearls of wisdom have enlightened you or whose comic genius has brightened your day -- if you can think of such a person in your life, I have no doubt they would be so humbled to receive any (and I mean any) token of your appreciation (especially wine).