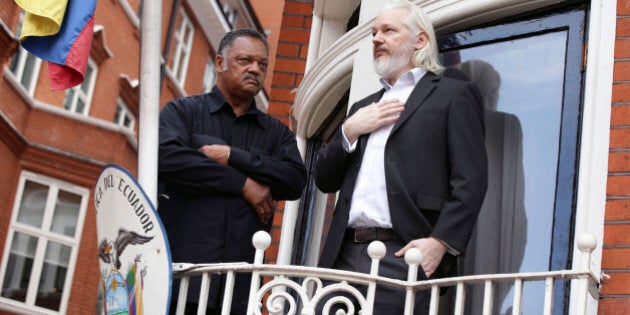 UK police say they will still arrest Wikileaks founder Julian Assange despite a United Nations Panel ruling in his favour.
"The Working Group on Arbitrary Detention considers that the various forms of deprivation of liberty to which Julian Assange has been subjected constitute a form of arbitrary detention," said Seong-Phil Hong, the head of the panel.
"The Working Group maintains that the arbitrary detention of Mr. Assange should be brought to an end, that his physical integrity and freedom of movement be respected, and that he should be entitled to an enforceable right to compensation."
"Their working group has made the judgment that Assange has been arbitrarily detained in contravention of international commitments," a spokeswoman for the Swedish ministry said.
Assange had previously promised to give himself up to British police had the UN ruled against him.
Assange has been holed up in the Ecuadorian embassy in London since August 2012, after being granted asylum as he fought extradition to Sweden to face accusations of sexual assault. Assange has voraciously denied the allegations, insinuating the allegations were politically motivated as retribution for his role in publishing troves of classified documents on the Wikileaks website regarding the Iraq and Afghanistan wars, U.S. government diplomatic cables and footage of helicopter strikes. Assange claimed he was under threat of being extradited to the U.S., where he may face serious charges over publishing classified information.
After being pursued and arrested by police in relation to the Swedish assault allegations, Assange was granted asylum by Ecuador in 2012. He has remained in the embassy ever since.
Assange had lodged a case with the United Nations Working Group on Arbitrary Detention in 2014, claiming his treatment -- including being placed under house arrest and being forced into taking refuge inside the embassy to avoid extradition to Sweden, despite not having charges levelled against him -- constituted arbitrary detention.
"Mr. Assange has an inalienable right to security, and to be free from the risk of persecution, inhumane treatment, and physical harm; Ecuador granted Mr. Assange political asylum in August 2012, recognizing that he would face those well-founded risks if he were extradited to the United States," his lawyers wrote in their application to the court.
"The only protection he has from that risk at the time being is to stay in the confines of the Embassy; the only way for Mr. Assange to enjoy his right to asylum is to be in detention. This is not a legally acceptable choice."
On Thursday, Assange published a statement to the Wikileaks Twitter account saying if the decision went against him, that he would surrender to police.
Assange has said that if the decision is favourable towards him -- which it is -- he expected to be released immediately and compensated for his time in detention.