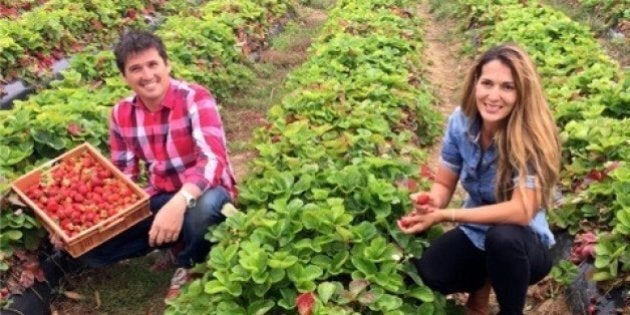 Spurred by the Hepatitis A outbreak from frozen berries earlier this year, a Victorian small family farming business has launched a 100 percent Australian-grown frozen berries product.
Many consumers fell ill in February after consuming Nanna's frozen berries grown in Chile and China and packaged in Chinese factories.
Matilda's is the brainchild of husband and wife team Ruth and Matt Gallace, third generation strawberry farmers on Victoria's Mornington Peninsula.
Alarmed by the outbreak, they fronted $500,000 to construct a purpose-built facility in the Yarra Valley to wash and snap freeze strawberries from Sunny Ridge Strawberry Farm, which has been in the Gallace family for 50 years, and their 800 acres of land in Victoria and Queensland as well as raspberries and blueberries from NSW and Tasmania.
As their facility is dedicated purely to fruit products, the couple insist their frozen berries will be free from contamination.
Ruth Gallace told the Huffington Post Australia the decision to create this new line in addition to fresh produce and their Cheeky Rascal Cider range was borne from a business perspective, but also from that as parents.
"When the hepatitis A scare broke it really brought to the forefront the importance of honest, trustworthy labelling, food origins and trusting the source of the food," she said.
"As a mother myself, food safety and food origins have always been very important to me but that really highlighted the flaws in our labelling systems at the moment and the way that imported and local ingredients can be mixed together and marketed in a way that to me is not entirely transparent or honest."
One of the couple's daughters has anaphylaxis, so is acutely aware of the food she buys for her family.
"We explored different ways incuding contract processing and packing and decided that, again going back to that backbone of trustworthiness and knowing the source of what we're doing, that we would build our own facility," she said.
"With our factory there is no chance of contamination from a muesli or something that has just run down that packaging line, that offers great value for families like us who need to be incredibly aware of what they're buying," she said.
This is the first time 100 percent frozen Aussie berries have been released onto the market, and Ruth says it's because it's hard to be commercially viable -- but they are hoping their sizeable investment will pay off.
"Everything here in Australia is more expensive when it comes to manufacturing," she said. "We are seeing more and more industry go offshore.
"It's taken something like this hepatitis scare for people to really consider that it's $1 or $2 more than the imported alternative, but I've got the information there in front of me that I trust and hopefully that provides motivation for them to then buy Australian."
Another Hepatitis A scare from frozen berries has just surfaced in New Zealand, and Ruth says this is something that should make consumers sit up and take notice.
"I think Australia has a great reputation for quality produce and hopefully it's well supported.
"This product is all about frozen berries you can trust."
Matilda's frozen strawberries are now stocked in independent supermarkets in Victoria including Leo's, IGA's, FoodWorks' and LaManna's and will expand into NSW, Queensland and South Australia in the next few weeks. Ruth says the company is also in discussion with major supermarket chains.