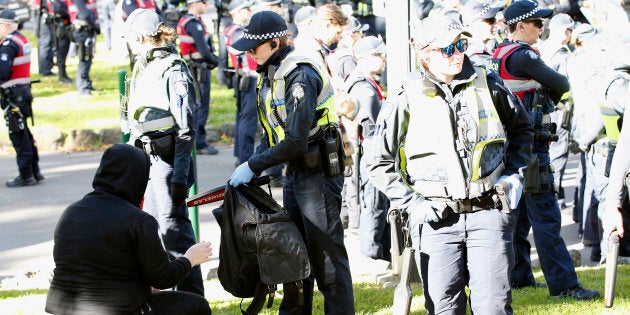 A protester has been arrested after opposing far right and anti-racist protests squared off in Melbourne's CBD.
The protester was arrested for carrying a weapon and another has been detained for breaching the peace.
Police confiscated a knife and a knuckle duster during weapon searches at the protest. Five people received medical attention by emergency services after police pepper-sprayed protesters who broke through a barricade.
Victoria Police north west metro commander said he was pleased there were no serious injuries despite the "confrontational behaviour".
The "True Blue Crew" organised an Australia pride march on Sunday on the steps of Victoria's state parliament while left wing protesters held a counter protest. United Patriots Front leader Blair Cottrell was among the far-right supporters in attendance and was pictured speaking to demonstrators.
Hundreds of officers were deployed to the opposing rallies to keep rival protesters separate, Fairfax Media reported.
Sunday's event comes after a similar protest earlier this year resulted in numerous injuries and arrests due to scuffles between the two groups.
ALSO ON HUFFPOST AUSTRALIA